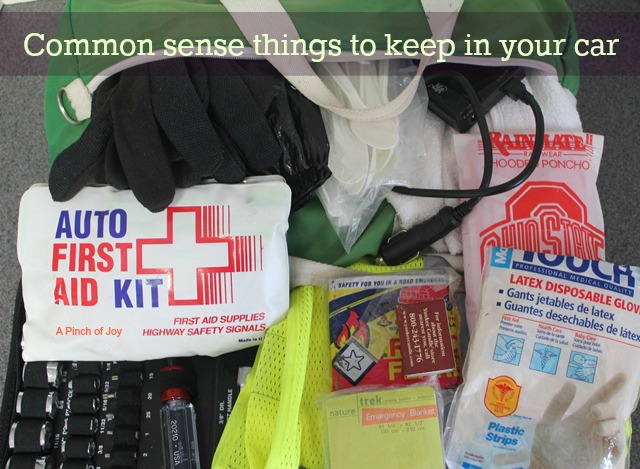 If you are like most Americans, you spend a lot of time in your car.  Planning ahead for a few basic supplies and equipment kept in your car to use in an emergency can make the difference between an inconvenience and a major mess.   Here are three dozen things to keep in your car that will keep it humming along, keep you comfortable, save time and money in an emergency and possibly even save your life someday.   
Pictured above is the small duffel bag that has been in the trunk of our last two cars.  It's 8 or 9 inches in diameter and  15 inches long so it takes up very little space.  To be honest, we've seldom used items from it on the road.  The plastic tableware is the most frequently used as we often eat at rest stops when traveling so we can run and stretch – not to mention avoid fast food.  Trash bags are also used and not always for trash – wet clothes from a fall in a creek, pine cone collections and the like.    We don't call it an emergency kit because it is most often used for living life – but many things found in it would be helpful in an emergency.  The trash bags would make a poncho or a tarp to protect clothing if working on the ground to change a tire.   Wheels likes to have tools available so the zipper pouch contains a fairly complete set of tools he might need.  I don't have the knowledge to use the tools but a Good Samaritan could. We're just using common sense in an urban/suburban setting with a couple of long road trips each year along interstates and county roads.
Common sense items to keep in your car
In the glove box. . . . .
Cell phone car charger/charging stick.
 Written copy of emergency numbers, including your insurance company.  Cellphones can be damaged or lost in the event of accident or inconveniently lose charge when needed and you may need to borrow someone's phone.   Also include phone number of at least one relative, marked ICE (In Case of Emergency).   You might need it yourself if your phone is not available — because who remembers phone numbers! — but also it is helpful to rescuers in case you are incapacitated — may that never happen!
Small flashlight – waterproof is a bonus.
Pair of latex gloves and hand cleaner
Pen and pad of paper
Small basic First-aid kit – band aids and ointment.  Keep larger one in trunk.
Spare fuses and knowledge of how to install them
Tire gauge.  Look on your driver's door edge for information.  Go figure!
LED warning lights — small,  inexpensive and can be placed on dash or in back window.
$20 in small bills and coins
Protein or energy bars – change them out frequently, if not eaten regularly.  Don't "save" them as they are convenient and save impulse stops for food when running errands.  Do, however, replenish the supply as needed so that there are always 3 or 4 available.
Have some bottled water available.   Keep two or three bottles stashed under the seat or in cupholders and replenish as they are used.  Replenish supplies when you return home and you will be more likely to remember than you will if you wait until the next trip.
For long distance driving –small duffel bag in trunk
Basic tools – include Phillips and flat head screwdriver, pliers, multipurpose tool, adjustable wrench, pocket knife.  Small tool sets are also available at reasonable cost.
Coolant hose repair kit and tape
Lightweight safety yellow vest to increase your visibility if you need to be outside your vehicle.  Available at car parts stores.
Nonperishable emergency food.
Small tarp or two large garbage bags to lay on the ground before working on your car
Disposable work suit (available where painting supplies are sold)
Plastic ponchos for rain protection or wind break
Tire inflator. Also know where the jack and tire changing tools are kept.
CB radio if you are driving in an area where cellphone or GPS reception is poor
Children's supplies, if you travel frequently with youngsters
Blanket and pillow – more than one if you frequently have passengers.  I keep ours folded on the floor of the back seat and use them often to protect the seat when hauling garage sale finds, Costco purchases, and other things that don't fit in the trunk.
We've also added picnic supplies for convenience as we frequently picnic when traveling – plastic tableware, matches, hand wipes, paper towels.  Also consider such things as compass, mirror, whistle, cable ties, bungee cords and other items that could attract attention and help or be useful "off the beaten path".
The bad weather that snarled travel through much of the country recently is what brought this topic to mind.  We traveled often at holiday time with little ones and always kept a few things available for winter travel.  They were used much more frequently!  Here is our list of must haves for winter driving.
For winter driving . . .
Make sure car is in good condition for winter driving before bad weather arrives.  Keep gas tank filled above a quarter of a tank.  If you regularly travel more than an hour or two from home, you may wish to fill when the tank is half full.
Hat, scarf, and warm gloves kept in the car.  How many times do we run out the door in winter weather with no hat, thin driving gloves, and decorative scarf because it will "only be a minute"  between car and destination?  If you always wear dress shoes or heels to travel, consider also adding a sturdy pair of shoes/ boots. If something happens and you are stuck in your car or need to be outside, you will need warmth.  Chemical hand warmers can be helpful, also.
Windshield scraper – a small one that can be used inside as well as outside on smaller areas – like chipping ice off a side mirror.
Larger windshield scraper — with a long enough handle to reach all of your windows.  A brush is also convenient in brushing off snow from windows, hood, headlights, etc.
Tow strap and basic knowledge of how to use it.
Tire chains if these are used in your area
Jumper cables
Small folding shovel – easy to store in the trunk.  If you don't own one and it is snowing heavily – put a regular shovel in your trunk before you leave.
Bag of cat litter (non clumping) or sand to sprinkle in front of tires to provide traction.
Roll of paper towels or clean shop towels
Know how to access your state's travel information by phone or online/smartphone and check information to stay on top of changing conditions.
A  coffee can with a lid and a roll of toilet paper could make things more comfortable if stuck for an extended period.
You can print the list of two dozen common sense items to keep in your glove box and in your trunk here.  If you live in an area where winter driving means snow and ice, click here to print a list of a dozen items to help you cope with those conditions.    Do you have anything else that you consider essentials??  Add them in the comments!     Wishing you safe travels
Don't miss a thing — subscribe by email or RSS feed, follow on facebook or twitter to catch the latest post!  Share with others by  giving this post a Stumble, Tweet, Pin, or Facebook Like.  Your support of A Pinch of Joy is  appreciated!
Save
Save
Save