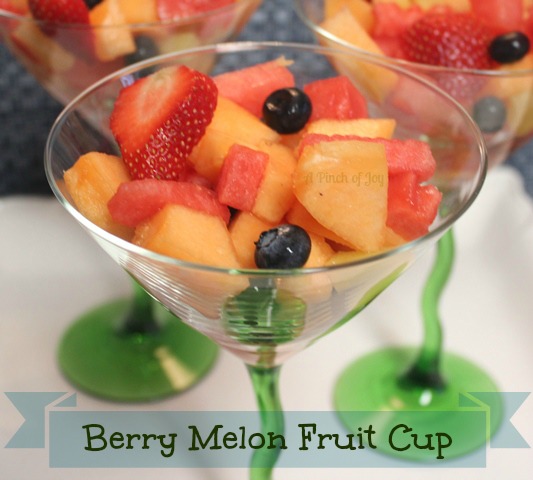 This is a quick and easy no-recipe recipe.  The name says it all – berries and melon fruit cup.  Cut melon into smaller than bite size pieces.  One kind of melon is nice, two kinds are great, three are spectacular.  Think of the color combinations and texture variations you can create.  Watermelon and cantaloupe.  Cantaloupe and honey dew.  Watermelon, honeydew and cantaloupe.  Add whatever berries are in season.  Their flavors will play off the melon and their colors add to the composition.  Sliced strawberries in spring bring a bright red hue. Blue berries or blackberries add a note of deep color.  Each one has its own sweetness that can stand alone.  Mix them with other flavors and each enhances the other to create something new and delightful.
Just like a group of friends.    
Our teaparty was fun.  The invitation said nothing about dress, but the guests showed up in glorious hats.  A flirty black fascinator.  A pretty tam purchased in Iceland with matching sweater.   A beautiful straw.  A glamorously elegant white fedora.  A red straw with a large brim and tulle rosette.  And no – I didn't get pictures of everyone!  (Rats!) You'll just have to take my word – a smashing bunch!    We ate, talked about a great many things, laughed a lot and had a good time!   Everyone added their personality to the mix and it was great! 
Just like the fruit cup served in a green stemmed martini glass — a wonderful mix that showed up in something unexpected.  
Berry Melon Fruit Cup
Ingredients
2 cups watermelon small pieces
2 cups cantaloupe, small pieces
½ cup blueberries OR blackberries OR raspberries
½ cup strawberry slices mixed with 2 teaspoons sugar
Instructions
Cut melon into rather uniform pieces, smaller than bite size.
Add all fruit to bowl and gently mix together.
Serve in individual cups or in large bowl.
You will need at least one half cup of fruit mix for each serving.
Three cups of fruit mix as shown above will serve six. Substitute an equal amount of honeydew melon for cantaloupe or watermelon, if you choose.
To serve eight, add 1½ cup of melon /s and ½ cup of berries of your choice to the mix.
Don't miss a thing —click the buttons on the header to subscribe by email or RSS feed, follow on facebook or twitter to catch the latest post!  Share with others by  giving this post a Stumble, Tweet, Pin, or Facebook Like by clicking the buttons on the bottom of this post.  Your support of A Pinch of Joy is  appreciated!
Save