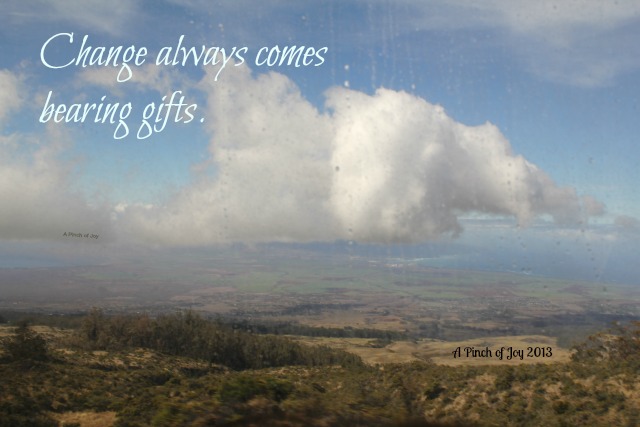 Change always comes bearings gifts.
In the last three weeks, change has pelted down at our house.  Everything we do requires checking the operator's manual, it seems.  The learning curve is steep and time consuming.
three first ever Smart phones that are just full of surprises — some delightful, and others just plain work

a coffee maker that hisses fiercely as it brews one cup at a time

new microwave with the start button on the opposite side from the old one

new washer – that was hooked up with the hot and cold water reversed and has mysteriously random habits and operations

new dryer that believes cool dry means half damp and leaves us trying to figure out which combination of a dozen possible will actually dry!

a fireplace makeover that involves a remote

new windows that lock and latch differently

new hair dryer with instructions in Portuguese

The printer has decided it is not "compatible" with the new computer and is demanding a divorce by ignoring all requests to print

The "new" computer full of strange defaults even when I KNOW I set them to something else and now have to figure it out from scratch again

new year – new insurance, new providers, new schedules, new routines, new gym,

and much more!    aaaaack!
If you fly through a cloud, you might experience turbulence and will certainly have limited vision.    If you were under the cloud as it dumped water on your outdoor wedding, that would definitely be an unhappy time.  However, the larger picture shows vegetation that is thriving because of the rain.   Thriving vegetation provides abundant food crops, beautiful flowers, recreation and play,  forests which provide wood and habitat for all sorts of creatures.  The cloud is a change from the gorgeous sunshine we all crave, but it brings gifts.
One complaint about rain — and change — is that it doesn't give us any choice.  And that is stressful.  Even if it is something that you chose on your own time — like the computer — the change brings stress and a learning curve over which you have no choice once the commitment is made.  If it's the washer or dryer that died unexpectedly, there is not only the stress of choosing and using a new one, but you have to figure out how to fit it in the budget.   Some change brings surprises — like the microwave with the start button on the opposite side.  Who would think that would become a big deal??   It isn't a big deal, but when you have numerous changes at once, the stress multiplies and even little things, such buttons on the "wrong" side, can become overwhelming.    Or the hissing coffeemaker.  I don't even drink coffee, but already this thing is demanding more of MY limited cupboard space and a light under the cupboard so the coffee drinker can read the labels.    Overall we've had a lot of household change in three weeks.  But if we stick to it, it will become a part of the landscape of our lives.  We'll feel on top of technology, master of our domain and everything will hum along nicely.  Including that little hair dryer that only hums Portuguese.
That doesn't mean that we will always like the gifts we receive from change.  Because not all change is welcome. Losing a job,  illness, death are some unwelcome changes.  I would be the last to say that those kind of changes are easy.  I would be hard pressed to even come up with some positive results of some.  But those, too, will eventually come into perspective and become a part of the landscape of our lives.  Just knowing that gives us strength to persevere.
All change is rough going through it.    It is only when you gain some distance and pull away from it, that you can see the gifts.
Photo credit: Roger Vance 1012  titled: Cloud from Maui mountainside 
Shared with Grace at Home,
Save