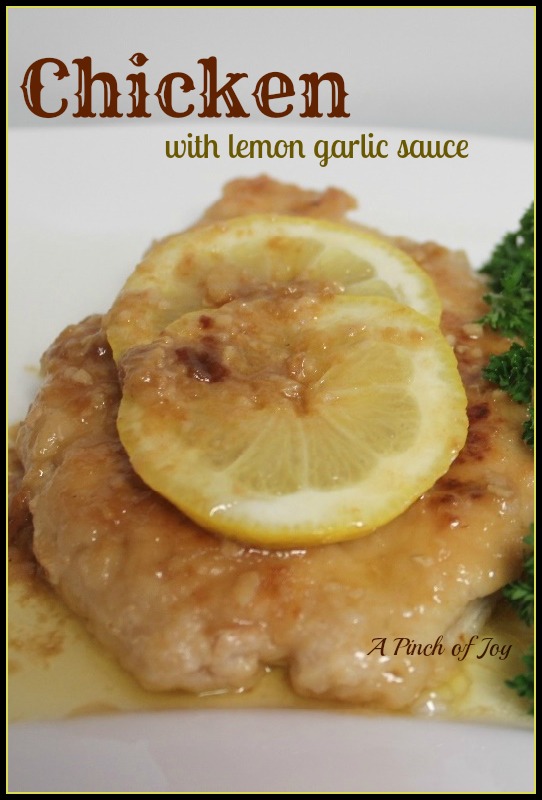 I was looking for something familiar with a twist to serve for Bytes' birthday dinner.  Flipping through a stack of recipes I saw Chicken Piccata  Ummm – don't think so – sounds like directions for playing piano.  When the same recipe popped up again I took another look.  Oh, it's chicken with a lemon garlic sauce.  I can do that!  Picatta, loosely translated, means zesty.  This dish has a lemon lilt flavored with fullbodied garlic.  Light but definitely zesty, by whatever name you call it.    
I had never noticed chicken cutlets in the grocery store before.  However, they were in the freezer in all three of the grocery stores I frequent.  I spend a lot of time reading labels, but not looking at frozen chicken apparently!   A cutlet is about a quarter inch thick up to about half an inch thick.  They are around four inches by four inches. You'll want thin pieces of meat because you will be cooking this dish quickly.   If you cannot find chicken cutlets in your grocer's freezer, you can slice half  a chicken breast into thin pieces ½ inch or less. 
This is a dish that keeps you moving!  Gather and prepare all ingredients and bring all utensils to hand before starting.  When you dredge, just dust the entire surface of the chicken lightly.  Too much flour makes everything gummy.  You want just enough to hasten browning.  Cook one or two minutes on each side depending on the thickness of the meat.  Overcooking will make the meat tough and ruin the dish.  When lightly browned removed to a plate and cover.
Deglazing is not as mysterious as it sounds. It's just loosening any bits of browned chicken on the bottom of the pan by using a liquid to take it up.  Takes about 2 minutes.  Then add the rest of the ingredients to make the sauce.  Boomerang the chicken gently back into the sauce to heat and finish cooking.  Then arrange it on the serving platter.  Slide the already thinly sliced lemon into the sauce with the butter.  Stir a bit until the butter is almost melted.  The lemon slices will be soft but still intact.  Remove and quickly arrange on top of the cooked chicken.   By now the butter will finish melting.  Stir and pour the sauce over the chicken.  Sprinkle with fresh snipped parsley (I forgot and the parsley got tucked on the plate instead!)
Total time elapsed?  An easily doable even after a busy day at work twenty minutes.  Time well spent,

Chicken with lemon garlic sauce
A light and tender chicken dish, with subtle lemon and robust garlic flavor.
Author:
Charlene - A Pinch of Joy
Ingredients
4 chicken cutlets
2 Tablespoons vegetable oil
¼ cup flour
Salt and pepper to taste
Deglaze
¼ cup low sodium chicken broth or white wine
1 teaspoon minced garlic
Sauce
½ cup low sodium chicken broth
2 Tablespoons fresh lemon juice
Finish
2 Tablespoons Butter
Fresh lemon slices
Chopped parsley
Instructions
Season chicken with salt and pepper, then lightly dredge with flour.
Pour vegetable oil into skillet and heat over medium flame.
Saute cutlets about 3 minutes on each side. Cutlets will be lightly browned. Remove to warm plate and cover.
Pour off any remaining oil.
Deglaze pan by pouring in ¼ cup white wine or chicken broth to which minced garlic is added. Cook about two minutes. Garlic will be slightly brown and broth will be almost gone.
Add ½ cup broth and lemon juice. Return cutlets to pan and cook on each side about two minutes. Transfer to warm serving plate.
Add butter and lemon slices to skillet. When butter is melted, lift out lemon slices and arrange on top of chicken. Pour sauce over lemons and chicken.
Garnish with chopped fresh parsley, if desired.
Notes
Also known as Chicken Picatta.
Charlene @ A Pinch of Joy
Welcome to A Pinch of Joy!  I'm so glad you stopped by today!   Follow A Pinch of Joy using the icons on the teal bar at the top of the page so you don't miss a thing!   I'd love to have your company on this venture!!  Share: if you found this helpful or inspiring please click one of the buttons below!  Your support of A Pinch of Joy is appreciated!
Shared with these awesome link parties here