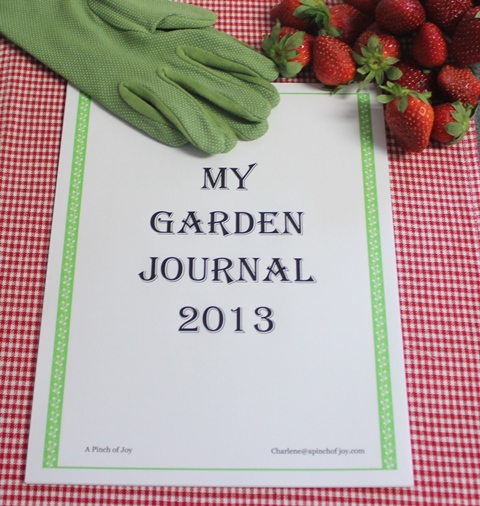 A garden is an ever changing story!  Keeping a journal helps in both the story telling and the evolution.   A garden is also an investment of time and energy and money.  A journal can help you maximize your investments. People garden for different reasons. Some enjoy the beauty of flowers.  Others concentrate on food production, either for healthy organic produce or perhaps to stretch a budget.   Some love the exercise and chance to be in touch with nature.  Whether you have only one reason or all of the above, a journal will help you meet your goals.  A journal will make the journey more memorable and more fruitful in so many ways.  
 You can note where you bought that hard to find tool that helps so much.  I loved a short handled ergonomic spade that was t.h.e. perfect garden tool.  It was just the right size for short me and was built to multiply the force applied.  Unfortunately applied force and an unyielding rock broke the handle sometime after its eighth birthday.  No way to replace it because I don't even know the brand name!   Make notes of the dimensions of the different areas in your garden as you measure during the season.  Next year,  when you purchase mulch or topsoil, the figures are right there to save you time and energy.  Keep the phone number of that arborist who cleaned the yard so thoroughly after pruning your trees.  Or the high schooler who mowed your lawn while you were gone.
 In a journal you can record what worked and what didn't.  Note which flowers bloomed when and how they interacted with their neighbors.   Next season, you might want to move them so colors enhance each other.  Put a white plant next to the red, or create an ombre effect with the pink and purples.  Intersperse non-blooming green through the garden to make a unifying ribbon.   Or maybe move a second plant that will come into full bloom and hide the scraggly remnants of an early bloomer.  If you have a cluster of plants that are pure eye candy, be sure to note that!    Keep track of which plants did poorly.  Perhaps the neighbor's tree is now shading the struggling plant and it needs to be moved to a sunnier spot.  Or maybe it needs to be replaced with a healthier cousin.
Add photos to supplement your notes.  They will help remember what a cosmos looks like, or how that runty shrub doesn't hide the eyesore you wanted it to camoflauge even though it's been there several years.   A photo will jog your memory of the eggplant or Brussels sprout that shaded out the carrots. It is fun to look back and see how an area has changed from skinny plants with lots of mulch in between to something lush and beautiful.  Photos of the good are a wonderful reminder of why we garden!
A calendar serves as a reminder.  Note when you prepared the garden in the spring, what chores you did in the fall for your own custom made reminder and to do list for following years.  When was tomato harvest in full bloom?  When was the green bean harvest at full peak?  If your mother wants to have the annual family get together two states away when your tomatoes were begging to be picked last summer, you can choose a different variety that matures two weeks later this year.  If the green peppers freeze before producing two (or yes, four!) years in a row, you know to plant earlier or choose a variety more suited to your gardening zone.   
For the next chapter of the story, a journal helps  you  make plans for the future.  Include pictures or notes of things that inspire you.  Even if it is just one element in a garden scene, that element may be just what is needed to make your garden come alive next year.   Start to bring things to life by making those elements that you find attractive, a part of your garden goals.  Perhaps a hardscape, like a retaining wall, caught your eye.  Or a long term investment, like that exotic gingko tree.  Or maybe it is a colorful pot of pansies by the door in spring.  Planning gives one hope through the long winter and a jumpstart in spring! 
You can download your own copy of my 2013 Garden Journal here.  If you have any ideas of what you would like to see included in a future version that would make your gardening more fun and more productive, please let me know! 
I am so glad you stopped by!  Follow A Pinch of Joy so you don't miss a thing!  Click the buttons on the header to subscribe by email, bloglovin' or RSS feed, follow on facebook or twitter to catch the latest post!    If you found this helpful, share on your favorite network by clicking one of the buttons on the bottom of this post.
~~~~~~~~~~~~~~~~~~~~~~~~~~~~~~~~~~~~~~~~~~~~~~~~~~~~~~~~~~~~~~~~~~~~~~~~~~~~~~~~~
Save