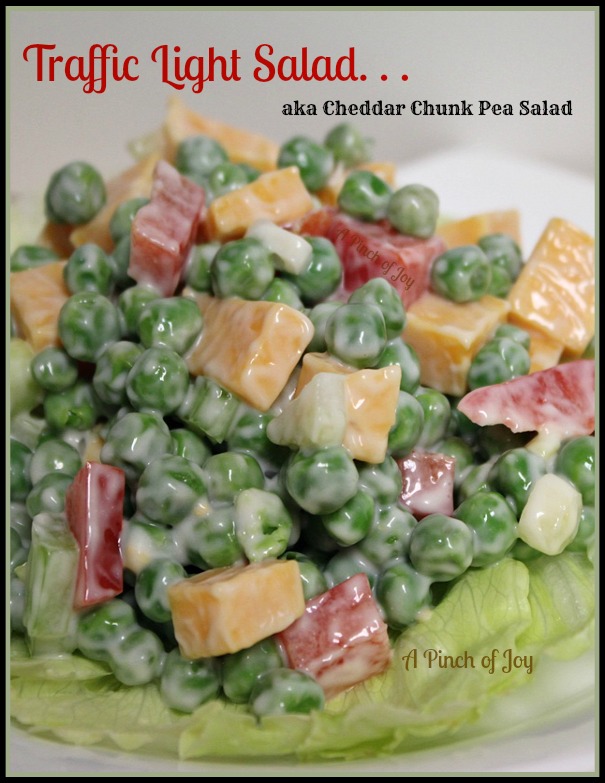 Green peas are a harbinger of springtime, one of the cool weather crops that begins to produce early.  Green peas are a nutritional powerhouse,  a legume rich in vitamins and minerals along with protein.  Green peas make a delicious salad that Wheels calls  "Traffic Light Salad" because it is red, green and yellow.  Add these all together and Cheddar Chunk Pea Salad is the perfect salad to usher in National Salad Month, otherwise known as the Merry Month of May. 
Peas are legumes, along with beans and lentils.  They were one of the first crops to be cultivated by humans and were eaten dried (blech!  Sorry . . .personal opinion . .  disclaimer ) for thousands of years.   They are now grown all over the world, with Canada as the major producer.  If you are a gardener, you know peas will increase the nitrogen available in soil so fertilizers are not necessary and, when grown in rotation with other plants, will reduce pests.  Peas are high in fiber, low in fat, with no cholesterol, 45% of your daily requirement of Vitamin K (important in prevention of osteoporosis) and significant amounts of other necessary vitamins and minerals.  They have a substantial amount of protein, are a source of Omega 3 and Omega 6, and contain many anti-oxidants and anti inflammatories.  These properties along with a relatively low glycemic index have recently focused attention on peas as a help in heart disease and controlling blood sugar levels.  Who would ever have guessed???

If you buy  cheese already cubed, cut the pieces in half so they are easier to eat with the salad.  Use baby peas (no sauce) if you can find them, otherwise any good quality frozen pea will work.  (I have eaten this made with canned peas too and found that good, although the texture was softer.)  If you make this ahead, the flavors have a chance to meld and the cheese will soften.  Make it just before serving, and the flavors are separate and everything crisp.  If you want melded flavors AND "crisp" cheese, make the salad the night before and add the cheese just before serving.  I've done all three and it gets eaten every time.  But some people are particular about such things.  J  The lettuce leaf cup makes a nice touch if you are serving on salad plates.  In that case you would probably only use half cup servings and the entire recipe would make eight servings.  If you are serving family style for a hearty meal, servings would probably come closer to one cup and the entire recipe would make four servings.  One cup servings are the basis for most of the nutritional values given above.

In honor of National Salad Month, here are some other salads you can find in the index above:



Cheddar Chunk Green Pea Salad
Nutritious and delicious! Serve on lettuce cup for individual servings or serve up heartier family servings from the bowl.
Serves:
8 onehalf cup servings or 4 one cup servings
Ingredients
1 12 ounce package frozen peas
¾ cup cheddar cheese cubes
⅓ cup diced red pepper
⅓ cup diced celery
2 green onions sliced thin
⅓ cup mayonnaise
½ teaspoon salt OR to taste
Instructions
Prepare, and slice or dice cheese, red pepper, celery and onions.
Rinse frozen peas to remove any ice crystals, drain briefly.
Mix all ingredients together in medium bowl.
Serve on lettuce leaf.
Notes
Charlene @ A Pinch of Joy
Nutrition Information
Serving size:
½ cup to 1 cup
I am so glad you stopped by!  Follow A Pinch of Joy so you don't miss a thing!  Subscribe by email or RSS, follow on facebook or twitter!    If you found this helpful, please share on your favorite network by clicking one of the buttons on the bottom of this post.