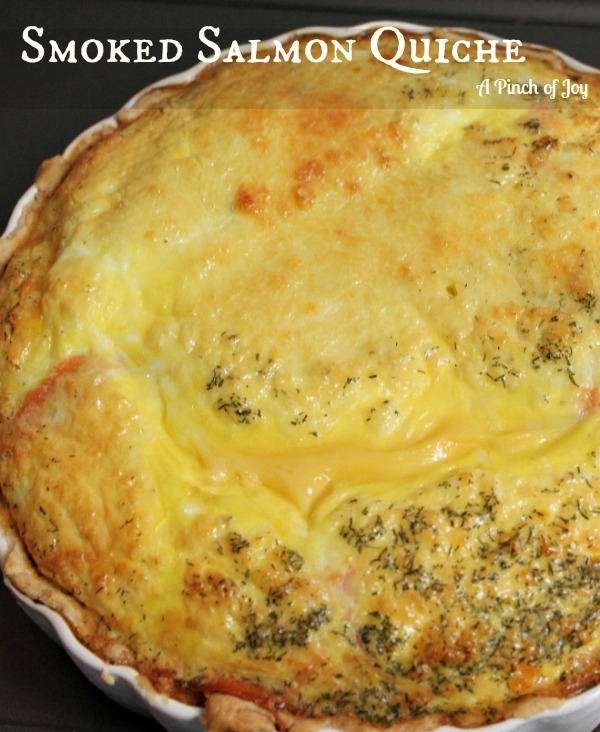 Deep Dish Smoked Salmon Quiche with Dill. I could almost smell the smoked salmon when I found  this recipe in a Quick and Easy Paula Deen's magazine. So when I saw smoked salmon on sale the deal was sealed. I picked up the salmon and carton of half and half and planned to make it for dinner the next night.
Life got in the way. Like two weeks worth.   Tonight was the night I could make this quiche that has been on my mind. Except – well, I'll tell you what I did and what Paula said I shoulda done.
She wanted me to roll two pie crusts from a package of refrigerated pie crusts together. We are on carb watch. One pie crust is enough. I prebaked it, but pricked it with a fork instead of using her pie weight or dried beans, neither of which I had. I didn't have the Fontina cheese she wanted. But I did have a 6 cheese mix that included Fontina so that's what I used. The carton of half and half only contained ¼ cup by now, so I added ½ cup 1 percent milk. She called for eight large eggs, but I only had medium eggs that were smallish so I used nine of them. I had a ceramic nine inch quiche pan we got for a wedding gift and used that instead of the nine inch diameter two inch high tart pan with the removable bottom she used. I looked at the quiche pan with cheese and salmon in it and at the bowl full of whisked eggs, seasoning and cream plus one percent milk. I took out about ¾ cup of cheese and poured the liquid into the quiche pan over the remaining cheese and salmon. It went in the oven very carefully on a rimmed cookie sheet and then I carefully sprinkled the ¾ cup of cheese back into the quiche. It all fit nicely! (To my surprise!)
And it turned out absolutely fabulous! (No surprise at all.) You can take just about any recipe and adapt it to what you have on hand and it will still be good. So good Wheels and Bytes had a fork duel for the last piece.  At 3.5 grams of carbs and 19 grams of protein per serving — a nutritional winner!! Big plus!

I just hope Paula doesn't want her recipe back real soon. It's a little bent* and kebobbled right now.
*The recipe below is mostly hers – you'll recognize my contributions.

Smoked Salmon Quiche
Fabulous smoked salmon quiche from Paula Dean. Low carb at 3.5 carbs and 19 grams of protein per serving.
Author:
Charlene - A Pinch of Joy
Ingredients
1 refrigerated pie crust
2 cups shredded fontina cheese
1 4ounce package smoked salmon
8 large eggs
¾ cup half and half
½ teaspoon salt
½ teaspoon ground pepper
¼ teaspoon dried dill
Instructions
Preheat oven to 350 degrees.
Press pie crust into a tart pan – 9 inch by 2 inch (with removable bottom if you have one). Line crust with aluminum foil and fill with pie weights or dried beans. Or prick pie crust evenly to allow air to escape without building bubbles and uneven crust. Bake for 8 minutes, empty pie weight and discard foil. Let cool for a few minutes.
Place quiche pan with baked crust on rimmed cookie sheet for easier handling and to catch any overage.
Sprinkle 1 and ¼ cup cheese evenly over bottom of crust. Top with chopped salmon.
In a medium bowl, whisk together eggs, half and half, salt, pepper and dill. Pour over cheese and salmon in crust. Liquid will bubble some as it settles to the bottom. Gently sprinkle remaining cheese over top.
Carefully slide quiche into oven with the rimmed cookie sheet.
Bake for 50 to 55 minutes or until wooden pick inserted in center comes out clean. Let stand for 15 minutes before cutting. Serve warm or at room temperature.
Can be made the day before. Store, covered in refrigerator and bring to room temperature before serving.
Notes
Charlene @ A Pinch of Joy
Nutrition Information
Carbohydrates:
3.5 g
Protein:
19 g
Please Pin! 
I'm so glad you stopped by today!   Follow A Pinch of Joy using the icons on the teal bar at the top of the page so you don't miss a thing!   I'd love to have your company on this venture!!  Share: if you found this helpful or inspiring please click one of the sharing buttons below!  Your support of A Pinch of Joy is appreciated!
Shared with these awesome link parties here  
Save
Save