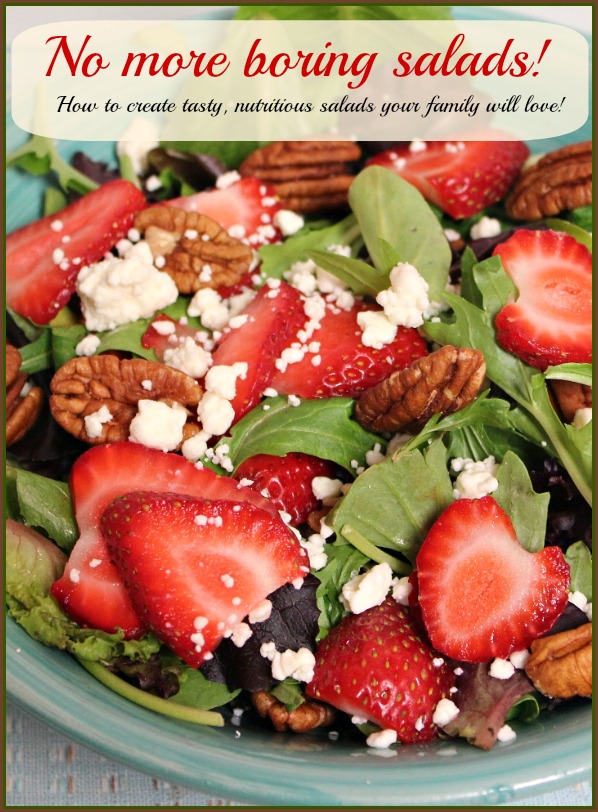 Green salads are a great addition to any meal.  They are low in carbs and calories but filling so you can eat a lot without going above your daily goal.  They are a delicious way to pack in nutrients.   But like anything else on the table, salads can be boring.  Here's some ways to beat the boring . . .
Based on a yummy salad we first found at Panera, the strawberry combination above is easily one of our favorite salads.   The base is a spring green mix.  Add a couple of fruits, some nuts and the saltiness of feta cheese.  Yum!  The fruit  changes with the seasons – strawberries for spring, apples for fall, canned mandarin or fresh clementines anytime.  Dried fruit makes an appearance as well, for color, nutrition and flavor.  You can use golden raisins or dried cranberries, flavored or plain.  (Dried fruit has a high carb count, so resist the temptation to over load the salad.)    Nuts can be English walnuts, slivered almonds or pecans.  I love  salads without dressing, but a light raspberry vinaigrette or lemon poppyseed are good dressings for fruit salads.

Raspberries in season are also a great addition to salads.  This salad is waiting for a bit of protein which can be in the form or cheese or meat.  Raspberries are mild in taste so you might want a cheese with a stronger presence like blue cheese to play the flavors against one another.  Or marry the flavors by using  fruit glazed grilled chicken slices as the protein.
You can see a bit of formula creeping in here.  Greens as the base get the supporting role that carries the whole show.  A star for color and flavor.  One or more proteins, such as nuts, cheese, beans or meat,  for nutrition and glucose balance.  A character or two that provides crunch  and texture to the production.   It works for raw vegetable salads too, as you can see below.  The recipe given below can be used as a guide for all sorts of variations!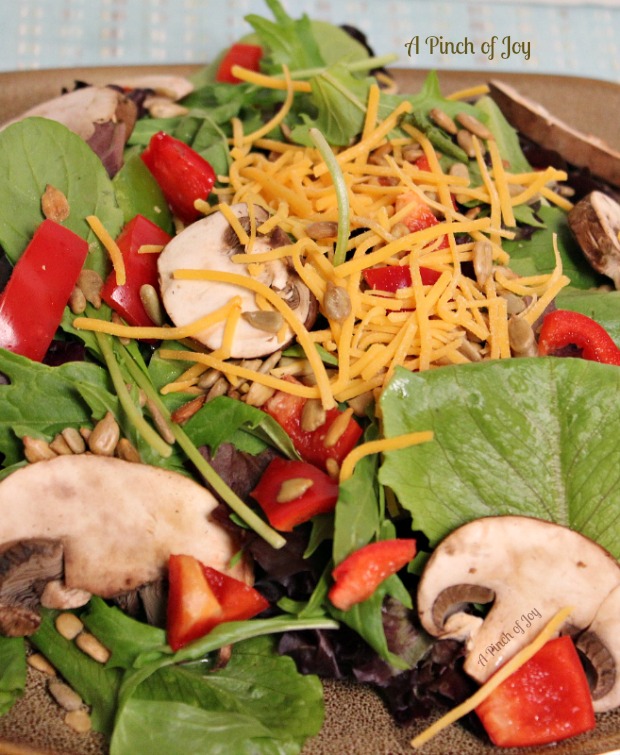 To help with other salad variations, I ran across this wonderful download from the American Dietetic Association.   When I  find that kind of  "this makes sense" information, I pinky-promise that I will share!   You can print or download it to your own computer here, Color Your Plate with Salad.  (No compensation – just passing on what I found helpful.)
Green Salad with fruit and nuts
Ingredients
1 12 ounce bag mixed spring greens
¼ cup feta cheese crumbles
⅓ cup nuts, pecans or walnuts, slivered almonds
¼ cup dried fruit, golden raisin or cranberries
1 cup sliced, diced fruit
Instructions
Divide clean greens into three bowls for hearty appetites or four bowls for smaller appetites
Add approximately 1 Tbsp feta cheese crumbles to each bowl
Add nuts equally to each bowl, approximately 1-2 Tbsp per bowl
Add dried fruit to each bowl, approximately 1 Tbsp
Top with ½ apple, cored and diced. Can also used other sliced fruit, about half cup of strawberries or mandarin oranges, for example.
Dress lightly with poppy seed dressing, approx 1 tbsp, or a raspberry vinagrette.
Serves three - four.
Approximately 140 calories and 20 carbs with dried fruit OR 100 calories and 12 carbs without dried fruit
Notes
Charlene @ A Pinch of Joy
I'm so glad you stopped by today!   Be sure to follow A Pinch of Joy so you don't miss a thing! 
Subscribe by email  on the sidebar or follow on Facebook, RSS feed, bloglovin' or twitter   using the links here or the blue buttons on the header!   Follow  my pinterest boards here.    If you found this helpful, please share on your favorite network by clicking one of the buttons on the bottom of this post.
~~~~~~~~~~~~~~~~~~~~~~~~~~~~~~~~~~~~~~~~~~~~~~~~~~~~~~~~~~~~~~~~~
Linking up to these awesome parties here and
Save