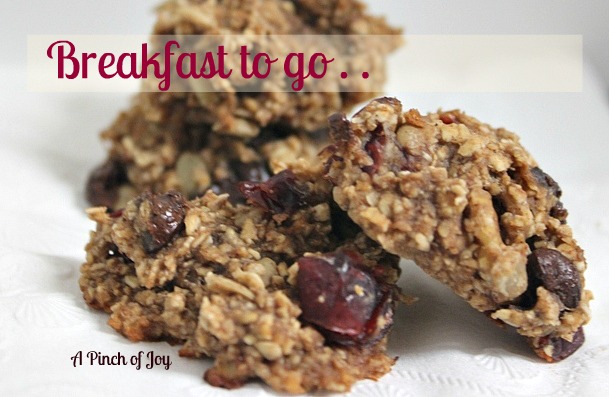 After pinning a few breakfast cookie recipes, I decided it was time to actually try one.  Only none of the recipes was going to work.  Either I was missing an ingredient – or they sounded too bland – or maybe I was just being too picky.  So I did what I usually do and mooshed two or three recipes together.  Some nuts from this recipe for crunch and protein.  The cinnamon and vanilla from that recipe for flavor.  And then it hit me – what's a day without chocolate?  These need some chocolate chips – not too much, but just enough to add a bit of contrasting texture and taste.  The recipe was quick to assemble and baked nicely.  The recipe is below – feel free to make it as is or moosh your own version. The first four ingredients make the base, but feel free to change out nuts, dried fruits and spices.
Tasting it was – well, an adventure.  The texture was soft chewy.  The mix of flavors was nice – and the chocolate chips added just the perfect touch.  It would indeed make a quick breakfast to grab two or three and go.  Not crumbly – so no mess in the car.  Stayed fresh for a couple of days – at which time our supply was gone. To keep them any longer, freezing would be best.    I'll do that next time.  And maybe try butterscotch chips.  Yes, we did like them.  So what was wrong?
The name.  Even with chocolate chips, these are NOT cookies.  They look like cookies, they bake like cookies – but unlike ducks that are ducks because they look like ducks and quack like ducks — these aren't cookies. Once you get that idea out of your mind, these are a good breakfast!  (Or an afternoon pick me up.)   A healthy baked item that you can grab and eat on the go!

From the Archives in celebration of A Pinch of Joy Second Anniversary

Breakfast to go . . .
Healthy breakfast to eat on the go!
Author:
Charlene - A Pinch of Joy
Ingredients
2 mashed bananas
½ cup apple sauce OR 1 4 oz. single serve container of apple sauce
¼ cup skim milk
2 cups quick cooking oatmeal
¼ cup craisins
¼ cup mini chocolate chips
2 Tablespoons sunflower seeds
2 Tablespoons walnut pieces
1 teaspoon vanilla
1 teaspoon cinnamon
1 Tablespoon sugar or sugar substitute
Instructions
Mix all ingredients together thoroughly and let set for 5 minutes to let oatmeal absorb moisture.
Drop by tablespoonsful onto a greased cookie sheet.
Bake at 350 degrees for 15 – 20 minutes until firm. Bottom should be golden brown.
Yields 18-24 depending on size.

Welcome to A Pinch of Joy!  I'm so glad you stopped by today!   Follow A Pinch of Joy using the icons on the teal bar at the top of the page so you don't miss a thing!   I'd love to have your company on this venture!!  Share: if you found this helpful or inspiring please click one of the buttons below!  Your support of A Pinch of Joy is appreciated!
Shared with these awesome link parties here