Fiesta Stuffed Burgers on toasted buns. Yes, there is still time to grill even if the first day of autumn fell from the calendar already!  In fact, the grill may get even more use around here in the cooler weather of fall than the hot summer.  No matter!  Fiesta Stuffed Burgers are good anytime!! 
Mix the filling ahead of time and set aside to let flavors meld.  It doesn't have to be a long time – just ten minutes at room temperature allows them to ripen a bit.  However, you can make the filling ahead a day (or several) and keep it in the refrigerator.  Depends on your schedule.   Use lean ground beef for the burger itself.  Not too lean because you need a bit of fat to keep it moist and edible after the grill has done its thing.  85% lean is just about right.  ( That means the ground beef mix contains 15% fat – okay for this use).  Add just a bit of onion and seasoning to flavor.  I think it is easier and faster to use your clean hands for mixing and then go right ahead and pat out eight thin patties.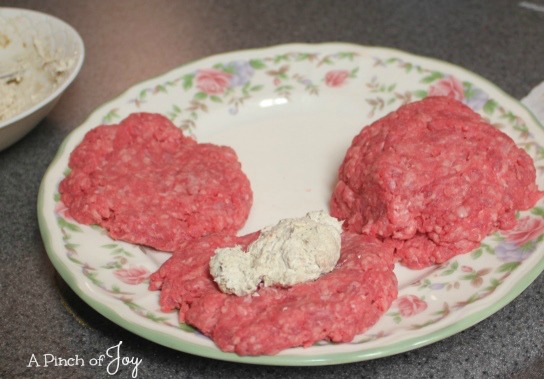 Center one fourth of the filling mixture to four of the patties and flatten it – making sure the filling stops before reaching the edge of the meat.  Top with another patty and press the edges of the two patties together to seal the cheese mixture inside. No cheese should be visible. 
Place on preheated grill. Do not press down.  Ya wanna know why?
You don't want to see this full size. 
This is what pressure  will do. Not pretty – not good. 
Remember  — no pressing with the back of the spatula or the countertop grill!
Grill until done. 
Then it will look like this! 
Just a bit of flavorful cheese peeking out!
The toasted buns are a flavor bonus!   
Serve with your favorite salsa – hot or mild! 
We used a peach salsa.  Delicioso!
Tasty party in a bun! 
Fiesta Stuffed Burgers
A party in a bun! Delicious stuffed burgers with a Mexican flair.
Author:
Charlene - A Pinch of Joy
Recipe type:
Ground Beef - Burgers
Ingredients
Filling
4 ounces cream cheese
¾ teaspoon cumin
½ teaspoon salt
½ teaspoon black pepper
⅛ teaspoon garlic powder
¼ teaspoon paprika
⅓ cup shredded cheese, cheddar or Mexican mix
Burger
2 pounds ground beef, 85% lean
2 Tablespoons onion, finely chopped
1½ teaspoon garlic and herb seasoning
4 hamburger buns, toasted
Instructions
Mix filling and divide into fourths.
Turn on grill to low medium heat.
Mix meat, onion and seasoning thoroughly.
Shape into 8 thin patties, making each patty as uniformly sized and shaped as possible.
Place one fourth of the filling mixture in center of four hamburger patties.
Top each patty with one of the remaining patties and seal the edges well.
Grill 7 – 10 minutes on each side or until burgers are done. Don't push down on the burgers while cooking.
When you turn burgers to the second side, add buns to the grill to toast them lightly.
Serve with salsa if desired.
I'm so glad you stopped by today!
Follow A Pinch of Joy using the icons on the teal bar at the top of the page so you don't miss a thing!   I'd love to have your company on this venture!!  Share: if you found this helpful or inspiring please click one of the buttons below!  Your support of A Pinch of Joy is appreciated!
Shared with these awesome link parties here