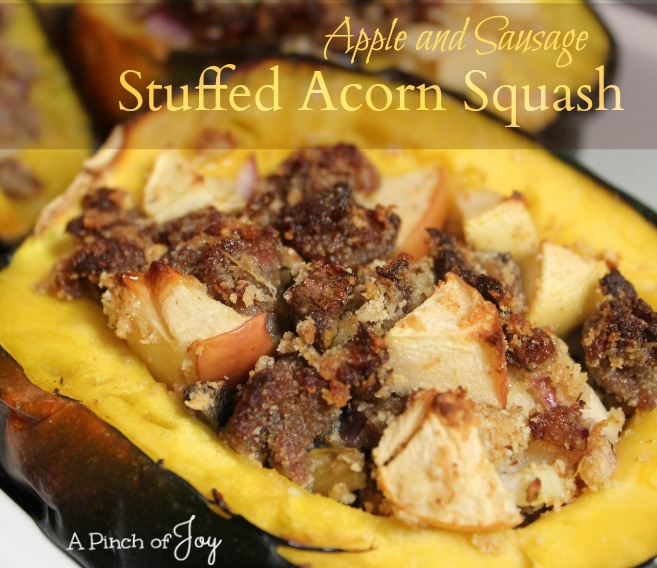 Wheels loves acorn squash but I only knew one way of preparing it. Cut it in half, scoop out the seeds and bake about an hour until tender,  with or without butter in the middle.  It was hard to cut before cooking – a feat of strength and sharp knife and messy to scoop out the seeds.  But, with enough butter,  acorn squash was a nice addition to a meal a couple of times in the fall. Finally I got brave and kicked it up a notch with this really good recipe for apple sausage stuffed acorn squash.   And then I found a tip that rocked my acorn squash fixin' world.  .  .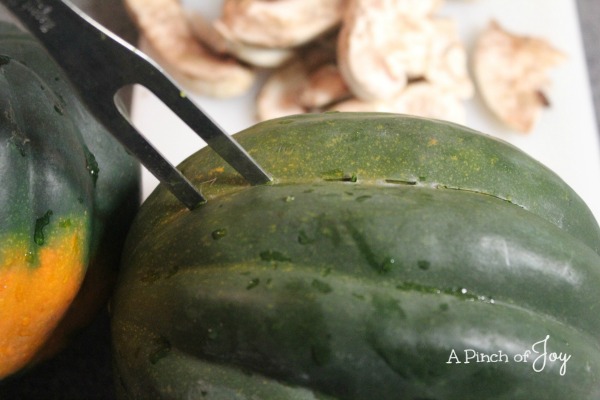 Wash the squash (shades of Dr. Suess!).  Find a sharp fork, preferably a two or three pronged cooking fork.   Pierce the squash all the way around along the line you will use to cut the squash in half.  Place the pierced squash in the microwave and cook for two minutes on high.  Remove and let cool slightly.  Then cut along the piercing.  The softened squash will be tender enough that it cuts  easily.  The sorta cooked innards will scoop out cleanly.   A breeze compared to cutting and cleaning a raw squash!!! 
The original stuffed recipe called for baking the squash for an hour before adding the stuffing.  But once I found how tender the microwaved squash became with only two minutes in the microwave, I couldn't stop there.  I added a thin pat of butter, a couple of shakes of salt and a half teaspoon or so of brown sugar to the cleaned halves, returned them to the microwave for three minutes.  They became fork tender.  I could push a dinner fork into the squash with only slight resistance in other words.  Just like they are after baking for an hour.  Woo hoo!  Just saved an hour of cooking!

The filling goes together quickly while you are microwaving the squash.  I just chop and mix the apple and veggie ingredients together while the sausage browns.  The flavor will depend on the flavor of sausage you use.  I don't peel the apples – although you can if you prefer – and like to use one red and one yellow apple.  This time I used Gala and Ginger Gold.   Drain the sausage when done and add to the chopped ingredients while hot.  Add the bread crumbs, and adjust the seasoning to your liking, if needed.  Add the beaten egg and mix well.

I have to tell you – we only eat two squash (four halves) at a meal.  That uses one half the stuffing.  You can go ahead and stuff, then bake the other stuffed squash to refrigerate and warm for eating later if you like.  I have not tried freezing the stuffed squash but I have frozen the other half of the filling to thaw and use later with no problems.  Wheels says I can also just bake the stuffing in a pan for them to eat on the side – but I haven't done that either. J  If you try that, check several times during the last ten minutes so you can remove when done and before overdone!   Buying larger/smaller squash also makes a difference in the number of servings.

By now the first set of squash have been through the microwave.  I do two or three halves at a time to speed things up a bit.  You can begin stuffing the squash, mounding it up in the middle somewhat.  Place in baking pan, add an inch of water in the bottom and bake at 400 for 25 minutes until the filling is set and somewhat brown on top.  You can add shredded Swiss cheese and parsley to dress things up a bit if you like.

Apple and Sausage Stuffed Acorn Squash
Acorn squash stuffed with a combination of sausage, apples and mushrooms for a great fall dish.
Author:
Charlene - A Pinch of Joy
Serves:
8 halves of 4 small squash, 6 halves of 3 large squash
Ingredients
4 acorn squash, halved and seeded
2 tablespoon butter
Salt to taste
2 tablespoons brown sugar
1 pound pork sausage
½ cup onion, finely chopped
1 celery rib, finely chopped
4 ounces mushrooms, chopped
2 apples, cored and chopped
1 cup breadcrumbs
Salt and pepper to taste
1 egg beaten
½ cup shredded Swiss Cheese, optional
Parsley for garnish, optional
Instructions
Pierce squash along cutting line and microwave two minutes.
Cut in half and remove seeds. Add small amount of butter and brown sugar to each squash half and microwave again for three minutes.
Meanwhile brown sausage until cooked. Drain.
Prepare vegetables and apples.
Combine sausage, vegetable, apples and breadcrumbs in large bowl. Add salt and pepper to taste depending on sausage seasoning.
Stir in egg.
Fill squash halves with stuffing until mounded and place in baking dish. Add an inch of water to bottom of baking dish (around the squash and not on them!).
Bake in 400 degree oven for 25 minutes or until squash is tender and stuffing is set.
Garnish, if desired, with parsley and shredded swiss cheese.
Nutrition Information
Serving size:
One half squash
Welcome to A Pinch of Joy!  I'm so glad you stopped by today!   Follow A Pinch of Joy using the icons on the teal bar at the top of the page so you don't miss a thing!   I'd love to have your company on this venture!!  Share: if you found this helpful or inspiring please click one of the buttons below!  Your support of A Pinch of Joy is appreciated!
Shared with these awesome link parties here  
Save
Save
Save
Save