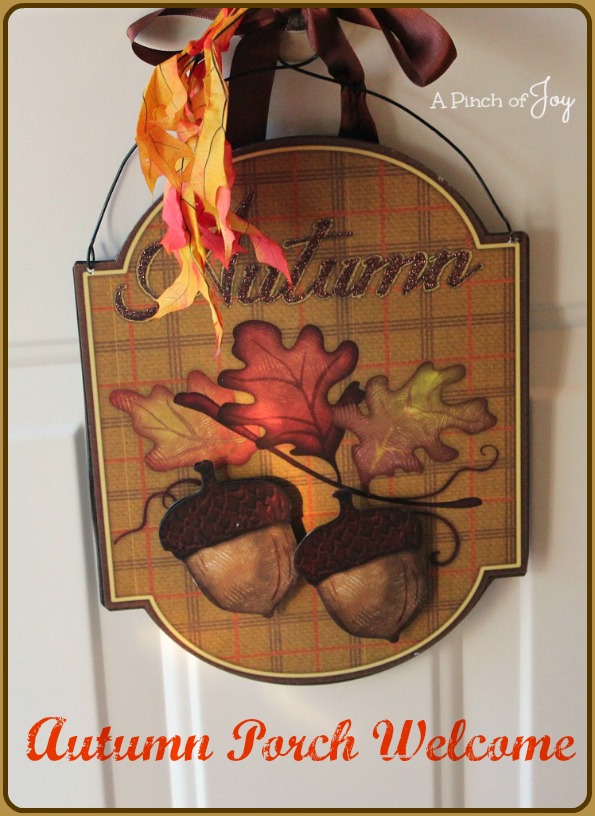 A beautiful fall day — perfect for creating a welcoming porch for the season.  For the door, a simple sign proclaiming fall and hung with brown satin ribbon.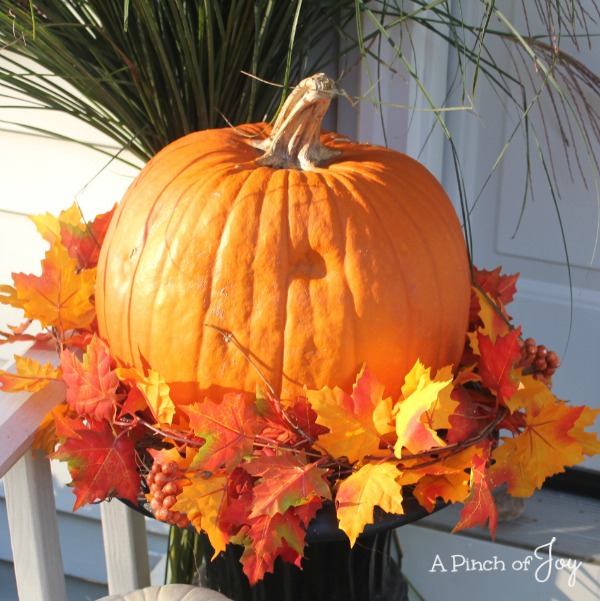 A huge pumpkin, kissed by late afternoon sunlight and nestled in autumn leaves and berries atop a black urn.  Bytes has dibs on carving a jack o lantern.   Imagine coming at this dimpled brilliant beauty with a sharp knife — not me.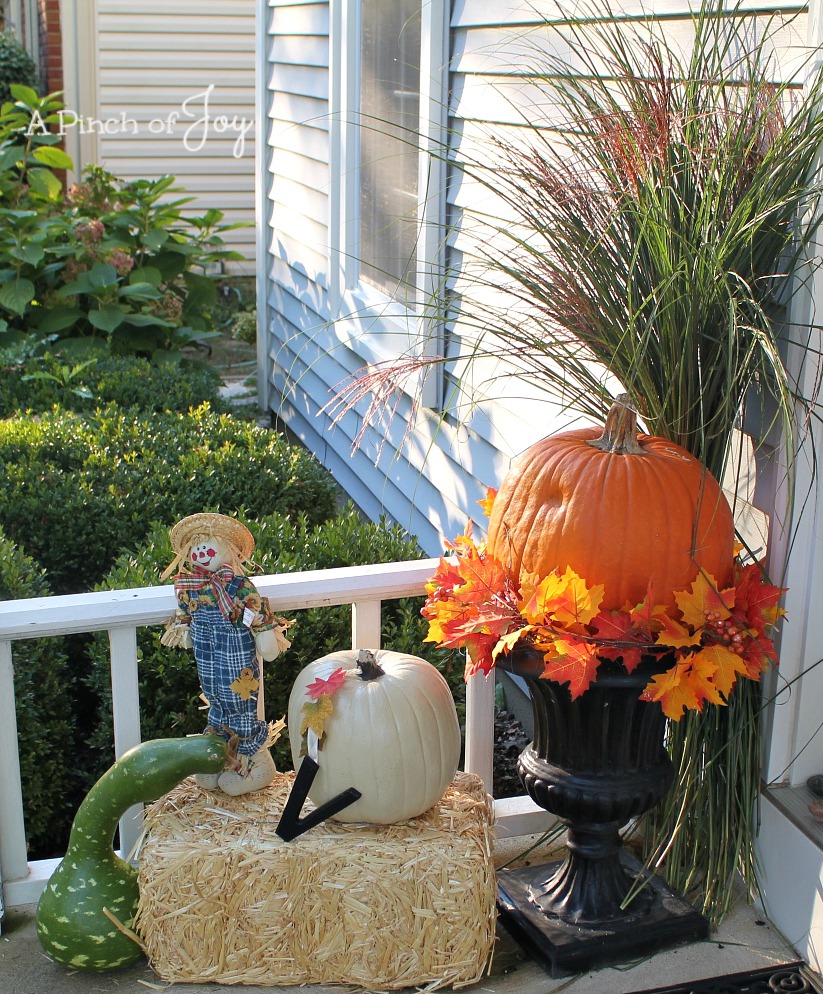 Beautiful pumpkin's companions.  That's a swan gourd at the end.  Looks just like a swan, doesn't it?  If swans were green and spotted.  It's shaped like a swan I meant to say.   The stem looks like the beak — even though you can't find it for the scarecrow's twine ties.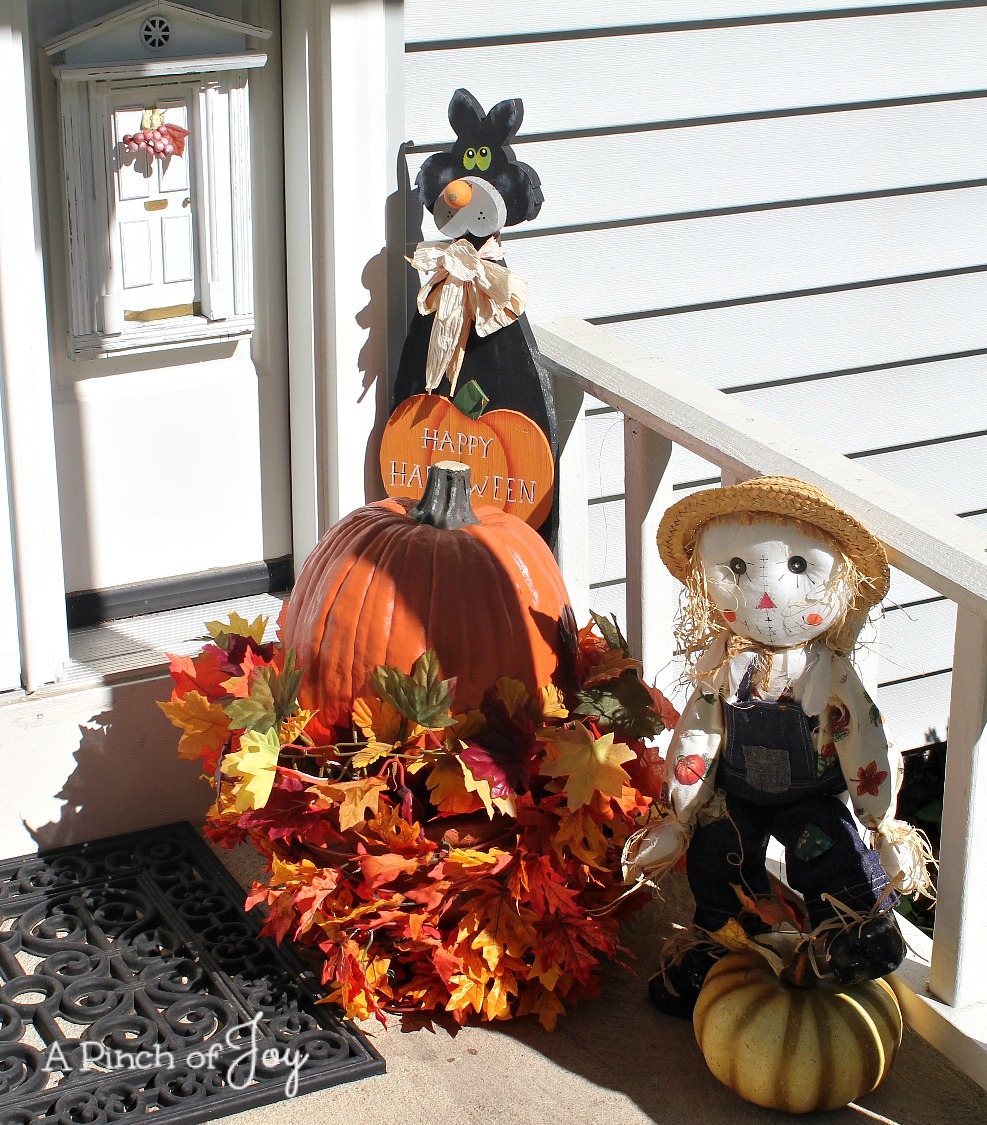 On the other side, shooting into the morning sun, Mr. Strawman rests his foot on the little pumpkin.  My dad always stood with one foot up on something in the rare moments he stopped moving and this makes me laugh.  There are little tiny  lights in the leaves beneath the larger pumpkin to twinkle at twilight.   The cat was a song at a garage sale last summer.  He brings height and quirkiness to the assemblage.  Even the fairy door is celebrating autumn.    How do the fairies get in your house?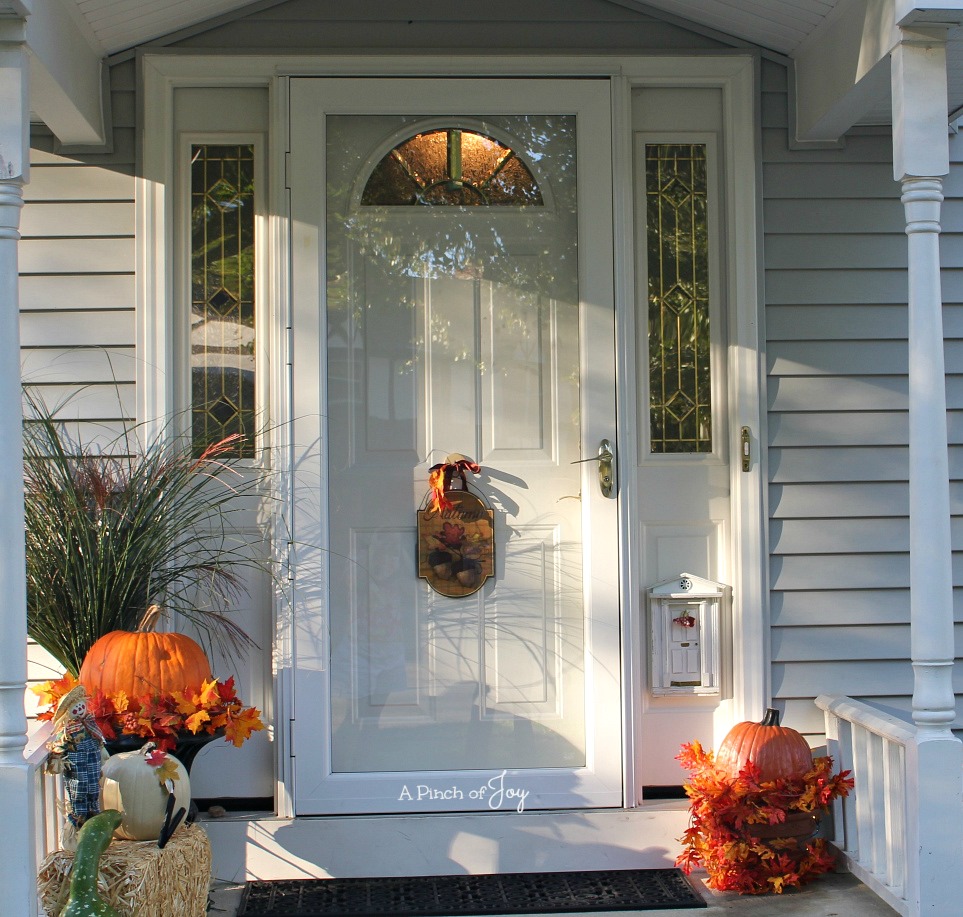 And there it is — beautiful bright fall colors to welcome you! 
Oh, yes.  You are right.  The corner did change.  I took this picture last night in the evening.  And this morning went looking for some more pumpkins I KNOW I put away last year.  Instead I found Mr. Strawman and Quirky Cat.  I went out to take another photo and discovered  the shadows are really strange on our porch mid-morning. The bright sun makes it almost impossible to photograph.  But you won't hear me complaining about too much sun in Ohio!  So that's why you'll have to imagine the corner photo superimposed over the lone pumpkin above!  
I'm so glad you stopped by today!   Be sure to follow A Pinch of Joy so you don't miss a thing! 
Subscribe by email  on the sidebar  or follow on Facebook, RSS feed, bloglovin'  twitter  and check out my  pinterest boards.   If you found this helpful or inspiring please share below!  Your support of A Pinch of Joy is  appreciated!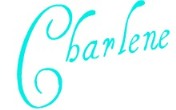 Save