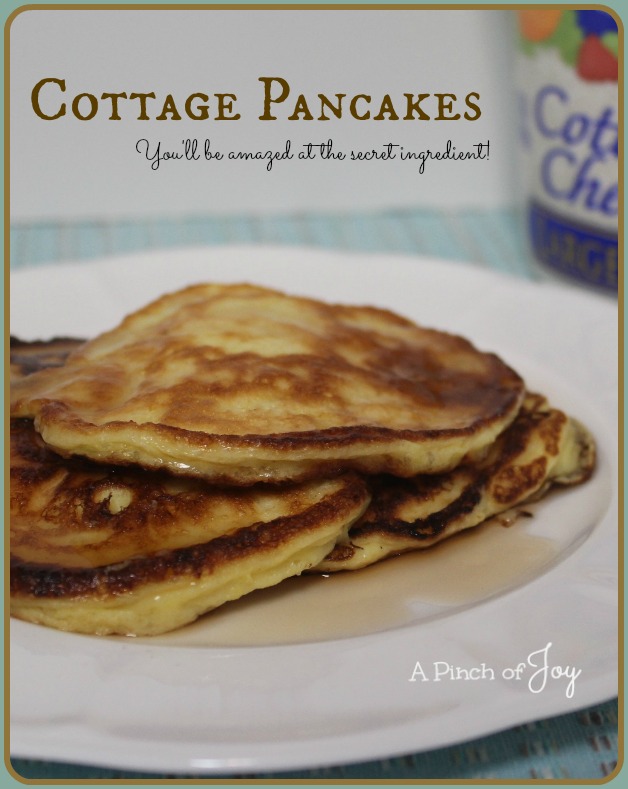 'Wow, this is good'  is the universal verdict when Cottage Pancakes are served.  They are full of protein and other goodness  and are a low carbers dream!   Delicious and healthy equals win-win!   The main ingredients are a little "out of the carton"  (heh, heh!)  without being weird or tasting strange.  They taste just like you expect pancakes to taste.  Only better.

 On this recipe I measure the flour when I first start, add the salt and baking powder to the half cup full of flour and set aside until needed.  That way I don't need to stop and measure but can just keep the mixture light and moving toward the skillet.  I use regular cottage cheese – small curd, large curd doesn't matter.  Smooth it by pulsing it in the food processor or blender until the lumps are gone.  I also — and most frequently — use a hand mixer because it is more convenient in my kitchen — leaves the batter a little lumpier, but not noticeable in the final results.  Whisk the eggs until light and continue whisking to incorporate the cottage cheese.  Stir in the dry ingredients gently until just mixed well.  We're trying to keep the eggs light and airy so the less beating and stirring with dry ingredients the better.  You won't have an inedible product if you don't do this, but it does help make a more tender pancake. Tenderness is good 🙂
Patience is NOT one of my virtues.  I want things done without a lot of fuss or waiting.  Pancakes are no exception.  I've always made large pancakes reasoning the more I fill the skillet the faster I'll get done and can move away from this boring chore.  Then – after zillions of pancakes and many hours drumming on the stove waiting and WAITING for them to cook – it dawned on me.  The reason it takes me so long to make pancakes:   five or six inches in diameter guarantees it will take longer for the middle to set up.  Make smaller pancakes no bigger than three inches in diameter.  You can put more in the skillet and still have room to flip them.  More importantly they will cook faster. Less time drumming on the stove.   I can't believe it took me this long to figure that out.


Cottage Pancakes
Light and filling with a surprise ingredient, a delightful breakfast or Breakfast for Dinner. Low carb!
Author:
Charlene - A Pinch of Joy
Ingredients
6 eggs, medium to large
1½ cups cottage cheese
½ teaspoon salt
½ cup flour
¼ teaspoon baking soda
Instructions
Beat eggs until light.
Puree cottage cheese until smooth
Stir cottage cheese into beaten eggs until well mixed.
Add flour, salt and baking soda, until just mixed.
In large skillet, heat two tablespoons oil until a bit of batter sizzles when dropped into oil.
Pour egg and cottage cheese mixture into skillet to form three inch pancakes.
Cook over medium heat until bubbles begin to burst and center is set. Turn and cook through until brown on other side.
Top with maple syrup or fresh fruit, as desired.
Makes about 2 dozen small pancakes.
Nutrition Information
Serving size:
4 cakes
Calories:
152
Carbohydrates:
10 g
Protein:
12 g
Welcome to A Pinch of Joy!  I'm so glad you stopped by today!   Follow A Pinch of Joy using the icons on the teal bar at the top of the page so you don't miss a thing!   I'd love to have your company on this venture!!  Share: if you found this helpful or inspiring please click one of the buttons below!  Your support of A Pinch of Joy is appreciated!
Shared with these awesome link parties here