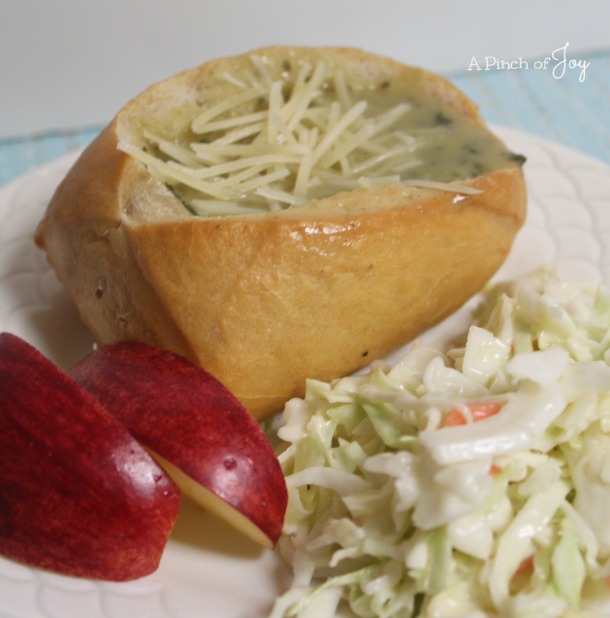 We love creamy soup in a bread bowl.  But the bowl is usually too large.  Which means it is too much to eat at one setting.  And it doesn't "save" well for the next meal.  (Yeah.  I tried.)  It is also too many calories and/or carbs for anyone counting those. 
I also love brotchen or "little bread" in German.  The little bakery around the corner from our apartment in Germany baked them fresh every day.   Crusty and crunchy on the outside.  Chewy and totally satisfying on the inside.  The perfect bread, I think, and one of these days I am going to learn to make them.  The crustiness for this not quite fist sized dinner roll comes from the egg wash, I hear.  Doable enough.  In the meantime, I buy them when and wherever I find them (not too often because I would totally pig out on them everyday!)  
One day I had a pan of cream of broccoli soup on the burner and a bag of brotchen on the counter.
  And the lightbulb above my head began flashing.  Very rapidly.
A small bread bowl.  Just exactly the right size in every way.  And festive enough for guests.  Or a special day lunch for two. 
Make a v shaped cut in the brotchen and lift out the triangular piece of roll you created.  Tear out little pieces of bread if you need to enlarge the "bowl" — just be careful not to tear the crusty outside.  Fill with creamy soup and top with shredded cheese if you like. 
Your tummy will be delighted and your waistline grateful! 
 You'll love it too!   You are so welcome!
I'm so glad you stopped by today!   Be sure to follow A Pinch of Joy so you don't miss a thing! 
Subscribe by email  on the sidebar  or follow on Facebook, RSS feed, bloglovin'  twitter  and check out my  pinterest boards.   If you found this helpful or inspiring please share below!  Your support of A Pinch of Joy is  appreciated!