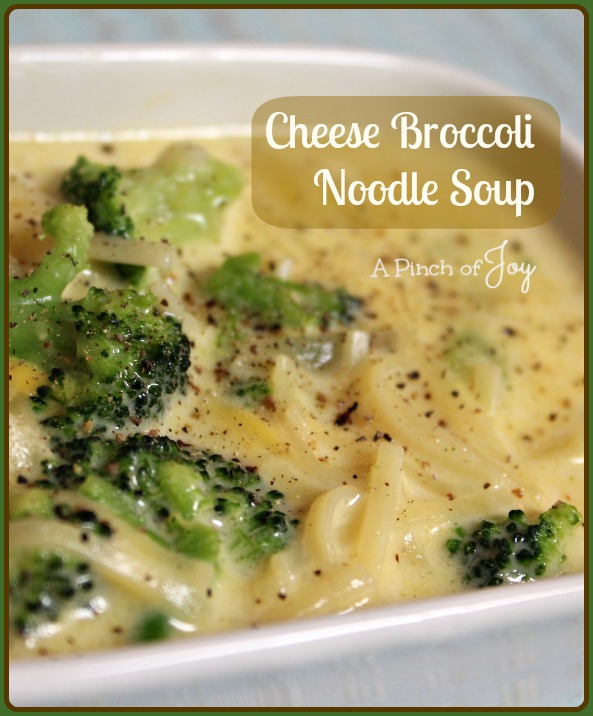 Donna asked me if I had ever had a recipe failure.  Hmmmm – more than a few!  I said I had never been able to make a good broccoli cheese soup even though I'd tried several different recipes.   Donna said "I have a recipe that  you'll love and it won't fail!"  She sent me this tried and true broccoli and cheese noodle soup from her recipe box.  She was right.  It was a hit! 
 I would never have thought of adding noodles to a broccoli cheese soup but it is so good!  The unexpected noodles bring it to a "stick to the ribs" category of yummy.   She made a note to make sure the noodles are extra fine – around an inch long and smaller than the diameter of thin spaghetti.  I did cut the recipe in half to make six servings – one meal for the three of us.  And instead of water and bouillon cubes, I used canned chicken broth.
 This would be really good served with a crusty roll slathered with butter. Drool!!!!   Or biscuits with butter AND honey.  Or strawberry jam.  But since we are carb watchers, we serve a green salad as a side or a fruit salad as a dessert.  And leave the table filled and sassy.   This is definitely a keeper and will be a regular star on the menu.  I love soup and could eat it multiple times a week so  I see much more broccoli in our future!   Wheels like broccoli as much as I like soup and cheese anything fits Bytes world so it's a winner all the way around! 
If you want the original recipe that makes 12 hearty servings, click to download  Donna's Cheese Broccoli Noodle Soup.   Donna also shared her recipes with us for Hot German Potato Salad  and  Spinach Salad with Lemon Garlic Dressing  — both superb!!

Cheese Broccoli Noodle Soup
A filling, delicious hot meal in a dish with noodles, cheese and broccoli. Quick and easy -- done in about twenty minutes for a delicious hearty meal. THE best Broccoli Cheese Soup!
Ingredients
2 tablespoons oil
1 medium onion, chopped
2 cans, 14.5 ounces each, low sodium chicken broth
4 ounces extra fine noodles (do not substitute)
½ teaspoon salt
1 12 ounce package frozen chopped broccoli
⅛ teaspoon garlic powder
3 cups milk
12 ounces Velveeta Cheese, chunked
Instructions
Saute chopped onion in a soup pot or Dutch oven.
Add broth, noodles and salt. Bring to boil and cook three minutes.
Add frozen broccoli and garlic powder and cook four minutes.
Add milk and cheese, stir until cheese is melted.
Add fresh ground black pepper and serve hot.
I'm so glad you stopped by today!
Follow A Pinch of Joy using the icons on the teal bar at the top of the page so you don't miss a thing!   I'd love to have your company on this venture!!  Share: if you found this helpful or inspiring please click one of the buttons below!  Your support of A Pinch of Joy is appreciated!
Shared with these awesome link parties here