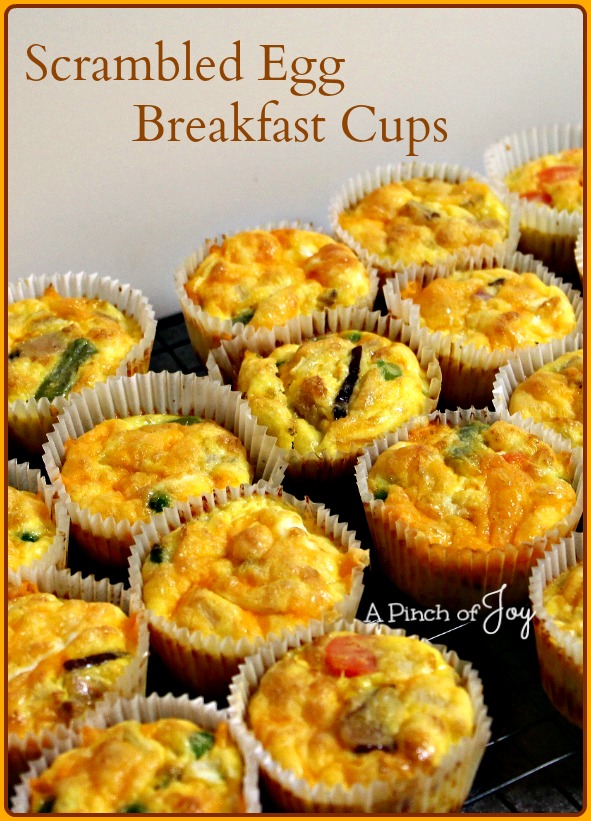 Breakfast around here is normally oatmeal dressed up with flaxseed, nuts and cinnamon.   But when we crave something different these wonderful Scrambled Egg Breakfast Cups come to the rescue.  They add lots more protein from the eggs, meat and cheese to our daily diet.   Quick to make and ready to reheat – a breakfast on the go.  Delicious and customizable to what your family likes – even what individual members want.  Scrambled Egg Breakfast Cups can be packaged in serving sized units and kept in the refrigerator which is perfect for families who eat breakfast on different time schedules.  For smaller families, they can be frozen and defrosted as needed.  Scrambled Egg Breakfast Cups are great for low carb eaters and are diabetic and heart friendly, as well.  
 Our favorite meat option is sausage so the measurements in the recipe are geared that direction.  If you use one of the other options with a smaller amount of meat, you will probably want to add more vegetables.  The mixed vegetable is my choice, but feel free to substitute.  You can choose all broccoli, for example, or a mix of broccoli, carrots and peppers.  Just stay away from vegetable mixes with sauce on them.  Fresh vegetables can also be used in your favorite combination.  We like chopped fresh spinach as a replacement for the mixed vegetables and have also added fresh chopped red and green peppers to the mix.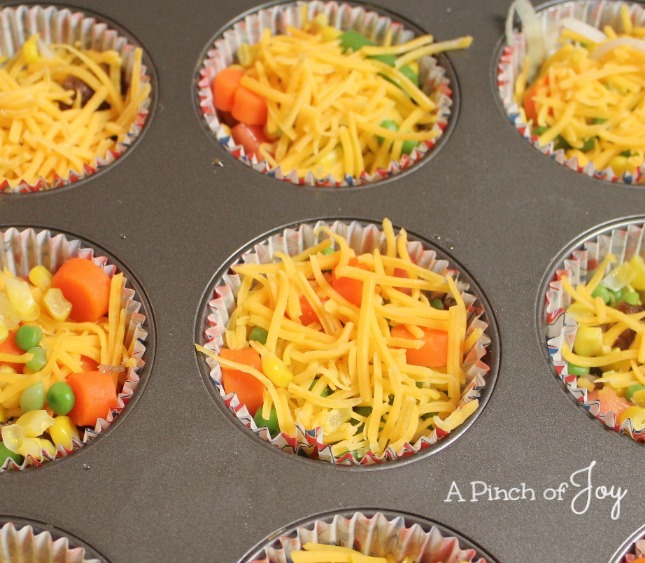 The recipe above, using sausage and vegetables, will make twenty four muffins.  If you don't want to use that much meat or prefer to go lighter on the vegetables, you will have a more "eggy" mixture and fewer breakfast cups.  All good eating – but you'll have this reminder ahead of time that the yield will be smaller and can plan for it.  Don't go hatin' on me when you only get 12 muffin cups with a bit of bacon and a few spinach leaves each.  Just enjoy it! 
 I leave the breakfast cups in their paper liners and package two of them together in zipper plastic bags, then put a whole bunch of those bags into a gallon zipper bag.  It's so easy for each person to remove a package of two, reheat it in the microwave for 1 minute (varies according to your microwave.)  They've never lasted long enough around here for me to try freezing them.  I first saw this basic recipe at Kalyn's Kitchen.com, a great resource for those on a low carb or other special diet. 

Scrambled Egg Breakfast Cups
A healthy breakfast prepared in advance for quick reheating and eating. You can customize this recipe to your family's taste.
Author:
Charlene - A Pinch of Joy
Ingredients
16 medium/large eggs (or combination of egg and egg substitute to equal 16 eggs
½ teaspoon herb/garlic seasoning or seasoning of your choice
½ teaspoon salt
¼ teaspoon pepper
3-4 green onions, thinly sliced and lightly chopped
1 ½ cups shredded cheese
1 10 ounce package frozen mixed vegetables or your preference
Meat option of your preference:
1 pound sausage, browned and drained OR
2 ounces ham, diced OR
1 pound bacon, browned and broken into pieces OR
2 ounces Canadian bacon, diced
Instructions
Prepare muffin pans by putting two cupcake liners into each cup. Lightly spray the top liner with cooking spray so that it will easily separate from the finished egg.
Into each lined cup add 1-2 teaspoons of mixed vegetables, cheese and ham or bacon. If using sausage the measurement will be about 1 tablespoon browned and drained sausage per cup. Cups should be about ⅔ full.
Turn on oven to 375 degrees so that it will preheat while you finish eggs.
Break eggs into mixing bowl, add seasonings and chopped green onions and beat until well mixed.
Carefully ladle egg mixture around the layers in each cup until cups are ¾ full. Add egg mixture to the first cup and continue to add to remaining cups, then repeat. The egg mixture will flow in and around the filler and "settle" so that more egg can be added.
Bake 25-35 minutes until eggs are puffy, slightly browned and set.
Cool before storing in refrigerator in air tight containers. Eggs will keep up to ten days in the refrigerator.
Reheat in microwave for approximately 1 minute (depending on microwave).
Notes
Nutrition values are approximate and based on the sausage option
Nutrition Information
Serving size:
1
Calories:
144
Carbohydrates:
3 grams
Protein:
8 gram

Welcome to A Pinch of Joy!  I'm so glad you stopped by today!   Follow A Pinch of Joy using the icons on the teal bar at the top of the page so you don't miss a thing!   I'd love to have your company on this venture!!  Share: if you found this helpful or inspiring please click one of the buttons below!  Your support of A Pinch of Joy is appreciated!
Shared with these awesome link parties here