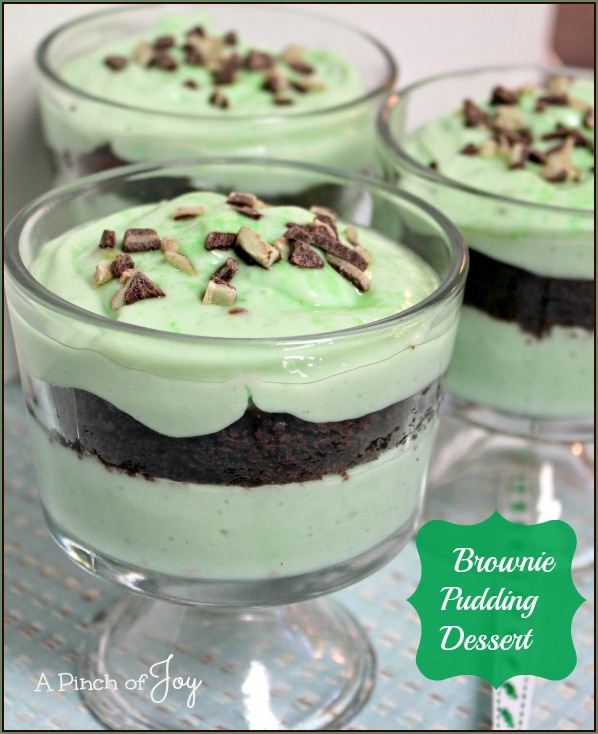 Easy and fun St. Patrick's Day Brownie Pudding Dessert.  We live near a Dublin with a big (and growing!) really fun Irish Festival each summer.  Plus a huge St Patrick's Day parade in mid March led by an honorary leprauchaun.  Even so Saint Patrick's Day is usually celebrated hit and miss at Chez Charlene.  Just the basics:  Make sure everyone has something green to wear and for fun, something green to eat for at least one meal – besides salad.    Quick and easy,  this Brownie dessert between layers of green pistachio pudding would fill the bill for a busy weeknight — celebrating St. Patrick's Day or just because.  Garnish with something fun like golden leprauchaun coins or sugared shamrocks – well, intentions count.  (Don't they????  Please don't burst my bubble!)

This is more a construction than a recipe – 
1.  Bake a batch of brownies using your favorite recipe or box mix.  Cool.
2.  Set out four round dishes or short glasses with straight sides.  
3.  Find a cookie cutter or draw a circle pattern  that just fits inside the containers.  Use them to cut four circles from cooled brownies.
4.  Mix 1 package pistachio pudding (or other green pudding, if available)  according to directions.  I used sugar free. 
5.  Spoon a couple of tablespoons full of pudding into each container, to cover the bottom and rise at least about 1/2 inch up the sides. 
6.  Carefully lay the brownie circle on top of the pudding layer.
7. Divide the remainder of the pudding evenly among the dishes. 
8. Garnish with whipped topping, green sprinkles, chopped nuts, brownie chunks, dark chocolate shavings or Andes Mint Bits or whatever takes your fancy.  Or on a really busy evening – leave them plain and tell everyone to count their blessings. 
                                              Irish Blessings
May you always have…
Walls for the winds
A roof for the rain
Tea beside the fire
Laughter to cheer you
Those you love near you
And all your heart might desire. 
May the blessing of God's soft rain be on you,
Falling gently on your head, refreshing your soul
With the sweetness of little flowers newly blooming.
May the strength of the winds of Heaven bless you,
Carrying the rain to wash your spirit clean
Sparkling after in the sunlight

May the blessing of God's earth be on you,
And as you walk the roads,
May you always have a kind word
for those you meet.
May joy and peace surround you,
contentment latch your door,
and happiness be with you now
and bless you evermore!     

I'm so glad you stopped by today!   Be sure to follow A Pinch of Joy so you don't miss a thing!  I'd love to have your company on this venture!!

Subscribe:  email  on the sidebar  or follow on Facebook /  RSS feed  / bloglovin' /   twitter  and check out my  pinterest boards.   Share: if you found this helpful or inspiring please click one of the buttons below!  Your support of A Pinch of Joy is appreciated!