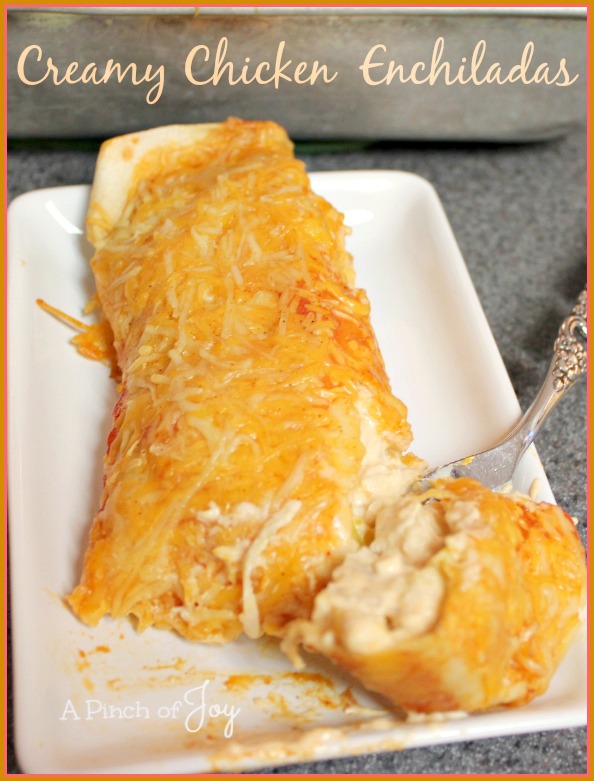 Creamy  chicken enchilada — just slightly spicy and comfort food filling.  Easy to make is a bonus!  This dish is always a winner and has become the go-to way for making chicken enchiladas at our house! 
We — no, it's really me —  prefer mildly spicy so a little extra cumin to a mild enchilada sauce is just right.  If your family likes more kick, by all means adjust and add spices if you want. Use the hot and spicy enchilada sauce!   The creamy chicken base is still there and will support what you want.  You can use frozen chicken that is already sliced or diced.  Or canned chicken will also work.  Either one will save some preparation time. You can also grill or poach chicken breast to use.    Mexican blends of shredded cheese are available, some with added spices.
Use either flour or corn tortillas — whichever you prefer. I usually have flour tortillas on hand.   When Wheels first found out he was diabetic and had to start counting carb intake, I made a lot of assumptions about food.  I assumed that tortillas were low in carbs because . . . . . they were thin.  Well —- wrong, wrong, wrong!   Then I noticed that almost every tortilla brand now has a low carb version — no more missing out on the good stuff!    I  also make sure there is enough filling so the tortilla overlap is just enough to keep everything together  — a high protein/vegetable filling to tortilla  ratio.  Yep – just totally made up that scientific ratio  this minute.   Enjoy in good health!! 

Creamy Chicken Enchiladas
Creamy, cheesy and mildly spicy -- ole!
Author:
Charlene - A Pinch of Joy
Ingredients
6 ounces cream cheese softened
¼ cup sour cream
1 10 ounce can enchilada sauce, mild
2 cups shredded cheese, cheddar or Monterey jack
2 cup cooked chicken, cubed
1 cup corn
¼ teaspoon cumin
1 package of 8 tortillas
3 green onions, thinly sliced
Instructions
Preheat oven to 350. Spray an 8 x 11 pan with cooking spray.
Cream together cream cheese, sour cream and ½ cup enchilada sauce.
Add ½ cup of the shredded cheese, the corn and cumin and mix well.
Cube or shred chicken and add to the mixture. Combine well.
Spread about half the remaining enchilada sauce in the bottom of the baking pan.
Place package of tortillas in microwave for 20 seconds to warm so they are easier to handle.
Spoon about ⅓ cup filling into each tortilla, roll to make cylinder and place in baking pan with the seam down.
When all eight have been rolled, pour the remaining enchilada sauce over the top of the filled tortillas and sprinkle the remaining cheese over the top of the sauce. Top that with the thinly sliced green onions.
Bake for 20-25 minutes until hot and bubbly.
Nutrition Information
Serving size:
1 Enchilada
Please Pin! 
I'm so glad you stopped by today!   Follow A Pinch of Joy using the icons on the teal bar at the top of the page so you don't miss a thing!   I'd love to have your company on this venture!!  Share: if you found this helpful or inspiring please click one of the sharing buttons below!  Your support of A Pinch of Joy is appreciated!
Shared with these awesome link parties here