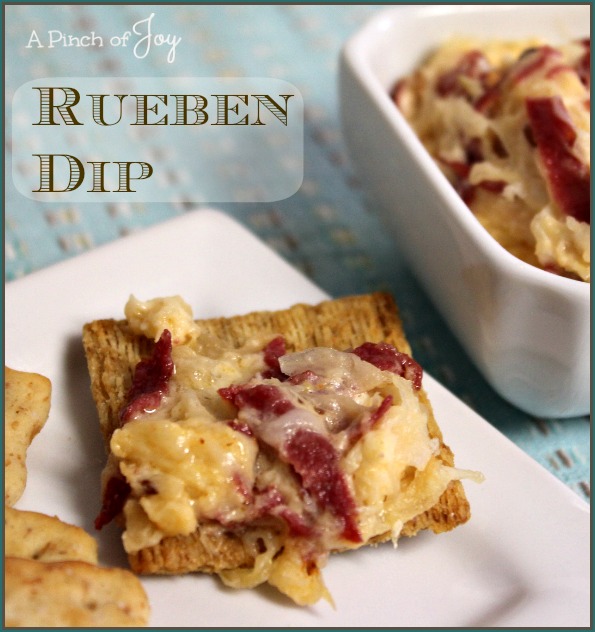 Bytes and Wheels are Rueben collectors.  Whenever they eat out and there is a Rueben sandwich on the menu – everything comes to a halt until they order one. And when it arrives, attention is focused on nothing but the Rueben and the whole Rueben.  This Rueben Dip has the same effect.  Nothing can interrupt the inhalation. 
 You can layer this dip if you want.  But I'll tell you, it's a waste of time.  Nobody is going to pay any attention to nice layers.  It's dig in, every dog for himself until it's gone.  So just soften the cream cheese by bringing it to room temperature.  Stir in the Thousand Island dressing.  Add one cup of the Swiss Cheese, the drained sauerkraut and the corned beef.   Stir well and spread into an 8×8 pan or a 9 inch diameter pie pan.  Sprinkle the remainder of the Swiss Cheese on top.  If you have a decorative pan, by all means use it.  It will make your heart sing as you carry it full to the table and empty to the dishwasher.  Nobody else is going to notice since they are riveted on the dip 😉 
 With my tastebuds geared for smooth and sweet and chocolate – the Rueben sandwich thing escapes me.    But I like this dip – on the creamy side with a bit of meat and a nice tang.  Serve with miniature rye toast for the whole Rueben experience. It's also good with triscuit crackers or a flatbread cracker – something with very little salt and mild flavor that is not competitive with the sauerkraut.

Rueben Dip
A creamy, tangy dip that tastes just like it's brother, the Rueben Sandwich! Serve with mild flavored crackers or rye toast crisps.
Author:
Charlene - A Pinch of Joy
Ingredients
1 package cream cheese, 8 ounces, softened
¼ cup Thousand Island dressing
1 ½ cups of Swiss cheese (1 6 ounce package)
1 cup sauerkraut, drained
1 cup chopped corned beef (4 ounces deli sliced)
Instructions
Preheat oven to 375
Put 1 cup sauerkraut into colander to drain, press lightly once or twice.
In large mixing bowl, mix cream cheese and Thousand Island dressing together.
Chop deli sliced corned beef into even pieces.
Add drained sauerkraut, corned beef and 1 cup of the Swiss cheese to cream cheese mixture and blend well.
Spray 8x8 baking pan or a 9 inch diameter pie plate with cooking spray and turn mixture into pan.
Sprinkle remaining ½ cup Swiss cheese on top of the dip.
Bake until melted and beginning to bubble, about 20 minutes.
Serve hot with rye bread, or mild flavored crackers, like triscuits, pretzel flips or flatbread.
Nutrition Information
Serving size:
1 tablespoon
Please Pin! 
I'm so glad you stopped by today!   Follow A Pinch of Joy using the icons on the teal bar at the top of the page so you don't miss a thing!   I'd love to have your company on this venture!!  Share: if you found this helpful or inspiring please click one of the sharing buttons below!  Your support of A Pinch of Joy is appreciated!
Shared with these awesome link parties here  
Save
Save
Save
Save