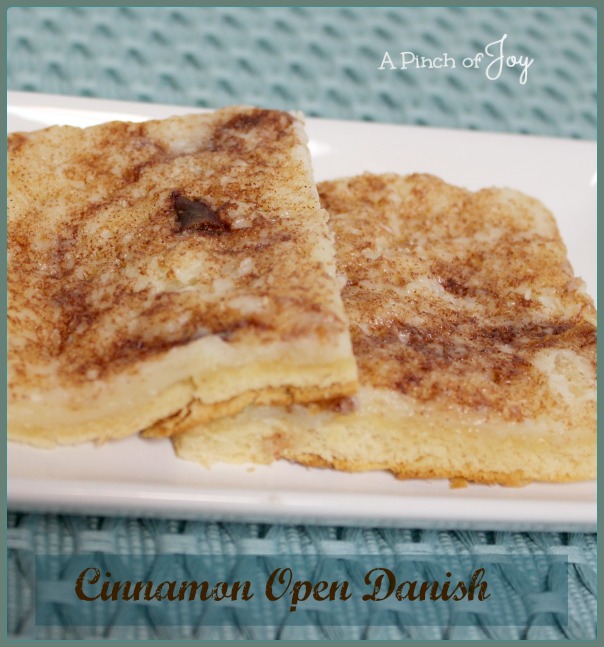 Officially these cinnamon cream cheese treats are called Cinnamon Cream Cheese Open Danish.  Cinnamon Flats is the name Wheels gave them and how they are known around our house.  Leaving off the top layer usually given a Danish and spreading the dough in a larger jelly roll pan instead of a 9×13 reduces the carb count without reducing the deliciousness.  You could serve these for breakfast.   You could probably also eat them at lunch – I'm pretty sure you can.  Maybe even serve them for a  brunch or a tea party.   We use them for dessert at dinner.  Cinnamon and cream cheese baked on a crescent roll base – good any time. 
I use Pillsbury Crescents.  And I prefer the sheets, if they are available.  If not, just be sure to pat the perforations closed.  (This is a great job for little hands.)  Mixing the cream cheese until it is light and somewhat fluffy allows you to spread it more easily on the dough.  You can substitute Neufachetal Cheese (which is lower in fat) but I use Philadephia Cream Cheese.  Let cool about ten minutes before cutting.  These are really good when served hot, but they are also good the second day.  Warm about 30 seconds in the microwave before devouring.  Actually, I like them better the second day as the cream cheese is a little more firm and the flavors have developed more deeply.   Bytes likes to spread a bit of strawberry or grape jelly on them.
This is a quick and easy recipe which will serve more than one meal (or feed hearty eaters).  We are getting ready to take the kitchen out of commission for a while (I'm so excited!)  so you're likely to see quick n easy and slow cooker recipes for the next weeks. 
Consider yourself warned 🙂

Cinnamon Cream Cheese Open Danish
Creamy cinnamony -- so good for breakfast, lunch, dinner, tea time, brunch time, anytime!
Author:
Charlene - A Pinch of Joy
Ingredients
2 packages crescent rolls
2 packages cream cheese
¾ cup sugar
1 teaspoon vanilla
½ cup butter, melted
½ cup sugar
1 teaspoon cinnamon
Instructions
Turn on oven to 350 degrees.
Unroll the two packages of crescent roll dough and pat out across an ungreased 11x15 jellyroll pan.
Place the cream cheese, vanilla and ¾ cup sugar in medium mixing bowl. Beat until fluffy.
Spread cream cheese mixture across the crescent roll dough.
Mix together the ½ cup sugar and cinnamon, then sprinkle evenly over the cream cheese mixture.
Melt butter in the microwave and spoon or pour over the cinnamon sugar layer.
Bake at 350 for about 25 minutes.
Nutrition Information
Serving size:
3\\\" x 3\\\"

Welcome to A Pinch of Joy!  I'm so glad you stopped by today!   Follow A Pinch of Joy using the icons on the teal bar at the top of the page so you don't miss a thing!   I'd love to have your company on this venture!!  Share: if you found this helpful or inspiring please click one of the buttons below!  Your support of A Pinch of Joy is appreciated!
Shared with these awesome link parties here  
Save