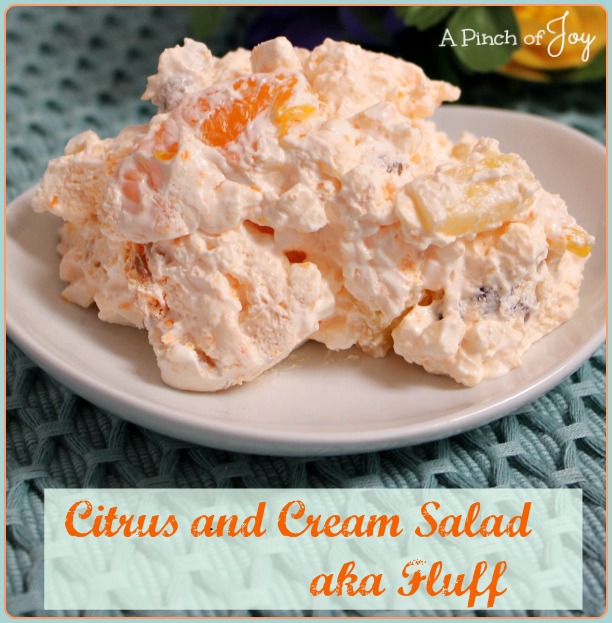 Many families expect a certain dish to be on the table at every gathering.  Citrus and Cream Salad  started as a favorite of a particular relative who could be counted on to show up to the family potluck with a big dish of it in hand.  Fruit, cottage cheese,  and your favorite Jell0 all wrapped in whipped topping – everyone loved it!    When the original contributor moved on to new and different foods, others began filling the gap by making the dish THEIR signature.  It is simple, foolproof even!  Easy to transport already made or quick to make on the spot.   Looks good and tastes even better.
If you live in the middle  USA, this dish is known as "Fluff" something.  At our table it is  "that Fluff Stuff".  Fluff  refers to the bowl of whipped topping on the ingredient list and referenced by "cream" in the real name.  All the other ingredients could vary, but fluff is the mainstay.  The dish can be eaten as dessert or salad –or  a main dish.  Or as a meal in itself.   Started by grandmas long ago and contributed forever after to family gatherings by beginning and uncertain cooks and those of considerable skill who know what counts as a no-fail potluck dish.   Citrus and Cream Salad is a classic.
Precise measurements don't matter for this recipe.  Use what you have.  Cottage cheese carton missing a spoonful or two – doesn't matter. Neither does large curd or small curd (I prefer the large curd for cottage cheese any time.  That's just me).   Whipped topping on hand is a full carton plus a half cup in another container – use it all.  Pineapple doesn't match the size can given – use two smaller ones or even just one if that is all that is on the shelf.   My favorite flavor of gelatin with this dish is orange, but lemon or lime works just as well.  The color will be orange, light yellow or green – your choice.  I like the crunchy walnuts and usually put in a  handful more than the recipe says.  This is also a perfect dish for kids to make (or younger kids to help make).  Just be sure the mixing bowl is large enough to handle the ingredients and stirring needed.  Curb enthusiastic stirring as whipped topping needs "folding" motion or a gentle stir to mix ingredients not a "whupping" that removes the air.

I'm so glad you stopped by today!   Be sure to follow A Pinch of Joy so you don't miss a thing! 
Subscribe by email  on the sidebar  or follow on Facebook, RSS feed, bloglovin'  twitter  and check out my  pinterest boards.   If you found this helpful or inspiring please share below!  Your support of A Pinch of Joy is  appreciated!