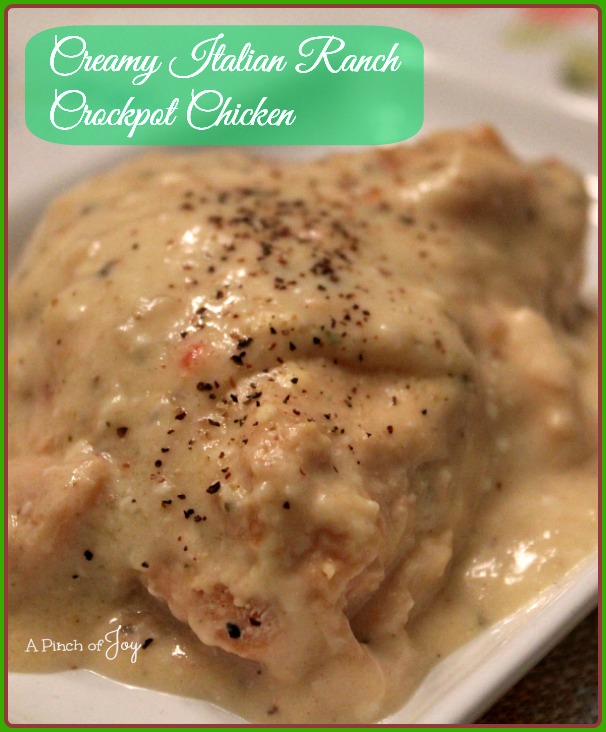 Creamy and flavorful chicken from the slow cooker served over brown rice, this is a very satisfying meal requiring minimal preparation and easy peasy cooking in the crockpot.  Great for those times when your attention is focused on other projects.  Cooking during a kitchen remodel has definitely been a challenge!!  The stove is out in the garage and the kitchen is full of three guys wielding power tools.  My cooking space is one crockpot on a tv tray in the front hallway adjoining the dining room and a second crockpot on the little chest in the dining room.  The dining room  is stuffed with boxes full of cabinet contents.  They were orderly when the project started four days ago.  Operative word – "were".     The motto is:  "Keep calm and cook on."  Because that keeps the crew fueled and those new cabinets going up!
One crockpot today contained our lunch.   Left over soup  – begin with a packaged vegetable soup mix and throw in what is left of yesterday's crockpot roast and just about everything else found in little containers in the fridge.   The second crockpot bubbled with a new- to- me creamy chicken recipe for our dinner.  I improvised a little by using dried onion flakes instead of sautéing a fresh onion and used minced garlic from a jar.  I also mixed them into the cream of chicken soup and cream cheese right in the crock pot on top of the chicken using shallow strokes of my mixing spoon.  This was supposed to be creamy Italian chicken – but I put in a package of ranch by mistake.  I couldn't get to my spices to kick up the ranch flavors so I just went ahead and added the Italian dressing too.  I would make it the same way again because it made a very good and flavorful chicken and gravy dish served over brown rice.

Creamy Italian Ranch Crockpot Chicken
Rich and flavorful gravy and tender chicken is delicious served over brown rice, noodles or mashed potatoes.
Ingredients
3 pounds chicken
1 package Italian Salad Dressing Mix (2/3 ounce)
1 package Ranch Dressing Mix
2 tablespoons melted butter
¼ cup water
1 small onion, chopped
additional 2 tablespoons butter
1 clove garlic, chopped
1 can cream of chicken soup (10 ½ ounces)
8 ounces cream cheese
Instructions
Place chicken in crock pot, pour melted butter over chicken.
Sprinkle Italian and ranch dressing over chicken, including between pieces.
Pour water evenly over chicken and dressing mixes.
Cook on low for 4-6 hours.
Saute onion and garlic in 2 tablespoons butter.
Add cream of chicken soup, cream cheese and stir until smooth.
Pour over chicken and cook on low for an additional hour.
Nutrition Information
Serving size:
10 oz
Calories:
382
Carbohydrates:
5 g
Protein:
38 g
I'm so glad you stopped by today!   Follow A Pinch of Joy using the icons on the teal bar at the top of the page so you don't miss a thing!   I'd love to have your company on this venture!!  Share: if you found this helpful or inspiring please click one of the buttons below!  Your support of A Pinch of Joy is appreciated!
Shared with these awesome link parties here