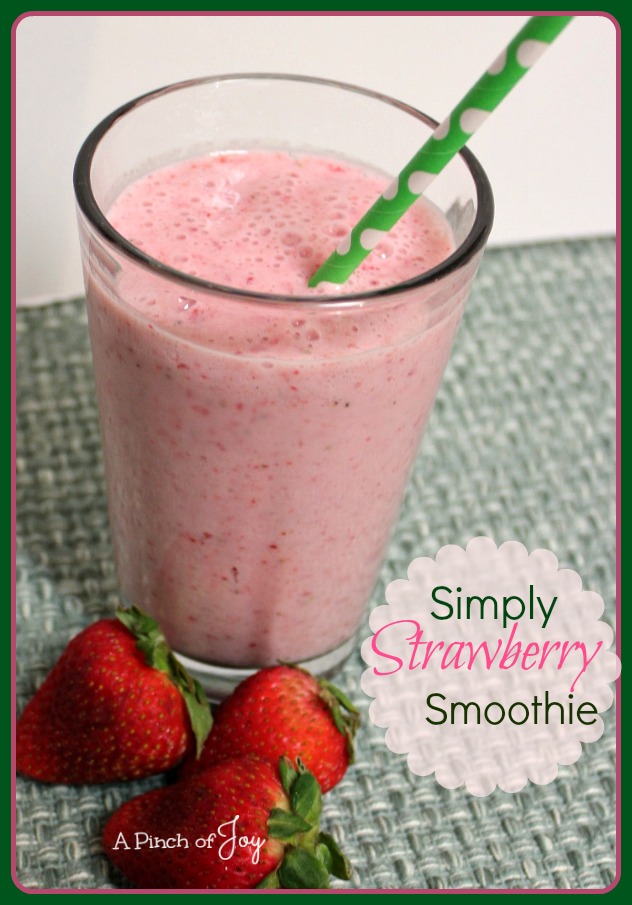 Have to admit I'm slow to the smoothie parade.  We've always preferred to eat our fruit as fruit (or a dessert with fruit showing – yes!)  rather than drinking it.  But this entire long weekend we worked hard outdoors — digging, painting, planting, changing everything around.   A cold, fruity nutritious drink sounded like a great idea.  I had a big box of strawberries in the refrigerator so I quickly looked at half a dozen recipes online, and mooshed together the two simplest ones.   I was tired and didn't want to hunt for any flavorings so I left them out.  And came up with a simply strawberry smoothie.  It was perfect. 
I'm not making any claims for this concoction – other than it was cold, fruity and hit the spot – but it totally revived our spirits and gave us renewed energy.   We flew through the rest of the chores that afternoon, accomplishing more than we thought possible.  Absolutely a life changer – for that moment in time anyway.  After all, isn't life really about the moments?  Sitting in companionable silence amidst the chirping birds and swaying trees, savoring what has been accomplished and, with each sip, feeling more and more like the end of the list can be achieved yet this day!  Powerful stuff this smoothie!  We may be hooked!
Simply Strawberry Smoothie
Strawberry sweetness -- so good!
Ingredients
8 strawberries, washed and hulled
½ cup greek yogurt
½ cup milk
2 tablespoons sugar
8 ice cubes
Instructions
In blender, combine all ingredients.
Spin to desired smoothness.
Pour into two glasses and serve cold.
I'm so glad you stopped by today!   Be sure to follow A Pinch of Joy so you don't miss a thing! 
Subscribe by email  on the sidebar  or follow on Facebook, RSS feed, bloglovin'  twitter  and check out my  pinterest boards.   If you found this helpful or inspiring please share below!  Your support of A Pinch of Joy is  appreciated!
Save