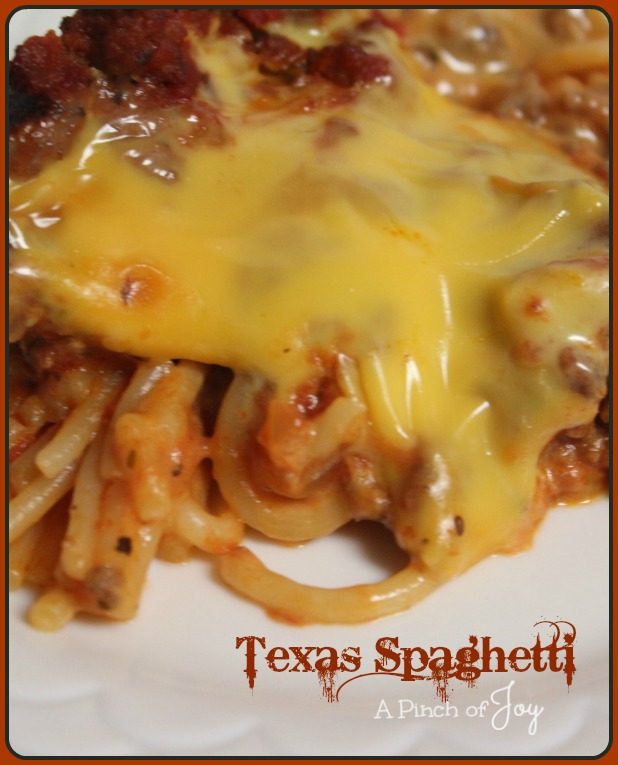 I needed a dish to take to a family of three big guys and big eaters.  Something that could be refrigerated for a few days or frozen until later.  Something that could be warmed one serving at a time or all at once for a meal.  Something familiar, truly comfort food as they were in the midst of a tough time. I was hesitant to do this sort of thing for a long time after we moved to a metropolitan area.  Then I had surgery one year and the neighbors planned things so someone brought us something for the evening meal every day.  It was wonderful for the whole family not to have to worry about groceries, planning or cooking for that week!  Now I have no qualms about taking things to people who might need a bit of relief. 
I remembered Texas Spaghetti from Cub Scout days.  It fit all the requirements above and since the Scouts loved it, I knew the big guys would too.   I keep a few disposable aluminum pans on hand (from the dollar store) for baked things – no worry about having to return those.  I pulled out the deep 8×11 inch size and filled it with Texas Spaghetti.   It was appreciated!  And when I was asked for the recipe, I knew it was simple enough for learning cooks on a tight budget to make.  I used 2 cups shredded cheese for the layers and then a layer of sliced cheddar across the top.  The deep 8×11 disposable pan will fit better in a refrigerator or freezer, but use a 9×13 when preparing an easy meal at home.  Add 5 minutes to the baking time for the deeper pan to make sure the casserole is hot in the middle.  Add 10 minutes to baking time if casserole was refrigerated before baking. 
No – I have no idea what makes this "Texas" spaghetti!   If you do, let me know!!!
Texas Spaghetti
Quick, frugal and filling comfort food.
Ingredients
1 pound ground beef
1 medium onion, diced
1 26 ounce jar spaghetti sauce,
1 7 ounce can sliced mushrooms, optional
3 cups (12 ounces) shredded cheddar cheese
1 16 ounce package spaghetti
Instructions
Dice onion and sauté for about five minutes. Set aside.
Brown ground beef and drain excess grease.
Add onions and spaghetti sauce to ground beef. Add mushrooms, if desired. Bring to simmer. Cook for 30 minutes.
While sauce is simmering, cook spaghetti according to package directions.
Spray a 9x13 inch pan with cooking spray. Make a layer of cooked spaghetti in bottom of pan, add a layer of meat sauce, then a layer of cheese. Repeat.
Bake at 350 degrees for 20 minutes until cheese is melted.
I'm so glad you stopped by today!   Be sure to follow A Pinch of Joy so you don't miss a thing! 
Subscribe by email  on the sidebar  or follow on Facebook, RSS feed, bloglovin'  twitter  and check out my  pinterest boards.   If you found this helpful or inspiring please share below!  Your support of A Pinch of Joy is  appreciated!