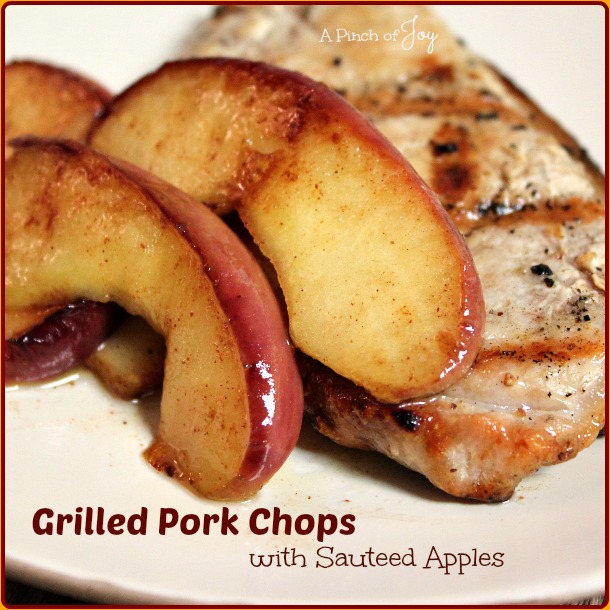 A quick and easy recipe from Bytes!  This one is super fast!  You'll need one medium pork chop per person.  A medium chop is 3/4 inch to 1 inch thick.  The ones Bytes used were about the size of my hand — maybe three inches across by about five inches long.    Grilling time is 5 to 6 minutes on each side.  The apples also take about 10 minutes to cook — no need to peel, just quarter, core and slice.  If your grill has a side burner, this goes really quickly.  Or you can cook the apples ahead of time and warm them just before serving with the finished chop.  Use whatever apples you have on hand, a crisp apple like Gala or Fuji is good.   Another Bytes' Bite –a meal that is quick to prepare and clean up and move on to the evening's activity! 

Grilled Pork Chops with Sauteed Apples
Tender grilled pork chops served with cinnamony sweet sauteed apples.
Author:
Bytes - A Pinch of Joy
Ingredients
Pork Chops
1 medium Pork Chop per person
Seasoning to taste
Sauteed Apples
1 apple for each two pork chops
1 tablespoon butter for each apple
Cinnamon to sprinkle on apples, ¼ teaspoon or to taste
1 teaspoon honey or maple syrup per apple for drizzling, optional
Instructions
Pork Chops
Preheat Grill to medium heat and cook chops about 5-6 minutes on each side. Internal temperature should be about 145 degrees.
Sauteed Apples
Quarter apples, then core and slice.
Melt butter in medium skillet and add apples.
Cook over medium heat and stir gently every couple of minutes, until apples are tender but not soft.
Sprinkle cinnamon over apples and drizzle with honey or maple syrup, if desired.
Serve warm over hot pork chops.
Nutrition Information
Serving size:
One pork chop plus one half apple

Welcome to A Pinch of Joy!  I'm so glad you stopped by today!   Follow A Pinch of Joy using the icons on the teal bar at the top of the page so you don't miss a thing!   I'd love to have your company on this venture!!  Share: if you found this helpful or inspiring please click one of the buttons below!  Your support of A Pinch of Joy is appreciated!
Shared with these awesome link parties here