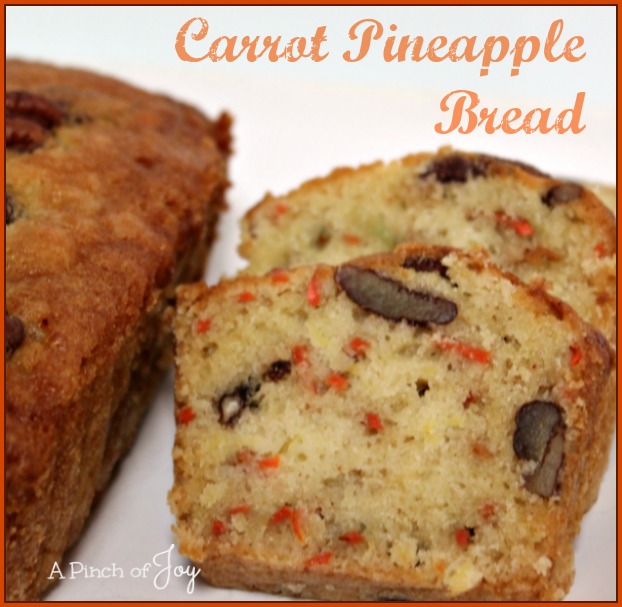 Carrot Pineapple Bread is a delicate and delightfully pretty bread. It makes a nice addition to a tea table or an afternoon dessert buffet. Use a sharp knife to cut so the slices don't tear. We inhale this plain, but it would be nice served with whipped cream cheese or a light lemon flavor whipped butter. This is quick and easy to assemble. I use a 10 ounce bag of shredded carrots from the grocery because I like the convenience. Save back a few nice looking pecan halves to put on top of each loaf before baking.
My mother provided afternoon day care for morning kindergarteners. They loved her and she delighted in their ways and sayings. One afternoon she decided it was time to harvest the carrots. She and her entourage of three or four kids went to the garden. She showed them how the carrots were ready when their "shoulders" had popped out of the ground. Then demonstrated how to pull the carrot out of the soft soil. One little boy looked at the carrot flecked with black dirt, at her and then back at the carrot. He was clearly not impressed. "Why don't you do like my momma?", he said, "Get carrots at the grocery store. They don't have that green stuff on top and THEY"S CLEAN!!!"
Guarantee the carrots in this are good. And the little loaves are delicious. It will win a kindergarteners heart – and his momma and daddy's and sister's too!
Carrot Pineapple Bread
A delicate flavored, delightfully pretty bread that is so quick and easy to make!
Serves:
5 loaves 51/2 x 3 inches
Ingredients
3 cups flour
1 teaspoon baking soda
1 teaspoon salt
1 teaspoon ground ginger
½ teaspoon baking powder
3 eggs
1 cup vegetable oil
1 ½ cups sugar
1 8 ounce can crushed pineapple, drained
2 cups shredded carrots (OR 1 10 ounce bag)
1 cup chopped pecans
Instructions
Preheat over to 350.
Grease and flour five 5 ½" x 3" loaf pans.
Mix dry ingredients in medium bowl and set aside.
In large mixer bowl, beat eggs and oil at medium speed until well blended. Add sugar and continue beating until mixture is thick, about 2 minutes.
At low speed, beat in carrots and pineapple.
By hand, stir in flour mixture just until flour is moistened. Stir in nuts.
Divide batter equally among the five pans.
Bake for 50 minutes or until a wooden pick inserted in center comes out clean.
Cool in pans on wire racks for 10 minutes. Remove from pans and cool completely.
Breads can be wrapped in foil and stored in the freezer up to three months.
I'm so glad you stopped by today!   Be sure to follow A Pinch of Joy so you don't miss a thing! 
Subscribe by email  on the sidebar  or follow on Facebook, RSS feed, bloglovin'  twitter  and check out my  pinterest boards.   If you found this helpful or inspiring please share below!  Your support of A Pinch of Joy is  appreciated!