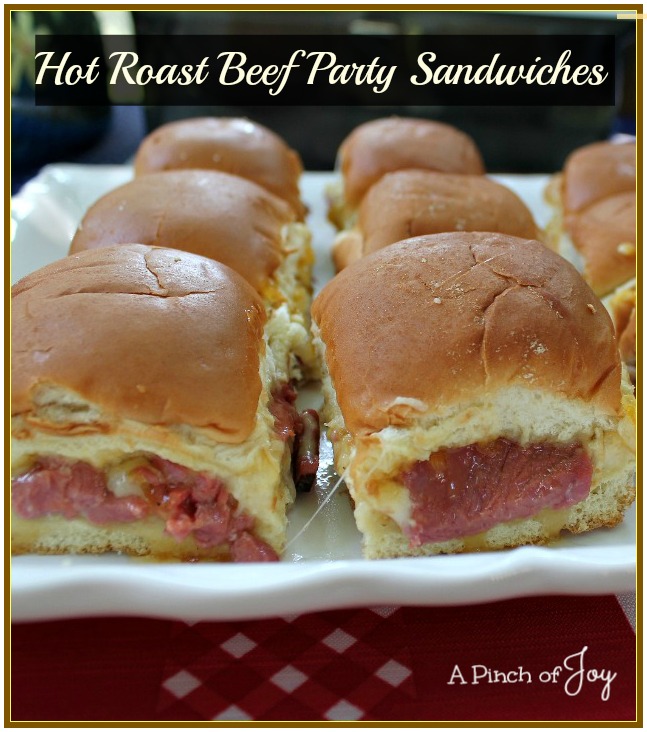 Hot Roast Beef Party Sandwiches was one of the main dishes I served at two ladies luncheons recently. A hot sandwich was a nice counterpoint for the cold salads and desserts that made up the rest of the menu. They were so easy to make and, most importantly, delicious! The size was just right for guests who were sampling everyone's contribution. The guys are always happy to dispatch of any leftovers with the "suggestion" I might need to make some of these wonders just for them. Who knows? Some wintry Sunday evening, I just might make these for family supper!
I made them the morning of the event, but they could be prepared up to a month ahead of time, assembled and wrapped for baking. Thaw overnight in the refrigerator before baking as directed. I used a package of 12 rolls that had been baked together, Hellman's dijonnaise mustard mayo mix and sugar free peach preserves. The meat this time was Oscar Meyer Carving Board Roast Beef, which I liked because it was cut thickly and just enough for the twelve sandwiches. If Havarti Cheese is available with the other sliced cheeses in the dairy section, it is a bit cheaper than the deli slices. Time the end of the baking ten minutes or so before serving, to let the foil cool a bit and make handling easier.
Black and white table setting for a casual outdoor luncheon.  Guests brought a salad or dessert and I provided the main dishes.  Party does not mean fancy — just a welcoming and hospitable atmosphere.  These are my "everyday" dishes and a tablecloth right out of the dryer.  Hydrangeas are from the garden in a vase by Tar-jay!  The only "fancy" are the black and white paper napkins from TJ Maxx.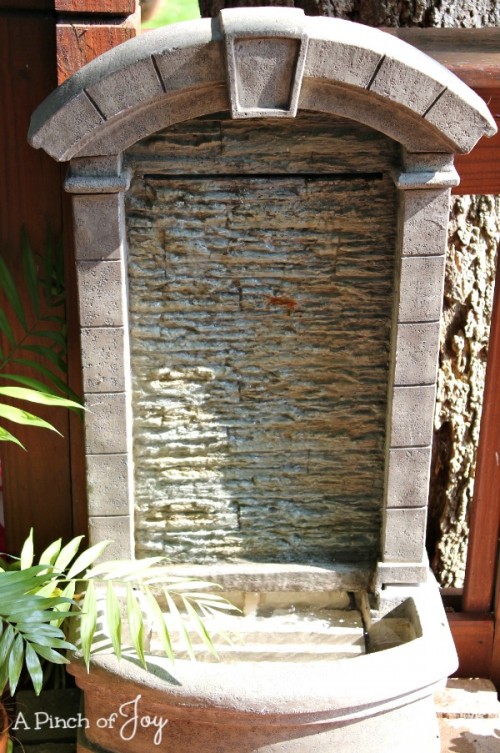 Party day was absolutely beautiful, with a slight breeze and the sound of water falling from the small fountain.
Hot Roast Beef Party Sandwiches
Sweet and savory addition to the party table, a hot sandwich that pleases everyone!
Ingredients
½ cup finely chopped walnuts
12 dinner rolls (package sizes may vary)
⅔ cup peach preserves
½ cup mustard mayonnaise blend
12 ounces deli roast beef
8 ounces Havarti Cheese
Instructions
Preheat oven to 325 degrees
Heat walnuts in small skillet over medium heat, stirring often until lightly toasted and fragrant, about 5 minutes.
Remove rolls from package. Do not separate. Cut rolls in half horizontally, creating 1 top and 1 bottom per package.
Spread preserves on cut side of top of rolls and sprinkle with chopped walnuts.
Spread mustard-mayo blend on cut side of bottom of rolls. Top with roast beef and cheese.
Set top half of rolls, preserves side down, onto bottom half.
Wrap securely in aluminum foil. Can freeze at this point and keep up to one month. If frozen, thaw overnight in the refrigerator before proceeding.
Bake at 325F for 30 minutes or until cheese is melted.
Slice rolls apart to form individual sandwiches.
I'm so glad you stopped by today!   Be sure to follow A Pinch of Joy using the icons on the blue bar at the top of the page so you don't miss a thing!   I'd love to have your company on this venture!!  Share: if you found this helpful or inspiring please click one of the buttons below!  Your support of A Pinch of Joy is appreciated!