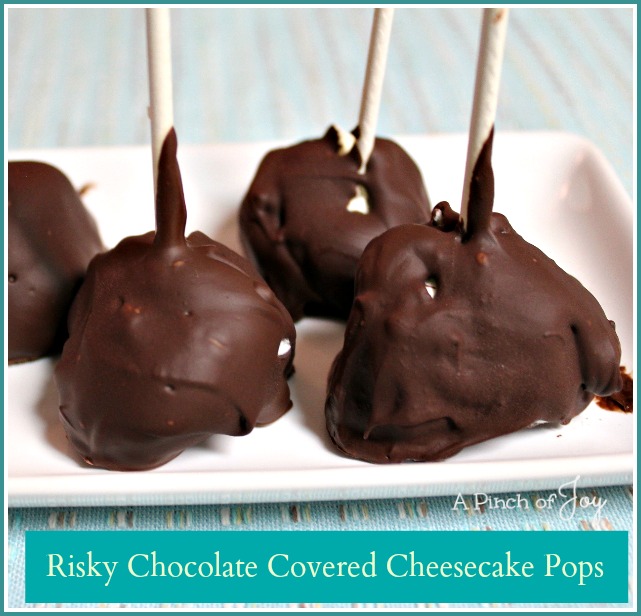 These Chocolate Covered Cheesecake Pops are clearly a fail when you consider the appearance.  I am not destined to be a chocolate dipper!  See that leering face on the plate lower right?  Even the chocolate is going Mwhahaha!   However, the taste was great!  In the interest of transparency — just so you know that all is not perfect at Chez Charlene — the story of Cheesecake Pops.
These sounded so good that I tore out the recipe and added it to the stack of goodies I wanted to make for a special luncheon. I mixed up the cheesecake (which isn't really cheesecake – it's more on the cream cheese truffle side). It went into the big freezer for the specified time and then life got crazy. I put off dipping the frozen bites in chocolate. Wheels and I taste tested them a couple of times. Good. Not cheesecake. Not truffle. But good. And a few days later it was crunch time to dip them in chocolate and make them all pretty for the next day luncheon.
Oops! The dark chocolate chips I thought were in the cupboard were really white chocolate chips. Wheels and Bytes trucked off to the late night grocery for dark chocolate chips. And coffee — because we were out of K-cups for the Kuerig and it didn't seem hospitable to offer fill it yourself  cups for the luncheon. By the time they got back I had talked myself out of dipping the cheesecake truffle balls. There was so much food that no one missed them the next day. No one drank any coffee either. But don't tell Bytes and Wheels.
Fast forward several days. I decide it's time to dip these little balls in chocolate so we can have a nice treat for dessert. Ummmm . . . . . . yeah.
I measure out half the required amount of chocolate chips from the 20 ounce bag, and put them in the microwave to melt as directed. I dash to the basement, snatch the waiting pan of frozen cheesecake/truffle balls from the freezer, grab the lollipop sticks from the ironing board and run back upstairs before the microwave beeps. Stir the chocolate chips and put them in the microwave for another twenty seconds. Insert lollipop stick into each of the 19 frozen balls that remained.Yeah, I know the directions say to put them in earlier — but I wouldn't have been able to shut the freezer.  And this worked.   So far so good.
Give the melted chocolate chips a final stir and begin to dip. Let the excess chocolate drip off, it said. Except it liked it on the frozen ball and didn't want to drip. I tried "helping" the excess chocolate drip off and shaved off the whole bottom of the next one. Twirl the third one – the excess chocolate just wrapped itself tighter. The fourth one only took chocolate on the bottom half and had to have spoonfuls poured on the top. The chocolate was getting cool even though I was working very quickly  so I added the fifth and sixth ones to the bowl and spooned chocolate over both. No excess came off there either. The seventh was even less cooperative, but perseverance got it covered. The eighth one sucked up the remaining chocolate.   The chocolate that was supposed to cover 12 out of 24 beautiful little cheesecake pops.
I looked over the eight chocolate covered goodies and gave up on beautiful. I measured out another 8 ounces of chocolate chips and repeated the microwave step. The chocolate seized. Meaning the chocolate chips lost their shape and became smooth. And then stiff while still warm. That stuff was not going to surround anything!  I dumped the remaining chocolate chips in the bag into another bowl and put them in the microwave. Melted. Not seized.
I gently lifted a cheesecake/truffle to dip and came up with only a stick. Two more sticks pulled out of the balls that were losing their frozen status, then a cheesecake made it into the bowl before falling off. I scooped it out with a spoon and tried again. Success for that one – but with much excess chocolate. A couple more fell into the chocolate and then another hung on long enough to become chocolate covered. I was scooping yet another stickless ball out of the chocolate when Wheels wandered through and stopped to drool. He was ready to serve as taste tester. Oh, indeed! Then he took one look at the pile of empty sticks amid drips of dark brown, eyed the bowl of seized chocolate, my intense concentration and decided to keep going.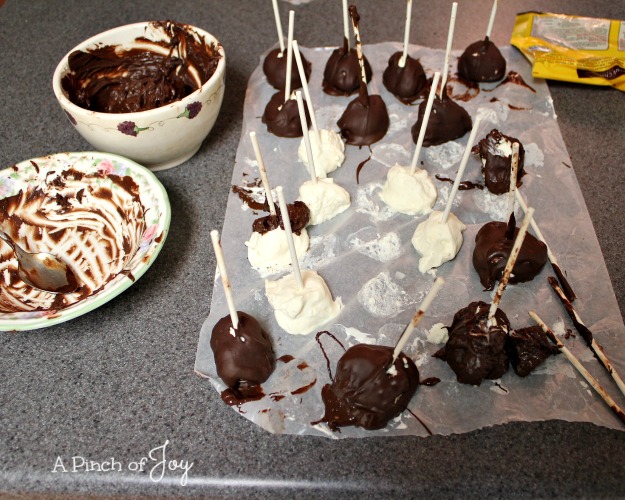 I'm going to give you the recipe just because . . . I had a 25% success rate for the chocolate covered part and they were quite good!  Even the stickless cheesecake/truffle part with chocolate "chunks" tasted fine. We just had to eat with a spoon instead of nibbling around those cute sticks. Maybe chocolate melts or almond bark instead of chocolate chips??  You may be more successful and I'd love to hear your secret!
But for me — I'm clearly not meant to be a chocolate dipper. Remember those Peppermint Patties I made?  Even they looked better than this: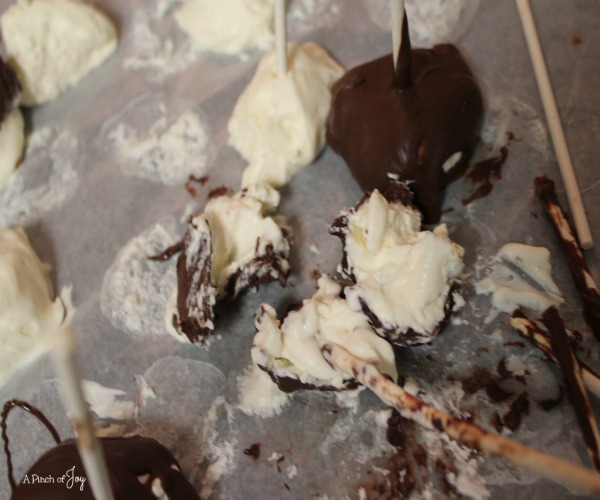 Risky Dark Chocolate Covered Cheesecake Balls
Delicious cheesecake fill in a dark chocolate coating
Ingredients
1 8 ounce package cream cheese
½ cup sugar
1 teaspoon vanilla
1 cup whipping cream
16 ounces dark chocolate chips
Instructions
Beat cream cheese, sugar and vanilla in large bowl until well blended.
Beat cream in separate large bowl at high speed until stiff peaks form. Gradually beat in cream cheese mixture, scraping down bowl after each addition.
Refrigerate for two hours until firm.
Line baking sheet with parchment paper and, using two spoons, gently roll cheesecake mixture into 24 balls.
Freeze 1 hour and then insert sticks. Leave in freezer until ready to dip -- at least two hours.
Melt chocolate in microwave, according to package directions.
Remove cheesecake balls from freezer. Dip in chocolate, rotating to coat evenly. Let excess chocolate drip off.
Return to parchment lined baking sheet and freeze just until firm. Store in refrigerator.
I'm so glad you stopped by today!   Follow A Pinch of Joy using the icons on the teal bar at the top of the page so you don't miss a thing!   I'd love to have your company on this venture!!  Share: if you found this helpful or inspiring please click one of the buttons below!  Your support of A Pinch of Joy is appreciated!
Shared with these awesome link parties here