Peaches and Cream Cheesecake is a light and creamy  ending to a meal.  Or the star of an afternoon party like a baby shower. Peaches and Cream Cheesecake is a no-bake dessert.  Just peachy  anytime.  Sorry, couldn't help that pun — just fell out!   =)
If you can find sugar free peach jello, it will give you a deeper peach flavor.  I usually end up using lemon because the peach is harder to find. You can use regular gelatin if you aren't concerned about calories or carb counts.   You can also make this with fresh sliced peaches — about two cups.  Wheels loves fresh peaches so I have to hide them in order to have enough to make something. Or make the dish the instant I get the peaches home from the grocery — before he has time to know they are in the house.  lol  It's better to keep a couple of cans of peaches available in the cupboard.  I use light or no sugar added peaches and drain them well so the cheesecake doesn't become soggy from the inside out.  Just before adding the peaches, take a sharp knife and run it through the peaches in the colander to make the pieces a little smaller.  Just seems easier to cut into nicely defined squares.  This time I wanted a little peachy bling so I set aside some peach slices to decorate the cheesecake after it had firmed up in the refrigerator.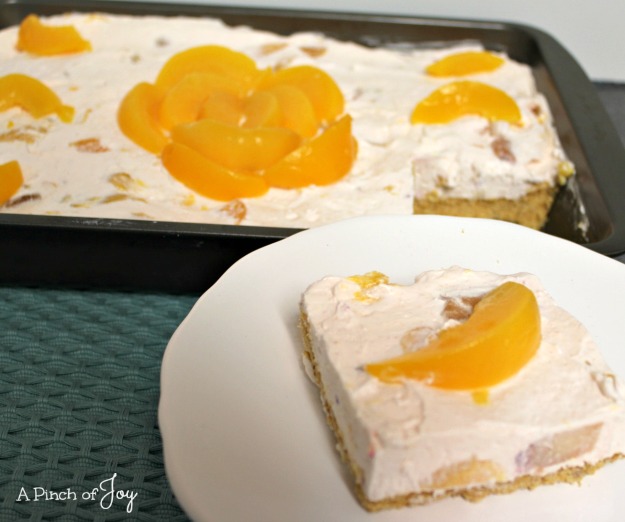 Use sixteen peaches so you can move a peach to the top of each square as you slice and serve it.  Start in the middle and lay the peach slices as shown to make the rosette.  Easy!!!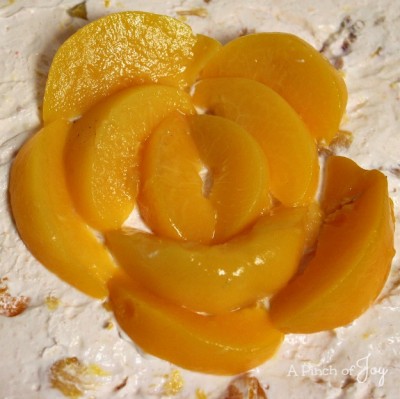 Peaches and Cream Cheesecake
A light and cool ending for a summer meal or a not too sweet dessert for a gathering or a dessert bar, this no bake cheesecake is all Peaches and Cream!
Ingredients
Crust
2 cups graham cracker crumbs
6 Tablespoons butter, leted
¼ cup sugar
Filling
4 packages cream cheese, 8 ounces each softened
¾ cup sugar
1 package sugar free gelatin, peach OR lemon flavor
1 29 ounce can light sliced peaches
1 8 ounce container whipped topping, thawed
Instructions
Mix graham crumbs, melted butter and sugar and press onto bottom of 9 x 13 inch pan.
Place in refrigerator until ready to use.
Filling
Pour peaches into colander and set aside to continue draining.
Beat softened cream cheese and sugar until blended and fluffy.
Add dry gelation and mix well.
If desired, set aside 12-16 slices for garnish.
Fold peaches and whipped topping into cream cheese mixture.
Pour over crust.
Refrigerate until firm about four hours or overnight.
I'm so glad you stopped by today!   Follow A Pinch of Joy using the icons on the teal bar at the top of the page so you don't miss a thing!   I'd love to have your company on this venture!!  Share: if you found this helpful or inspiring please click one of the buttons below!  Your support of A Pinch of Joy is appreciated!
Shared with these awesome link parties here