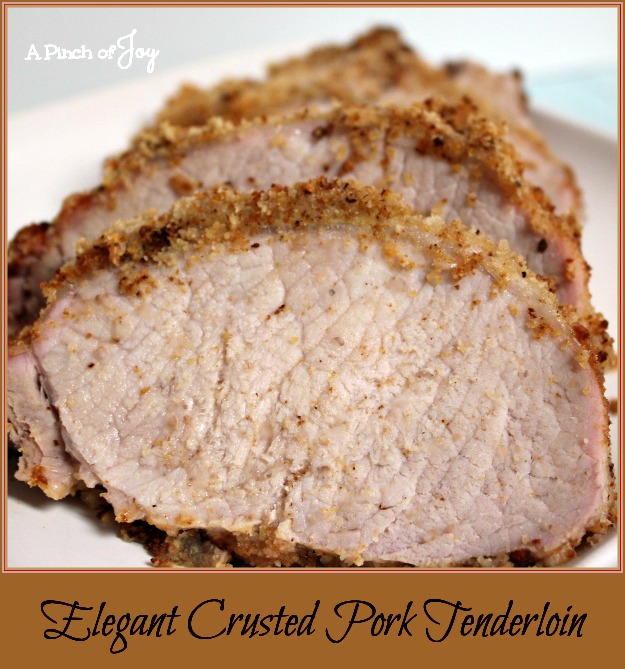 Elegant Crusted Pork Tenderloin is quick and easy to make and perfect to serve guests. Holiday dinners don't HAVE to be turkey or ham – especially if you aren't serving a crowd. This recipe serves 6 (or 4 more generous servings).
Be sure to buy the precut small tenderloin. Last time I bought a four pound package, thinking it had two tenderloins of two pounds each. It even looked like two. . . .but it was not. So I doubled the crumb portion of the recipe, got out the trusty really sharp knife and Bytes wandered through at the right time so this could happen: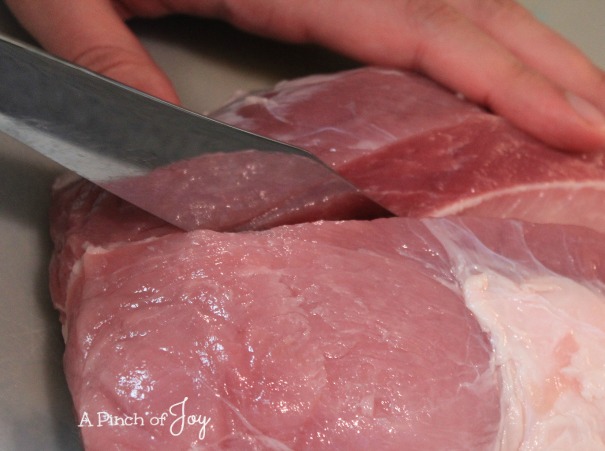 Pat the meat dry so the crumb and oil mixture will stick better. I usually add the seasoning to the crumb mix, but if you rub them directly on the meat instead of adding them to the crumbs the flavor comes through nicely. I make a bed of crumbs in the pan just the size of the tenderloin, then put the meat in place and pat the crumbs on the top and sides. Much easier than putting the crumbs on and trying to transfer it all to a pan. I did that the first time. . . . learned that lesson! It will look like this – well almost. I forgot to take a picture before it went in the oven so this in long enough to brown the bottom a bit.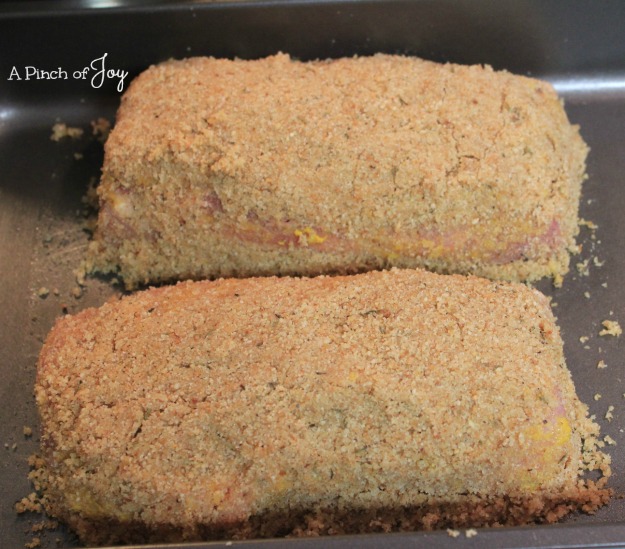 Below is what it looks like when it comes out of the oven.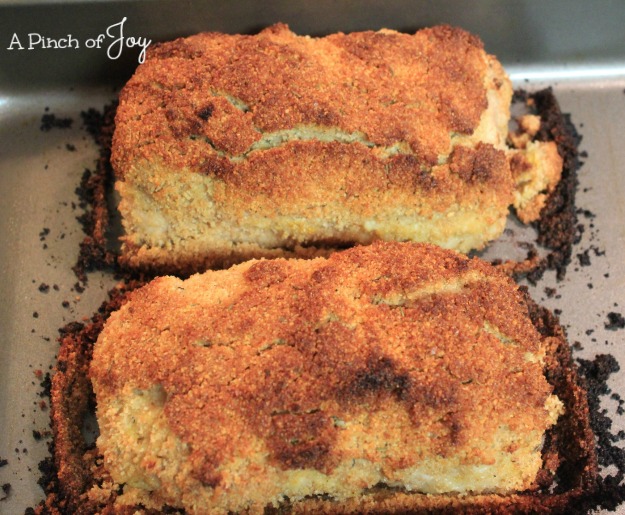 Carefully scoop away crumbs in bottom of pan and lift the tenderloin to the serving platter. Let it set for five minutes so the juicy tenderness develops fully. Slice into half inch thick rounds. Garnish with a sprinkle of fresh chopped parsley or rosemary, if desired.

Elegant Crusted Pork Tenderloin
An elegant baked crusted pork tenderloin for a special dinner -- or just because.
Author:
Charlene - A Pinch of Joy
Ingredients
2 cups seasoned Italian Dressing bread crumbs
½ teaspoon salt or to taste
½ teaspoon garlic powder
¼ teaspoon pepper or more to taste
½ cup olive oil
2 pound pork tenderloin
Instructions
Preheat oven to 425 degrees.
Line shallow baking sheet with aluminum foil to simplify clean up or use a good non-stick baking pan. Spray whichever you use generously with cooking spray.
In medium mixing bowl, mix all dry ingredients with oil.
Pat tenderloin dry.
Make a bed of crumbs the size of the tenderloin and about one fourth inch deep in bottom of baking pan. Press tenderloin firmly into bed, then pat remaining crumbs on top and side of tenderloin about one fourth inch thick to cover thoroughly.
Make a tent of aluminum foil to cover tenderloin so that it does not burn. Bake about 15 minutes, remove foil and continue baking uncovered for another 10 to 20 minutes until golden. If using meat thermometer, internal temperature should be between 145F (medium rare) and 155 (medium well).
Remove from oven and let meat rest for at least 5 minutes before slicing with sharp knife into half inch thick slices.
Welcome to A Pinch of Joy!  I'm so glad you stopped by today!   Follow A Pinch of Joy using the icons on the teal bar at the top of the page so you don't miss a thing!   I'd love to have your company on this venture!!  Share: if you found this helpful or inspiring please click one of the buttons below!  Your support of A Pinch of Joy is appreciated!
Shared with these awesome link parties here