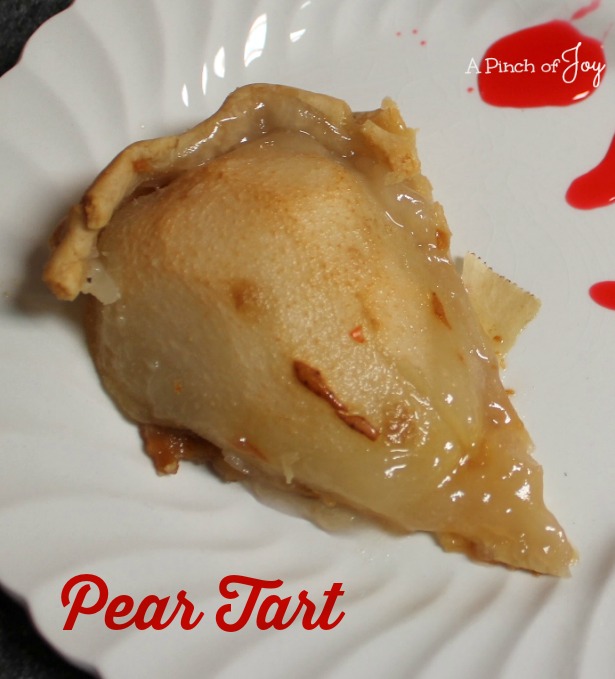 Wheels found a great deal on pears at the General Store the other day while on a parts run. I like pears but don't usually think about buying them on my trips to the grocery. So I don't have a lot of pear recipes – this one for Honey Butter Baked pears and this one for Pear Honey. Just happened to be going through some old cookbooks to choose keepers that evening. The shape of this tart caught my eye and when I saw pears were involved . . . well, those pears in the refrigerator had a focus for my experimentation and tweaking! Actually, foci* – because there was enough to make three pear tarts over the next several days.
Using premade pie crust makes Pie Tart super easy and fast! Making pie crust from scratch is also easy and doesn't take that much time, so do that if you are so inclined. Flour and sugar in the middle of the crust to absorb the wonderful pear juices. Lemon juice to prevent the pear from browning when exposed to air. I added mine to the glaze, but you can also pour/brush it on the pears before putting the tart into the oven. I peeled the pears (a little hastily as you can tell from the photo). Then sliced them in half and cored them before arranging them. Line your baking sheet with parchment paper so you can lift the entire tart from the pan for cooling. Arrange pear halves in the middle of the pie crust, leaving a couple of inches of crust all the way around. Fold up the edges this way:

Make the glaze after you slide the tart in the oven, so the glaze has time to cool and thicken even more. Gently spoon the glaze over the pears just after you take it from the oven, so the fruit absorbs the sweet moisture.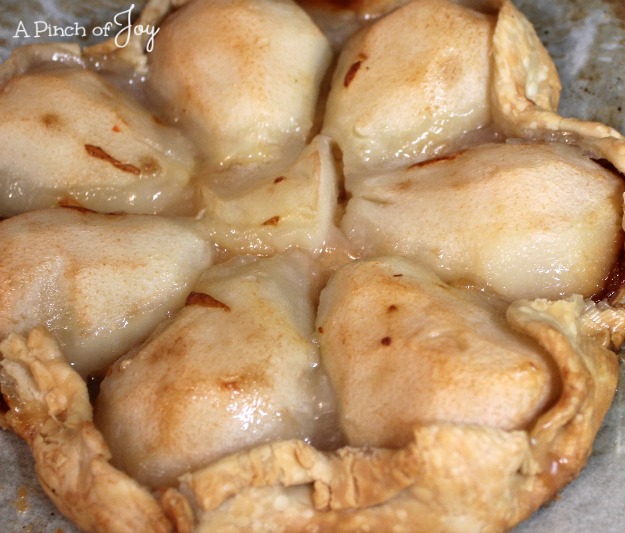 No tips on how to get the tender tart from the parchment paper to serving platter. All of them disappeared before I could try.
Serve warm or cold. Mmm – divine stuff!
* vocabulary bucket list item – use the plural of focus in a totally nonchalant manner. Bonus points for being meaningful. Sort of.
Pear Tart
Firm deeply flavored pears in a tender crust, sweetened just enough by a simple glaze.
Author:
A Pinch of Joy by Charlene Vance
Ingredients
1 piecrust
3 medium or 4 small pears, halved and cored.
⅓ cup sugar
2 tablespoons flour
Glaze
⅓ cup water
⅓ cup sugar
1 teaspoon lemon juice
Instructions
Preheat oven to 375. If using baking sheet for free form tart, prepare by lining it with parchment paper. Can also use pie pan, tart pan or cheesecake pan.
Place pie crust in pan.
Mix ⅓ cup sugar and flour together in center of piecrust and spread over evenly over bottom of crust. For free form, spread to within 2 inches of the edge.
Arrange pears halves as desired. Pears may also be sliced and arranged in rows or circles or simply spread evenly over crust.
Fold crust up for free form. Crimp crust if in pan.
Bake for 40-45 minutes, until pears are tender and crust is golden brown.
In meantime, prepare glaze. Bring sugar, water and lemon juice to boil. Reduce heat and let simmer gently, until slightly thickened about 4 minutes. Turn off heat and let set until pears are done.
Remove tart from oven and place on rack to cool. Spoon glaze evenly over tart.
Serve warm or at room temperature.
I'm so glad you stopped by today!   Be sure to follow A Pinch of Joy so you don't miss a thing!  I'd love to have your company on this venture!!
Subscribe:  email  on the sidebar  or follow on Facebook /  RSS feed  / bloglovin' /   twitter  and check out my  pinterest boards.   Share: if you found this helpful or inspiring please click one of the buttons below!  Your support of A Pinch of Joy is appreciated!