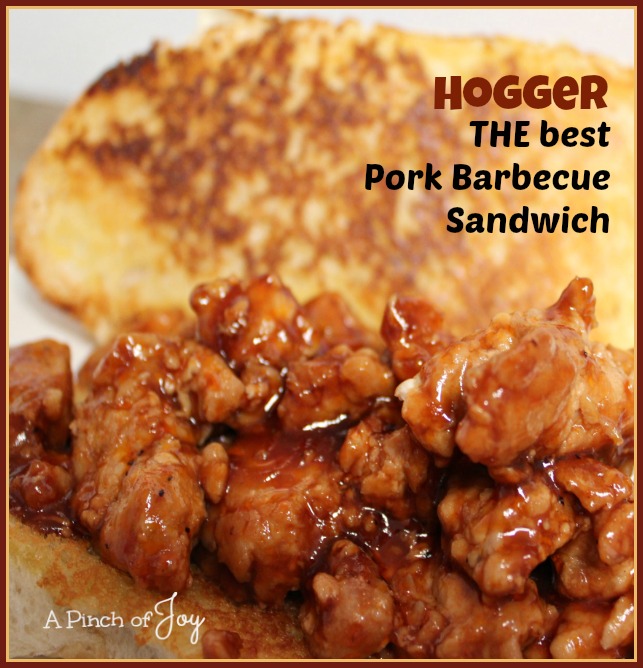 Introducing Hoggers, THE best barbecue pork sandwiches ever.
To get the irony of that statement in our house you have to know: Bytes was allergic to tomatoes. He outgrew the allergy somewhere around eighth grade, but I still don't use many tomatoes in cooking. Barbecue sauce is not our thing either as the preference here is subtle seasoning for meat. So this recipe came about by pure accident!
I was buzzing through the grocery with a short list and, as always, on the lookout for bargains. I noted a cart laden with fresh meat being pushed from the butcher shop. It stopped at the area of the cooler designated for markdowns. I picked up two items on the list between me and the meat section. By the time I got to the counter, a small mob had gathered and the cart pusher had given up putting anything on the shelf because people were snatching meat off the cart. I've never seen anything like it! And neither had the cart pusher! As we stood watching, she said in wonderment, this is all I was able to get off the cart. There were three packages of cubed steak in her hand. I said I'll take those and avoid the crowd. We laughed and she handed them to me.
When I pulled them out of the freezer days later, they weren't cubed steak – as in beef. They were cubed pork. I was having visions of Cowboy Sandwich (aka Manly Man's Sandwich)  Even had the buns purchased. But the pork in my hand called for a different approach than onions and Worcestershire sauce. And there wasn't time to research. Everyone was h.u.n.g.r.y. Pork and barbecue came to mind. Just so happened there was a bottle of honey barbecue sauce (for Calico Beans) in the fridge along with the usual ketchup. A bit of brown sugar. Cut up the meat like the beef for Cowboy Sandwiches and toast the buns. Create a lettuce salad. And we sat down for what was probably going to be a ho hum, just fill you up meal.
Usually when it is a new recipe on the table and it's very quiet, it's because no one can find anything good to say. But this time, it was because everyone was too busy inhaling the sandwich! When they reached the end, the decision was unanimous. Wowsers!!! Tender, sweet and just a bit tangy. Toasted bun made the bread meld with the flavorful filling. And Hoggers were born!
I'm going to give you the recipe as I make it. Makes three generous sandwiches on 6 inch buns. It can be doubled for six servings.  But if you want a different quantity here's the shortcut: one 6 to 8 ounce cubed pork cutlet and one 6 inch bun per sandwich. For the sauce, use 1/4 cup honey barbecue sauce plus a heaping tablespoon of ketchup and a heaping tablespoon of brown sugar and multiply by the number of sandwiches.   Heaping means generously mounded over the top of the spoon.

THE best Pork Barbecue Sandwich
Tender meat, delicious sauce -- a little bit sweet, a little bit tangy and a whole lot good!
Author:
A Pinch of Joy by Charlene Vance
Ingredients
18 ounces cubed pork cutlet (approximate)
2 tablespoons cooking oil
¾ cup honey barbecue sauce
¼ cup ketchup
¼ cup brown sugar
Salt and pepper to taste
3 6-inch sub buns
Instructions
Cut buns in half and butter each half. Set aside.
Slice cubed meat into thin bite-size strips.
Place skillet over medium heat and add oil. When oil is heated, add meat.
Brown meat on all sides, stirring as needed.
In meantime, stir together remaining ingredients to make the sauce. When meat is browned and cooked through, stir in sauce. Cover and continue cooking over low heat, stirring occasionally until liquid in pan is almost gone.
In second, larger skillet, place buttered side of buns down and heat until golden and toasty. (Three half buns will fit a 12 inch skillet so allow time to do a second batch.)
Welcome to A Pinch of Joy!  I'm so glad you stopped by today!   Follow A Pinch of Joy using the icons on the teal bar at the top of the page so you don't miss a thing!   I'd love to have your company on this venture!!  Share: if you found this helpful or inspiring please click one of the buttons below!  Your support of A Pinch of Joy is appreciated!
Shared with these awesome link parties here  
Save