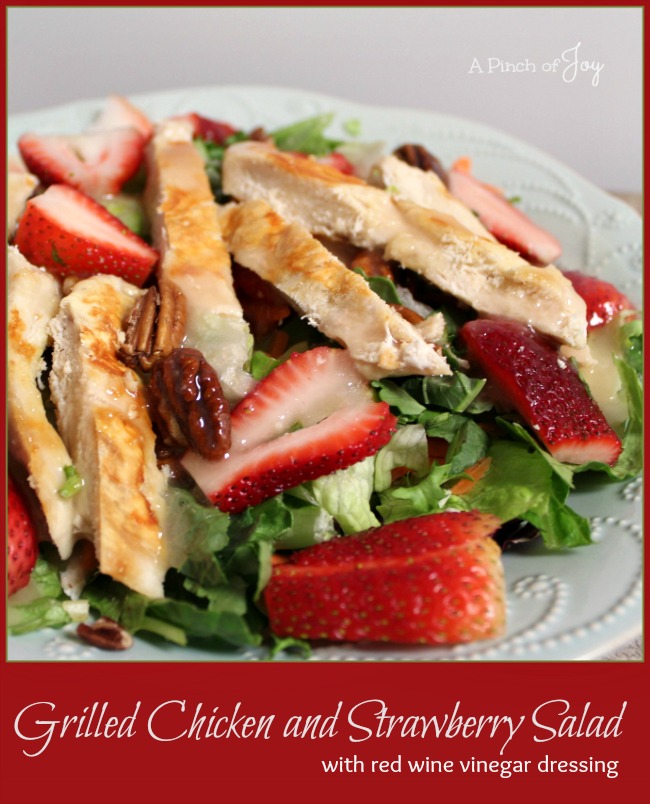 Grilled Chicken and Strawberry Salad is a springtime hit with berries fresh from the garden and fresh salad greens. Of course, you can make it any time of year with berries and greens from the grocery. Use your favorite salad greens. Leaf lettuce or Bibb lettuce from the garden, spring green mix, iceberg pieces, spinach, romaine. Or a mixture of any mild flavored green. Add a handful of chopped kale to each plate, if you like. Generally, a serving of salad is about one cup (pressed down) of fresh greens. Or, the number of servings in a 16 ounce bag of greens is often listed as six. This recipe will make 6 side salads or three generous dinner salads. The dinner salads are the choice at our house.
The dressing is the star of the show. And I don't eat dressing on my salads!!! I'll have ranch on the side occasionally, dipping my fork in the dressing before spearing a bite and that's it! But this tangy, sweet, oniony concoction is delightful! I think you'll really like it, too!

Grilled Chicken and Strawberry Salad with red wine vinegar dressing
Author:
A Pinch of Joy by Charlene Vance
Ingredients
Dressing
⅓ cup red wine vinegar
⅓ cup plus one tablespoon sugar
1 cup olive oil
½ onion, minced
1 teaspoon ground mustard
1 teaspoon salt
¼ teaspoon pepper
Salad
1 pound chicken breast, tenders, cutlets or fillets
½ cup pecans, toasted if desired
6 cups your favorite salad greens (or 16 ounces)
1 cup fresh sliced strawberries
Instructions
Grill chicken about 6 minutes on each side or until juices run clear. Remove from heat to cool.
While chicken is grilling, prepare dressing. In blender combine olive oil, onion, mustard, salt and pepper. Process about 10 seconds to thoroughly mix seasonings and onion. Add red wine vinegar and pulse two to three times to mix in. Add one half the sugar and process 5 seconds. Add last half of sugar and process for 10 seconds or until sugar is thoroughly dissolved.
Slice strawberries and set aside.
If desired, toast pecans by heating over medium high heat until fragrant, about 6-8 minutes. Remove from heat and set aside.
Arrange salad greens on serving plate. Slice grilled chicken. Add chicken, strawberries and pecans to each serving plate.
Drizzle with dressing to serve.
I'm so glad you stopped by today!   Be sure to follow A Pinch of Joy so you don't miss a thing!  I'd love to have your company on this venture!!   Follow:    Facebook /  RSS feed  / bloglovin' /   twitter  and   pinterest.   Share: if you found this helpful or inspiring please click one of the buttons below!  Your support of A Pinch of Joy is appreciated!
Shared with these awesome link parties here