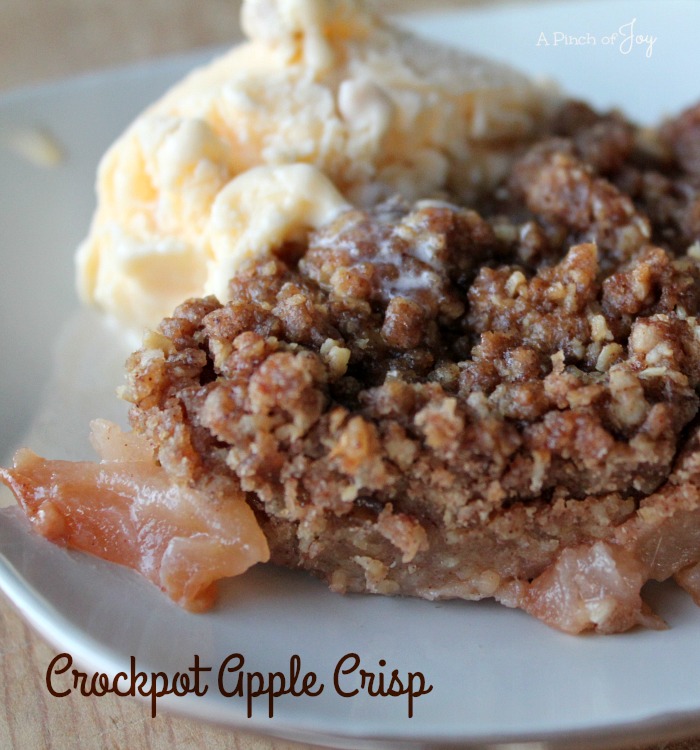 Apple Crisp made in the slowcooker — sort of a "handed lemons, make lemonade" process that turned out well.  Really well, in fact.   That bag of apples had been setting in the refrigerator for a few days. When I opened them with the intent of adding them to the bowl on the dining room buffet, I hesitated. Apparently someone had dropped the bag before purchase. Bruises and mushy spots on about half of them – meaning they had to be used. Soon.   I didn't want to be caught in a "can't quit now" situation with the paint brush to check the oven. Nor did I want to risk not hearing the oven timer. We're still in the moving process.  Who knows where the little stick-it-in-your-pocket-ticking-timer is. There are still boxes in the basement and in storage two hours away, so I'm sure it will turn up. Just not now.
Wheels took off for the nearest grocery for more apples to eat out of hand and a package of brown sugar. I'm replenishing the pantry according to sales cycles and brown sugar hasn't cycled through yet. In the meantime, I pulled the crockpot out of the pantry, searched for how long to cook apple crisp and a conversion to slow cooking. That came down to pretty much a guess, but I did find a helpful tip about putting two layers of paper towel under the lid of the crockpot to prevent condensation from dripping back into the pot. The moisture is absorbed instead of making the finished product overly wet and sticky. The crust isn't crunchy like oven baked, but it was not soggy either. Worth doing.
Wheels returned with the brown sugar. And several bags of other things. Apparently he was feeling the pinch of my reasoned and slow restocking process.  🙂   The apples had been prepared and were waiting, sliced, in the crockpot.   I added the brown sugar to the waiting bowl of other dry ingredients and cut in the butter using the pastry cutter.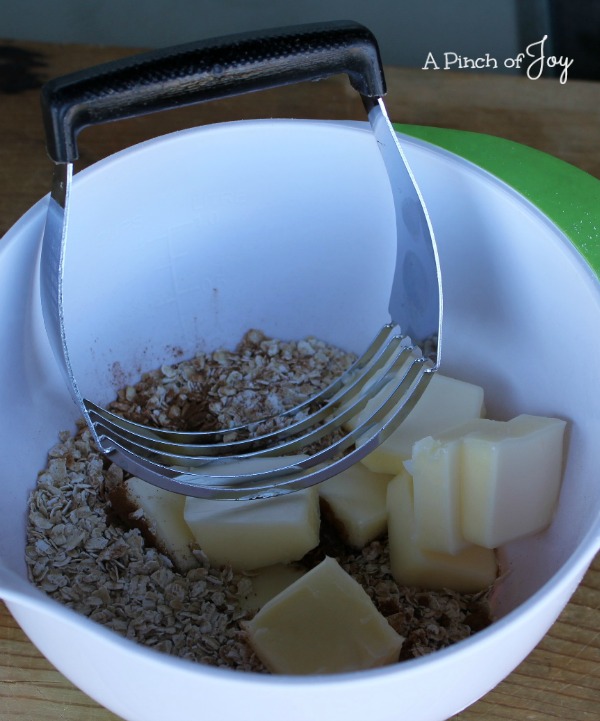 I've mentioned before that I don't keep many pieces of specialty kitchen equipment, especially if there is only one purpose. The exception is the pastry cutter. Totally worth the storage space. Helps if the butter is still on the cold side – which also suits me because I don't always have time to plan ahead long enough for butter to soften.  In a flash the butter was cut in and the topping was spread out across the waiting apples. Two hours later the dessert was done. Scoop it out of the crockpot to serve hot with ice cream. Next day slice the remainder and serve cold with a drizzle of caramel topping – scoop of ice cream optional. Delicious!

Crockpot Apple Crisp
Sweet and tender apples topped with spicy crumbly topping, cooked stressfree in the slow cooker. Heavenly served hot with ice cream or cooled with a drizzle of caramel topping and a few walnuts!
Author:
A Pinch of Joy by Charlene Vance
Ingredients
6 cups sliced apples, approximate OR 6-8 medium apples
⅔ cup quick oats
⅔ cup flour
½ cup brown sugar
¾ teaspoon cinnamon
½ teaspoon nutmeg
½ cup butter
Instructions
Butter or spray bottom and lower sides of crock pot liner
Peel, core and slice apples. I used Gala but any firm apple will work.
Mix dry ingredients together.
Cut butter into dry ingredients until mixture is crumbly.
Spread over sliced apples.
Layer two paper towels and place on top of liner, setting lid into place over the paper towels. This prevents condensation from dripping back into the pot.
Cook on high for 2 hours or until top is somewhat firm.
Serve warm from crockpot with ice cream. OR let cool, slice and serve cold.
I'm so glad you stopped by today!
Follow
A Pinch of Joy using the icons on the teal bar at the top of the page so you don't miss a thing!   I'd love to have your company on this venture!! 
Share:
if you found this helpful or inspiring please  pin for future reference!  Or share on facebook or twitter by clicking one of the buttons below! 
Your support of A Pinch of Joy is appreciated!
Shared with these awesome link parties here