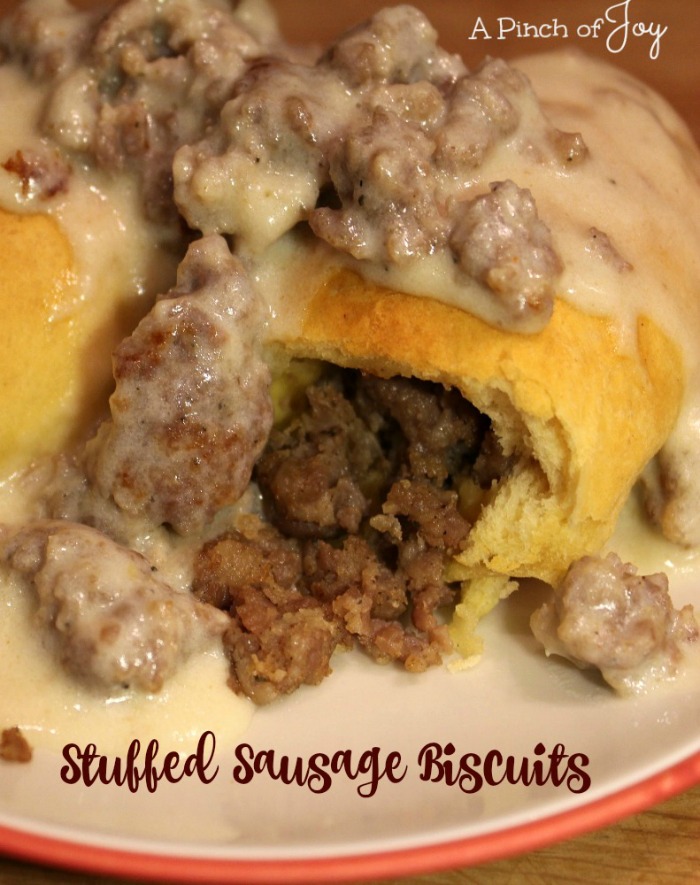 Biscuits and Gravy: discovered because we put our house up for sale.  After our house sold, there were several inspections, usually scheduled for 8 am. Each time, we would head for a different eating place for breakfast. One of those places had Stuffed Sausage Biscuits and Gravy on the menu. Sooo good that I had to duplicate the recipe at home.   I wouldn't do this for every morning breakfast (because that's every person fending for themselves around here!), but for a special day or for guests,  it's great. Also works for a "breakfast for dinner" meal.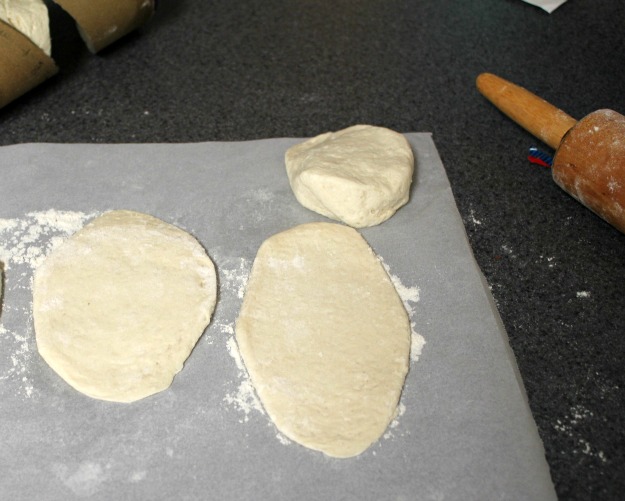 I used Pillsbury Grands Biscuits, but any large biscuit would work well. Flatten with your hands or use a rolling pin – both work.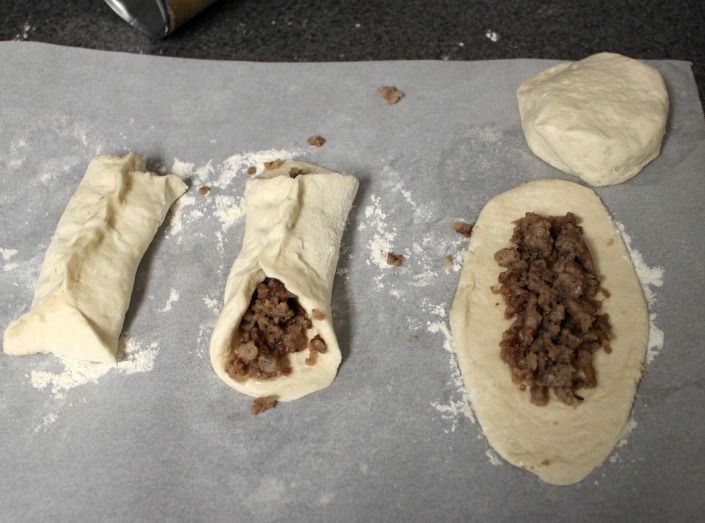 Add the meat, fold and seal the stuffed biscuit by pinching the edges tightly together so no meat is visible.
Place on your favorite baking sheet. My uncle made this baking sheet for me. It fits perfectly in the oven with just the right amount of space left for air flow. He used a very heavy aluminum that bakes evenly every time. The edges are flat, except the front turns up just enough to give perfect grip with potholders. It's the first choice every time! I always think of aunt and uncle and my cousin Rita when I pull it out of the cupboard. Makes it even more special.
The gravy recipe is adequate for the amount of meat. I've used several different brands of sausage. Some have less grease than others – that's when the butter trick comes in. If you like lots more gravy, you can 1) Divide the recipe in half and ADD that to the original recipe or 2) Double the recipe for very generous servings of gravy. As with any gravy, if it thickens more than you want go ahead and whisk in additional milk until it reaches the thickness you want.

Stuffed Sausage Biscuits and Gravy
Breakfast sausage wrapped in a light biscuit and smothered with sausage gravy -- great way to start the day!
Author:
A Pinch of Joy by Charlene Vance
Serves:
8 stuffed biscuits
Ingredients
8 ounces breakfast sausage
1 package of 8 premade biscuits
Gravy
Sausage drippings plus butter to make 2 tablespoons
2 tablespoons flour
2 cups milk
Salt and pepper to taste
Instructions
Brown sausage in skillet, stirring frequently to crumble the meat into small pieces.
While sausage is browning, separate and roll out individual biscuits to approximately quarter inch thickness.
Place a heaping tablespoon of sausage in the center of each biscuit, fold and pinch completely shut. Put on ungreased baking sheet, seam side down. Bake at 350 degrees for 15 minutes or until golden brown.
Set aside browned sausage and while biscuits are baking, make gravy. Use two tablespoons of sausage drippings. Discard remaining grease. If there is not enough, add butter to make 2 tablespoons.
Over medium low heat, stir flour into grease until well combined. Add milk slowly, stirring constantly until gravy reaches boil. Reduce heat and simmer until gravy thickens, stirring as needed. Add remaining meat and seasonings.
Serve over hot stuffed biscuits.
Notes
For generous servings of gravy, double the recipe.
Welcome to A Pinch of Joy!  I'm so glad you stopped by today!   Follow A Pinch of Joy using the icons on the teal bar at the top of the page so you don't miss a thing!   I'd love to have your company on this venture!!  Share: if you found this helpful or inspiring please click one of the buttons below!  Your support of A Pinch of Joy is appreciated!
Shared with these awesome link parties here