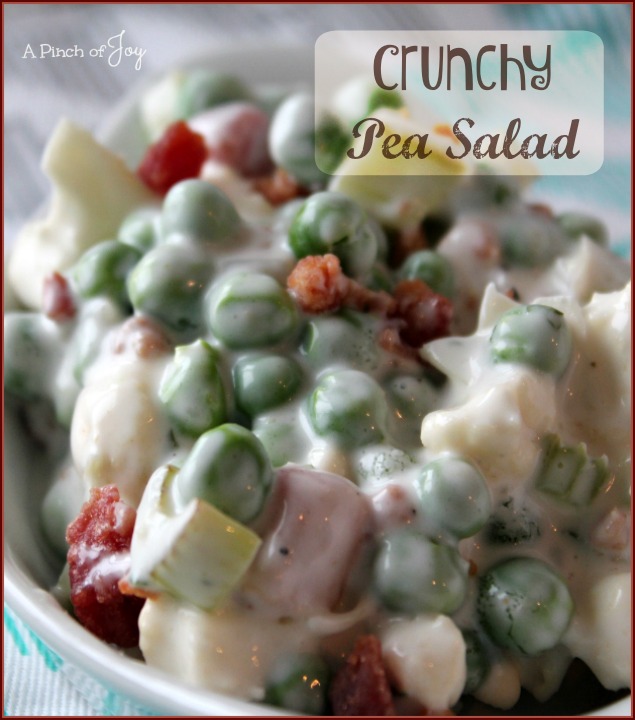 We like the crisp crunch of cauliflower.   Add celery and peas and ranch dressing, a bit of tangy onion and crispy bacon, a handful of chopped cashews — a quick and easy, delicious and colorful Crunchy Pea Salad.
You can thaw the peas in the fridge ahead of time. Or not. (I usually don't.) Break or cut the cauliflower into bite size pieces. I like the looks of the little florets in the salad, but sometimes a knife is needed to keep the pieces small enough to eat easily. Crisp the bacon yourself and crumble. Or use about 3 tablespoons of genuine crumbled bacon off the shelf to save time. Add cashews, just slightly chopped for a bit of texture and taste to "fancy" it up, if desired. I don't usually keep cashews on hand because they disappear long before they can go into a recipe. (oh, that tiny bit of salt on my hand — yep, it's me!)  Mix everything together ahead of time, at least an hour, so the flavors have time to properly meld.   (But I have put it on the table shortly after mixing and it disappeared quickly!) Leftovers will keep for a day in the refrigerator. However,  the only times we've done that is when I've sneaked out a portion before serving to pack for work lunch.   Straightforward and simple to make. Enjoy!!

Crunchy Pea Salad
Crunchy peas,celery and cauliflower with creamy ranch dressing accented with a bit of onion and bacon make a great and healthy vegetable salad!
Author:
A Pinch of Joy by Charlene Vance
Recipe type:
Vegetable Salad
Ingredients
1 10 ounce package frozen peas
1 cup cauliflower, in small bite sized pieces
1 cup celery, diced
¼ cup green onion, thinly sliced
½ cup sour cream
1 cup ranch salad dressing
Optional: ¾ cup lightly chopped cashews
Optional: 4 slices bacon, crisped and crumbled
Instructions
Brown bacon if using, cool and crumble.
Mix peas, celery, cauliflower and onion in medium bowl.
Stir ranch dressing and sour cream together in small bowl and pour over vegetables.
Add cashews and/or bacon, if using.
Stir everything together. Chill one to two hours before serving.
I'm so glad you stopped by today!   Be sure to follow A Pinch of Joy so you don't miss a thing!  I'd love to have your company on this venture!!   Follow:    Facebook /  RSS feed  / bloglovin' /   twitter  and   pinterest.   Share: please click one of the buttons below!  Your support of A Pinch of Joy is appreciated!
Save