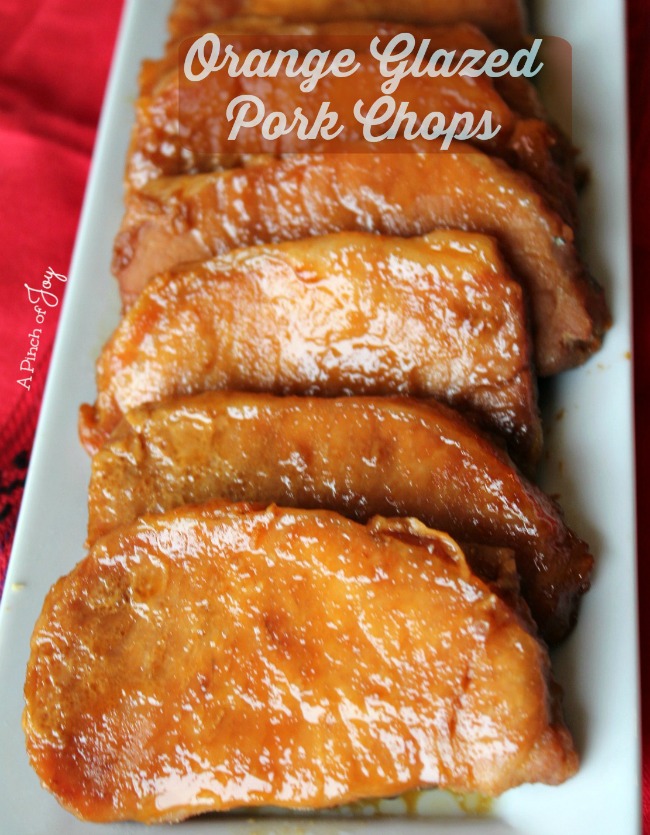 Orange Glazed Pork Chops has been a go-to company meal forevah in our house.  When sister Kay called a couple weeks ago and said "if you guys are going to be home, we'll stop by in an hour", I said "great, I'll make dinner" and tossed a pan of these in the oven.   When sister Bee and hubs came to celebrate our anniversary with us last Saturday, these were on the menu.  That's why we moved 1000 miles! Not to make pork chops but to share meals and laughter with family whenever we want!
I realized I hadn't shared this oldie but goodie with y'all.   The recipe came from an old cookbook  —  one of those community compiled books with everyone's favorite and best recipes.  I actually looked up the recipe this morning to give you the real measurements instead of my haphazard memory ones.   And found that I had mooshed together two similar recipes on adjoining pages.   The big difference was that one recipe used orange juice and lesser seasonings and the other included  melted butter plus paprika.  Both were dated as first made when Bytes was 8 months old!  One had my note next to it saying "very good" and the other said "delicious".
They are really simple to make. (Probably why I've always done pork chops this way!)  If the pork chops are on the thin side, you might want to cover with aluminum for the first 30 minutes of baking to hold in moisture.  I forget to add the butter part of the time, but it does add to the flavor and moisture.  I don't use one teaspoon paprika as  one of the recipes called for – 'cause I forgot it was part of the ritual, but it would deepen the color.  I use the lesser amount of sage and mustard, so if you want a deeper flavor you can increase them to one teaspoon each.  I was (and still am!) rather timid with seasoning so feel free to live it up and not be limited by my scaredy cat measurements!   Either way they live up to "very good" and "delicious"!

Orange Glazed Pork Chops
A simple brown sugar orange glaze makes pork chops a delightful and elegant treat -- perfect for family or guests.
Author:
A Pinch of Joy by Charlene Vance
Recipe type:
Main Dish - Meat
Ingredients
6 pork chops, medium cut
2 tablespoons orange juice
1 teaspoon salt
¼ teaspoon pepper
½ teaspoon ground mustard
½ teaspoon sage
½ cup brown sugar
2 tablespoons butter melted
Instructions
Place chops in 9x13 baking pan so they do not overlap.
Mix the remaining ingredients except butter and spread over chops.
Bake at 350 for about 45 minutes, basting occasionally.
Turn chops, drizzle melted butter over them and continue baking for 15 minutes or until done.

Please Pin!
I'm so glad you stopped by today!   Follow A Pinch of Joy using the icons on the teal bar at the top of the page so you don't miss a thing!   I'd love to have your company on this venture!!  Share: if you found this helpful or inspiring please click one of the sharing buttons below!  Your support of A Pinch of Joy is appreciated!
Shared with these awesome link parties here  
Save