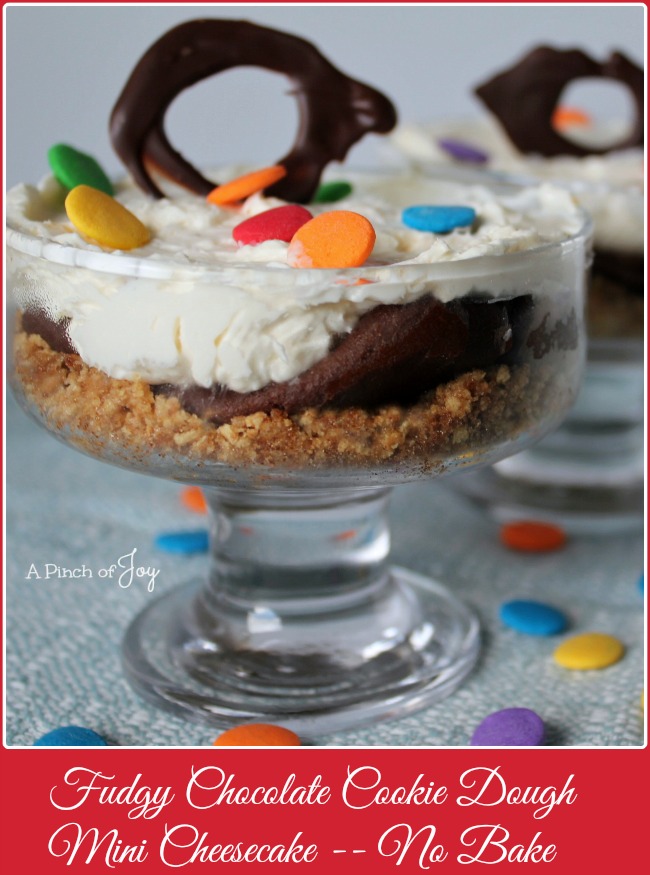 Fudgy Chocolate Cookie Dough No Bake Cheesecake.  The perfect dessert to celebrate a special day — anniversary, birthday or just because.  We'd already celebrated Bytes' birthday at a big family gathering with the traditional  cake and a rousing rendition of Happy Birthday.  This was a smaller celebration.  Perfect for cheesecake and fudginess!
I'm always a little hesitant to give preparation times for recipes.  They can vary according to how many times the cook rescues a toddler or the number of shortcuts that are taken.  Like using already crushed graham crackers.  Although putting two packages of graham crackers squares (not oblongs) in their wrapping on the work counter and smacking them smartly several times with the side of a meat axe or a rolling pin is a pretty quick process.  Overall this recipe is about 25 minutes to prepare so don't let the number of steps keep you from this fabulous indulgence!
When you make the chocolate layer it will look like crumbs, but just when you think it's not going to work, everything magically comes together.  You have a beautiful eggless chocolate cookie dough that will turn into divinely smooth fudge.  It is a little sticky to work with, but not so sticky as to be difficult or time consuming.  Folding the whipped cream into the whipped cream cheese is the same way.  Hang in there, resist the urge to pick up the mixer and beat some more.   Beating it  will make it dense and notsogood.  Stay the course, fold gently and persistently and all will be well.
Press the graham cracker crust firmly into the serving bowl. To make the cookie dough layer , pinch off a bit of dough according to the size of your serving dish. Roll the dough into a ball and then flatten between your palms to the size of the dish and about a quarter inch thick.  Place on top of the graham cracker crumbs, pressing it firmly into place.  Spread the whipped cheesecake layer on top.  Garnish with chocolate for an elegant, glamorous dessert or colored sprinkles for fun.
I used six medium, almost large,  serving dishes.  Too much.  We all left about half of the dessert – soo good and soo rich – but just as  good the next day.  Eight smaller dishes or even ten would be better.  If you use tall dishes – champagne flute style – make two layers each of chocolate and cheesecake.   This will spread out the flavors for better savoring.
Featured on The Dedicated House

Fudgy Chocolate Cookie Dough Mini Cheesecake - No Bake
Incredibly rich, smooth and delicious layered mini cheesecakes with no baking required!
Author:
A Pinch of Joy by Charlene Vance
Ingredients
Crust
1 ½ cups graham cracker crumbs (about 8 squares, crushed)
⅓ cup brown sugar
½ cup butter, softened not quite melted
Fudgy Chocolate Cookie Dough layer
½ cup butter, softened
½ cup packed brown sugar
2 tablespoons cream
½ teaspoon vanilla
¼ cup unsweetened cocoa powder
1 cup flour
Pinch of salt
Cheesecake layer
12 ounces cream cheese (1 8 ounce package plus half of a second 8 ounce package)
⅓ cup sugar
1 teaspoon vanilla
1 cup heavy whipping cream
Instructions
Crust
Mix graham cracker crumbs, brown sugar and butter until well combined.
Press into bottom of eight to 10 serving dishes.
Refrigerate until ready to fill.
Fudgy Chocolate Cookie Dough layer
Beat butter and sugar on medium speed until light and fluffy
Add cream (may substitute milk) and vanilla.
Add cocoa, flour and salt. Mix on low speed until dough comes together in a ball.
Coat palm of hands lightly in flour and pinch off a bit of dough about the size of a walnut. Pat dough evenly into circle the size of the serving dish and at least ¼ inch thick. Place on top of refrigerated crust.
Return serving containers to refrigerator.
Cheesecake layer
Beat softened cream cheese, vanilla and sugar at medium speed until fluffy.
In separate medium bowl, whip the cream until soft peaks form.
Gently fold the whipped cream into the cream cheese mixture until well mixed.
Refrigerate at least 2 hours before serving.
Garnish as desired.
I'm so glad you stopped by today!   Follow A Pinch of Joy using the icons on the teal bar at the top of the page so you don't miss a thing!   I'd love to have your company on this venture!!  Share: if you found this helpful or inspiring please click one of the buttons below!  Your support of A Pinch of Joy is appreciated!
Shared with these awesome link parties here  
Save
Save
Save