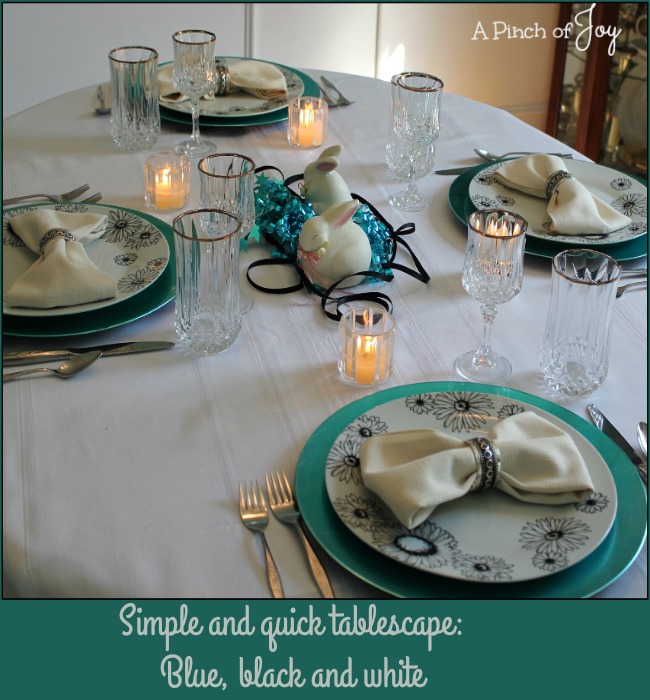 Life has been so busy lately!  And who doesn't have a life full of projects, things to do and places to go?   When life is busiest is when it is the most important to take time to celebrate the special events, like birthdays and anniversaries.  Just a little extra effort is all it takes to make a dinner (that you are going to eat anyway!) a grand event.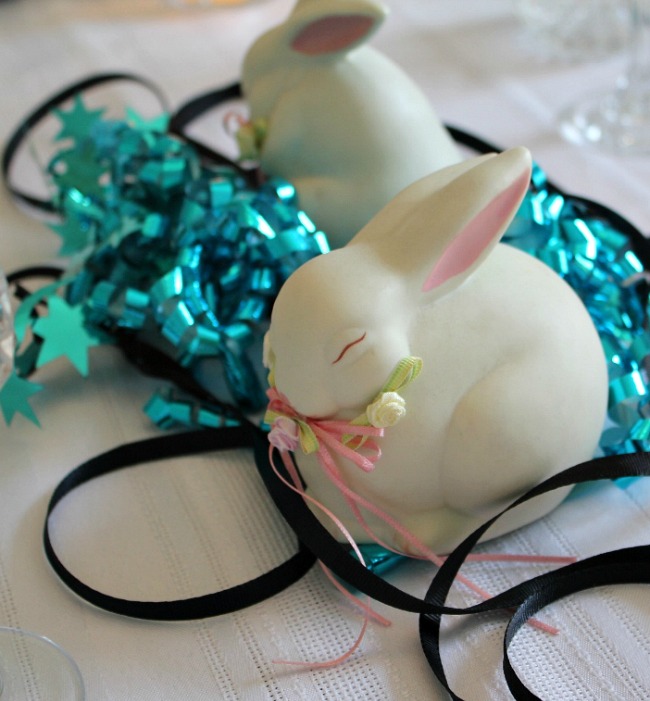 A color scheme pulls everything together with no effort at all.   Mine was black and white (you'll see why in a moment) and turquoise — because I have lots of turquoise, teal and blue accessories.  A centerpiece says "big deal" even when it's very simple.  These bunnies were Easter decorations, but I like the shape so they  hang around on tables or a mantel longer than their Easter buddies.  They were convenient, in other words.  I had a gift for the honoree so convenience (again) found the rest of the centerpiece.  A couple of blue curly gift ribbons for volume and color then a black silk ribbon (in the box with the gift ribbons) was casually tossed around to define the centerpiece.  Quick and festive.  A tablecloth makes a "statement" and does not have to be fancy.  This is a plain white one that goes in the washer, through the dryer and folds up beautifully for the next event.  No fuss.  But you can also set the centerpiece on a tray, a placemat or  the table.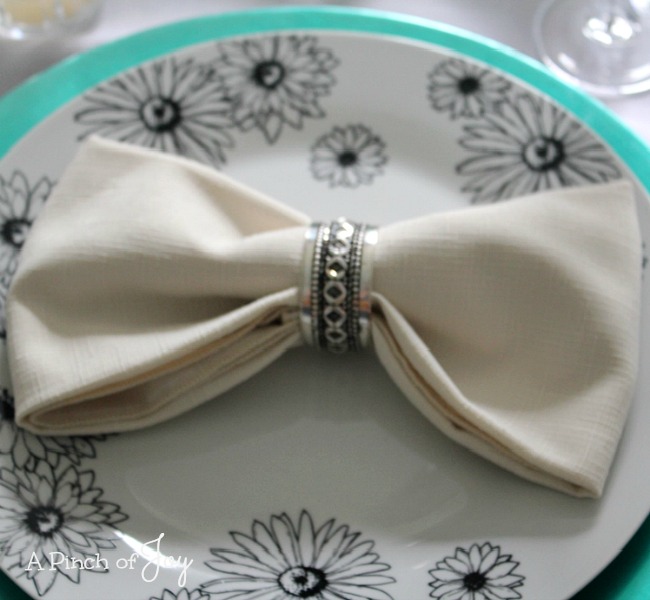 You can see where the black and white came from.  Our everyday dinner plates.   Cloth napkins make an event special with little effort.  Since the honoree was a guy, a bowtie napkin fold seemed appropriate.  Fold the open napkin in fourths then tuck one end under just past the center.  Repeat with the other side.  Add a napkin ring or tie a ribbon around the center to form a bowtie.  Cloth napkins are environmentally friendly and they are also less trouble than one would think.  These go through the laundry and fold — no ironing needed.  Even with the bowtie fold and laundry, it took less than three minutes total of my time to use them.  Napkins can be purchased at a reasonable price on sale — or for next to nothing at garage and tag sales, usually around $2 for a dozen.  Napkin rings can be acquired the same way.  One friend assigns each member of her family a unique napkin ring and they use their napkins several days in a row by putting them in the identifying ring after each meal. She's committed to environmental concerns, and it works for them.  If  paper napkins work better for you, then make your event special with with a quick fold and a sharpie inscribed name.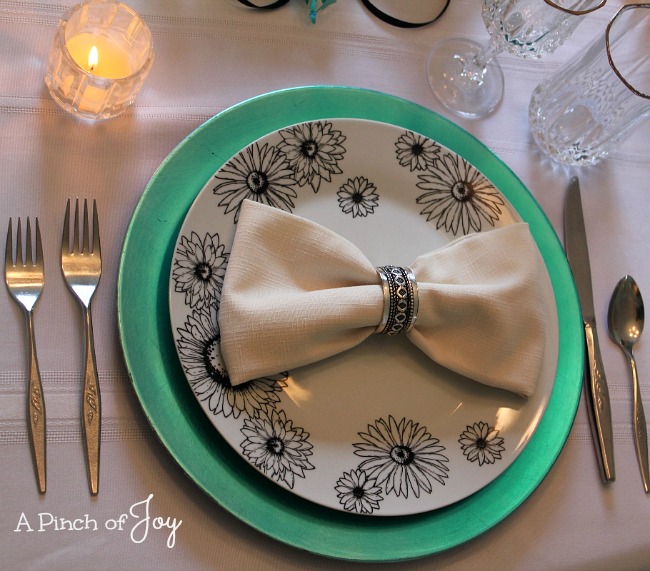 I keep a short stack of chargers in the cupboard with the dishes.  They make great food catchers for little kid's plates, meaning less mess and easier clean up.  Tonight they are adulting and adding color and shine to the tablescape.   An adult drink called for adult glasses.  Getting those out called attention to the votive candles near by on the shelf — so voila — candlelight!  All with almost no added effort but a huge impact.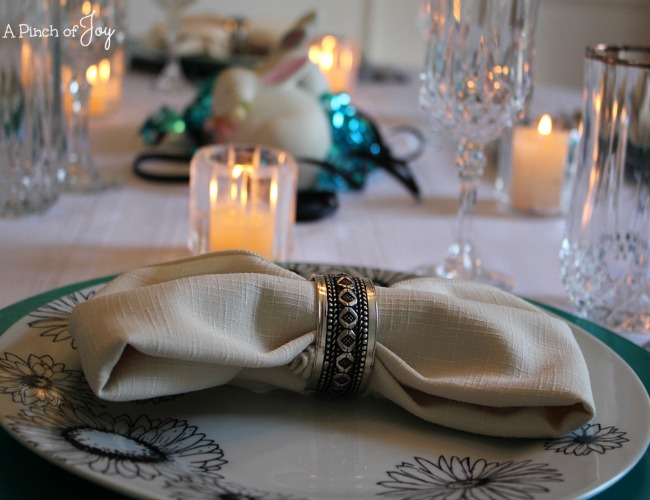 Happy birthday, Bytes!
I'm so glad you stopped by today!   Be sure to follow A Pinch of Joy so you don't miss a thing!  I'd love to have your company on this venture!!   Follow:    Facebook /  RSS feed  / bloglovin' /   twitter  and   pinterest.   Share: if you found this helpful or inspiring please click one of the buttons below!  Your support of A Pinch of Joy is appreciated!