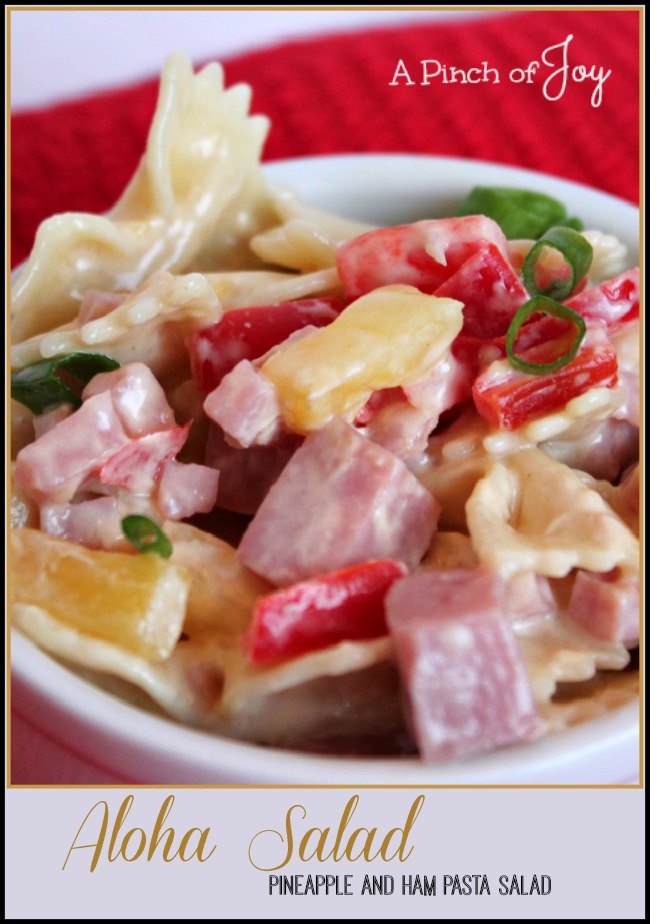 Pineapple and Ham – an unexpected twist to pasta salad.  The pineapple makes a great addition without shouting, "hey, there's pineapple in this dish".  It plays together very nicely with all the other ingredients.    Using aloha in the name bows to the idea of playing nicely with others.  Mainlanders think of aloha as meaning "hello" and "goodbye"  — and it does serve as a greeting.  However, "aloha"  also encompasses love, mercy, compassion and the joyful sharing of a positive attitude.  Kind of like this pasta salad, it's more than it appears.
This is also a versatile recipe.   The original calls for red pepper which is certainly a colorful addition.  However, you can substitute any sweet pepper you have available.  Or use cubed chicken instead of diced ham.  You can also add a half a cup of diced cucumber, frozen green peas, cubed cheddar cheese – any or all.  Although if you add them all, you might also want to increase the amount of sour cream to half a cup and add another can of pineapple and its juice.   I like to make a big pasta salad and use it for several meals.  Some of the above ingredients can be added on day 2 or 3 for a little variety, with an extra bit of sour cream or mayonnaise, if needed.  It is also not necessary to have exact amounts of mustard and honey.  You can eyeball the measurements into the dressing mixture, squeezing carefully and come very close to the amount needed without have to scrape honey or mustard out of the measuring spoon.  Nor do you have to wash said spoons.  Sometimes when you are elbow deep in multiple recipes,  that's an important consideration!  And that reminder in the recipe to boil pasta in SALTED water — yeah, that's for me.  You too, if you need it.  🙂

Aloha Pineapple and Ham Pasta Salad
Pineapple and Ham – an unexpected twist to pasta salad.
Author:
A Pinch of Joy by Charlene Vance
Ingredients
8 ounce pasta ( approx. 2 ½ cups)
8 ounce can pineapple tidbits, drained
1 red pepper diced
2 cups ham, diced
1 green onion, thinly sliced
Dressing
½ cup mayonnaise
⅓ cup sour cream
1 tablespoon dijon mustard
1 teaspoon honey
¼ teaspoon garlic powder
Instructions
Cook pasta in salted water according to package directions for al dente. Do not overcook.
Dice red pepper. (can substitute any sweet pepper)
Dice ham into small pieces and thinly slice onion.
Mix mayonnaise, sour cream, mustard, honey, garlic powder and pineapple juice in medium sized bowl to make dressing.
Add vegetables and ham to dressing.
Drain pasta, rinse with cold water and cool. Stir into vegetable and dressing mixture.
Cover and refrigerate two to three hours before serving.
I'm so glad you stopped by today!   B
e sure to follow A Pinch of Joy so you don't miss a thing!   Subscribe by email  on the sidebar  or follow on Facebook, RSS feed, bloglovin'  twitter  or   pinterest    If you found this helpful or inspiring please share below!  I'd love to have you along on this journey!
Save
Save