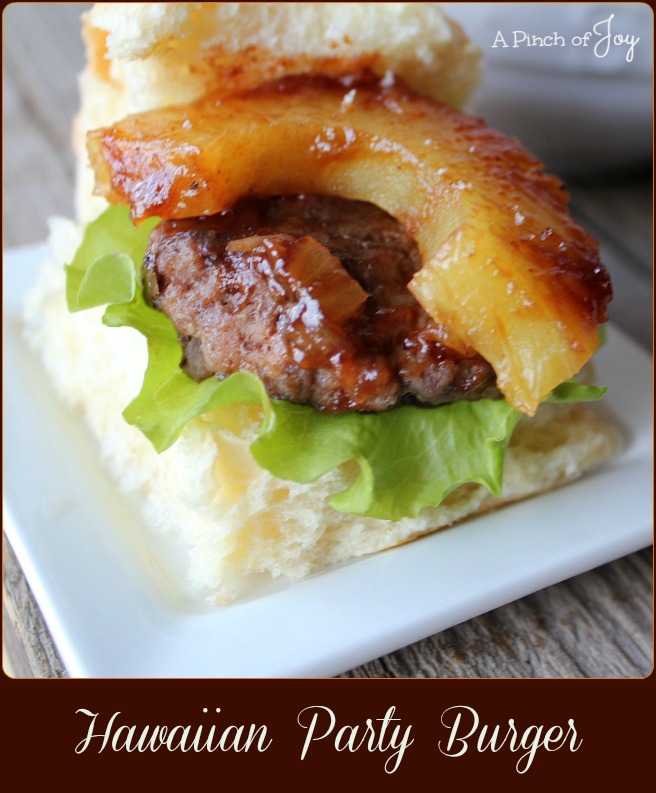 Hawaiian style!  Party on a bun.  So quick, so easy to make;  the sauce is just a little bit sweet and a little bit tangy.  Your family and friends will love Hawaiian Party Burgers and think you worked really hard to make them special!    I'll never tell!
When you pick up the package of King's Hawaiian Rolls in the grocery, check to see which variety you have in your hand.  It should say something like "savory butter rolls" or "original sweet"  or even "honey wheat".  Did you know they also make a Jalepeno Roll?   I didn't until I was ready to use it.  Oh my goodness – that's hot and spicy!!!!  Makes my eyes water even thinking about it!  Probably really good if you like hot and spicy – but definitely not what I was expecting.  Look before you buy!
I also have used slider rolls.  So glad they are easily found on the shelf because they are perfect for serving littles at a family get together.  Even adults appreciate them when there is a lot of different kinds of food.  At a potluck with fabulous salads and desserts – a small burger is just perfect, where a regular burger can be overwhelming and maybe not fully eaten.    Plus,  these little cuties are so festive and colorful on a lettuce leaf  topped with a pineapple slice!
I prefer to use just a bit more than a one pound package of ground beef to make twelve burgers.  I have a hard time getting twelve little patties out of 16 ounces.  Adding a quarter pound (one fourth of a pound roll, if that's how you buy it) yields 12 burgers  just under two ounces each.  Those fit nicely on the buns and are thick enough to balance the bread/meat ratio.  Yeah, that's totally a thing. . . lol!
This recipe makes four regular burgers with the same measurements for the sauce. If you want eight burgers use 1/3 cup each barbecue sauce and pineapple perserves for two pounds of ground beef.   Enjoy!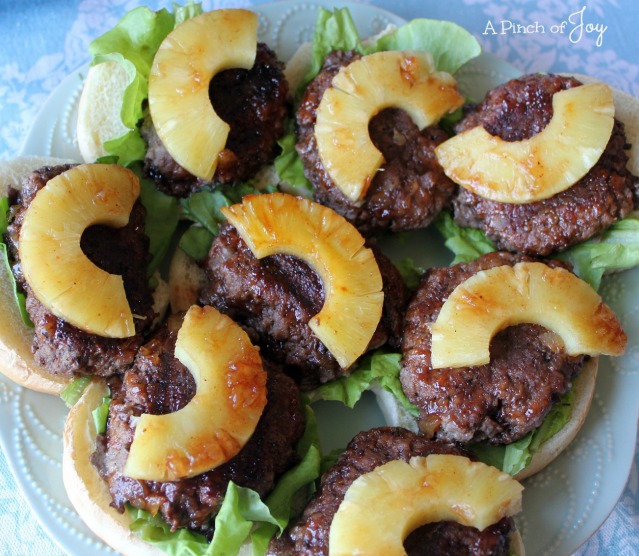 Hawaiian Party Burgers
So quick, so easy to make; the sauce is just a little bit sweet and a little bit tangy. Your family and friends will love Hawaiian Party Burgers!
Author:
A Pinch of Joy by Charlene Vance
Ingredients
11/4 pound ground beef
1 tablespoon Worccestershire sauce
1 4 ounce can pineapple slices, drained
12 Hawaiian dinner rolls
Lettuce leaves
Sauce
¼ cup honey barbecue sauce
¼ cup pineapple preserves
Instructions
Combine gound beef and Worcestershire sauce in medium bowl, mixing lightly but thoroughly. Shape into 12 small half inch thick patties.
Place patties on grill over medium heat. Grill covered until done about 8 to 10 minutes (160 degrees)
While burgers are grilling mix barbecue sauce and pineapple preserves together in small bowl. Cut or separate buns and line the bottom half with lettuce leaf.
Turn burgers about halfway through cooking time and brush cooked side with barbecue sauce.
Lay pineapple slices on grill while burgers finish grilling. If desired, brush slice with barbecue sauce before placing on grill for a bit more color. When lightly browned, remove slices, cut into thirds and set aside to keep warm.
Place burger on lettuce lined bun and top with pineapple piece. Serve hot!

Welcome to A Pinch of Joy!  I'm so glad you stopped by today!   Follow A Pinch of Joy using the icons on the teal bar at the top of the page so you don't miss a thing!   I'd love to have your company on this venture!!  Share: if you found this helpful or inspiring please click one of the buttons below!  Your support of A Pinch of Joy is appreciated!
Shared with these awesome link parties here  
Save