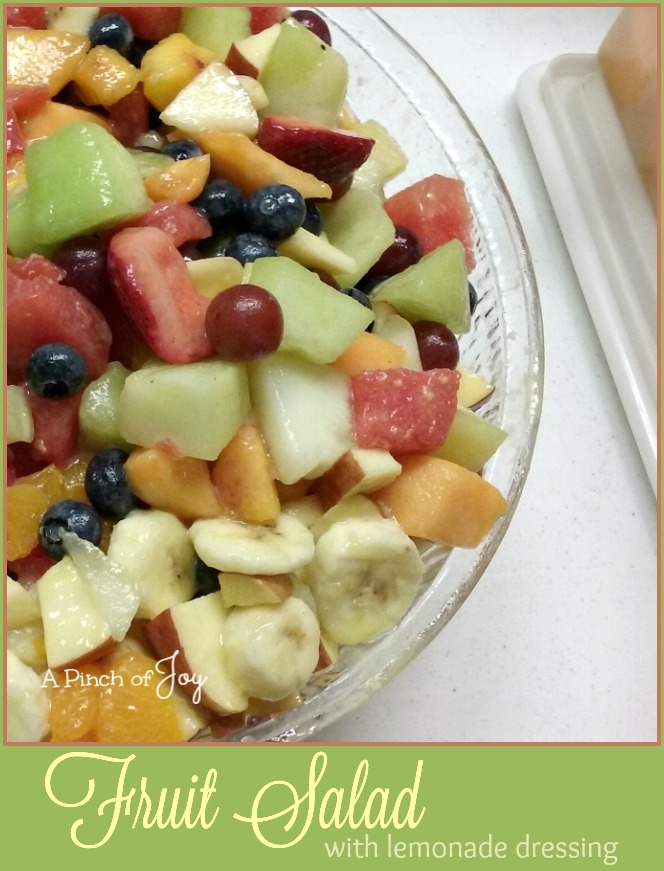 Fruit Salad with lemonade dressing makes a huge salad to feed a crowd.  It will serve 25 people easily. Children love it — and so do their moms!    Add it to the menu at your next big potluck.   A buffet dinner or casual potluck, this healthy dish will shine!
Sometimes called Punchbowl Salad, this Fruit Salad can be made ahead with the fruit refrigerated in separate zip bags.  I took it to a recent family reunion a couple of hours away  in a cooler filled with ice.  I was a little concerned that the fruit would be squashed with the weight of the other fruits AND the ice, especially since the cooler would set overnight before the actual dinner.  No problem.  I assembled the salad in a punch bowl quickly at the site, added the dressing and it was on the table quickly!   It would work even better at home in the refrigerator for a next day party.
The balance between the vanilla pudding (sugar free for us) and the lemonade is perfect.  Neither flavor dominates the dressing. The lemonade concentrate keeps the fruit looking its best.  I did add extra lemon juice to the peaches and the nectarines before bagging them.  And cut the apple and banana just before assembling so they would not turn brown. Don't peel the apple.  I used a Red Delicious Apple this time because that was what I had on hand.  Any eating apple will work well – including Granny Smith with its beautiful green peel.    (Pretty – but too tart for me!)
Prep time is about an hour.  A sous chef would be great help for this big dish.  I peeled the melons using a method I saw in a cruise ship kitchen.  Cut each melon in half lengthwise and dispose of the seeds.  Place a half melon cut side down on the cutting board.  Using a long sharp knife, slice the rind off the melon along the sides around the entire melon.  Flip the melon half on one side and cut off the remaining rind where your hand had been resting.  Trim any bits of rind left with a smaller knife.  To cube, place the half melon with the seed cavity down on the cutting mat and , using the same long sharp knife, carefully cut through the "dome" about halfway down.  Firmly grasping both pieces of the dome,  cut lengthwise of the melon until fully sliced.  Then cut across the slices to form bite size cubes.  This really is a faster method than any other I've used.
Just about any fruit will work in this salad and if you are missing one or two, that's okay.  Substitute another fruit.  Add more of one of the other fruits.  Or not.   The fruit listed below are all firm fruits that will stand up to gentle mixing and servings being spooned out.

Fruit Salad with lemonade dressing
Deliciously full of healthy, colorful fruit, perfectly enhanced with a light lemony dressing. Feed a crowd at a casual picnic or dinner buffet.
Author:
A Pinch of Joy by Charlene Vance
Ingredients
One medium honeydew melon; peeled, seeded and cubed
One medium cantaloupe; peeled seeded and cubed
2 cups seedless watermelon cubed
2 peaches, in small bite-size pieces
2 nectarines, in small bite-size piece
1 cup seedless red grapes
1 cup halved fresh strawberries
1 can (11 ounces) Mandarin oranges drained
two medium kiwi; peeled, halved and sliced
2 medium bananas, sliced
1 apple, in bite size slices
1 cup blueberries
1 (12 ounce can) pineapple chunks, drained
1 can (12 ounces) frozen lemonade concentrate, thawed
1 package instant sugar-free vanilla pudding
Instructions
Prepare fruit as above and place in a very large bowl, such as a punch bowl. Do not stir together yet.
Mix lemonade concentrate and vanilla pudding in small bowl or pitcher. Pour over the fruit and gently fold everything together.
Chill for at least two hours before serving.
Nutrition Information
Serving size:
10 ounce
Calories:
293
Carbohydrates:
70 g
Protein:
3 g
I'm so glad you stopped by today!   B
e sure to follow A Pinch of Joy so you don't miss a thing!   Subscribe by email  on the sidebar  or follow on Facebook, RSS feed, bloglovin'  twitter  or   pinterest    If you found this helpful or inspiring please share below!  I'd love to have you along on this journey!