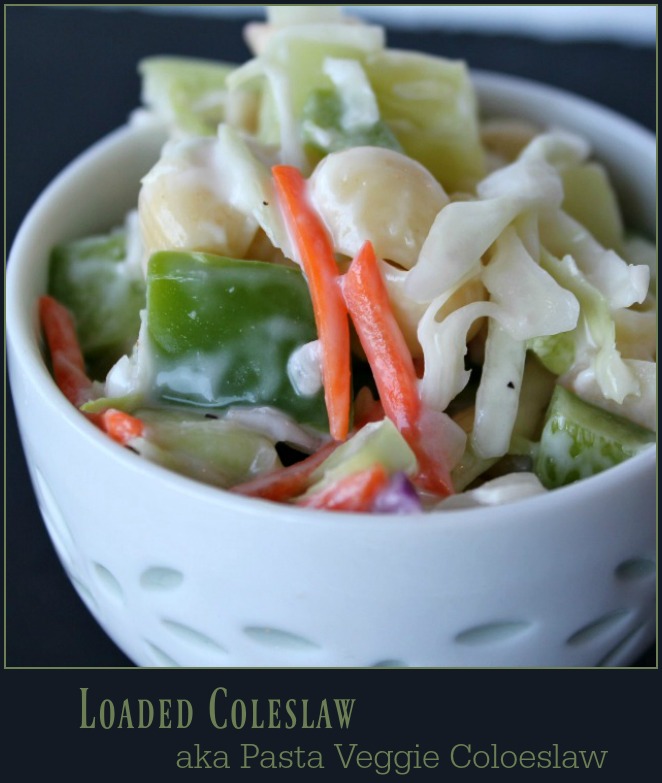 I like to make a big salad in the summer that will last for several less-work, cool eating meals.  Three fourths cup is a standard serving size and Pasta Veggie Coleslaw makes 16 servings.  Make it once and serve it three or four times is less work in my book!  We generally have a salad as a main dish once or twice – usually two servings each — and as a side a time or two more.   Big salads are great contributions to a potluck, too.
We love coleslaw and pasta is a big favorite so mixing the two was a no brainer!  Ring pasta is great with this salad.  Small so it doesn't overtake the salad visually or taste-ally.  Yeah, totally made that up, but I bet you know what I mean!  I can't always find that in the stores so I use small shells if I have them on hand, but also have used the small farfalle and small rotini as well. While the pasta is cooking chop the other vegetables.  You can also chop your own cabbage if you want.  You'll need about 4 cups of finely sliced or shredded cabbage.  Add a shredded or thinly sliced carrot, just for color.  Our garden space is limited and so is the luck from the cabbage fairy.  She seems to not understand the difference between grow-good dust and cabbage worms.  So  I use the prepackaged from the grocery – fast and easy and the color from carrot and purple cabbage already in it.   14 ounces or 16 ounces – package varies according to brand but both work just fine.   The water chestnut adds an interesting crunch – don't leave it out.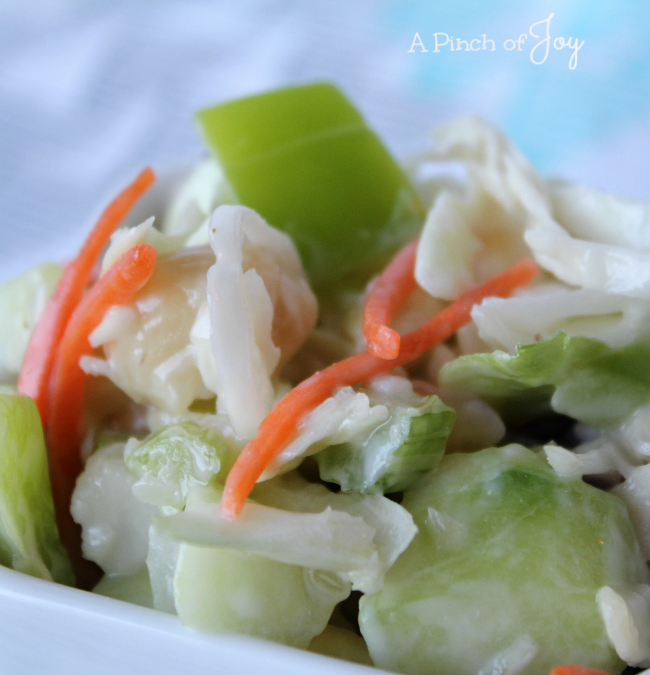 Loaded Coleslaw aka Pasta Veggie Coleslaw
Two salad favorites - pasta and coleslaw - plus their veggie friends. Can't get any better than that!
Author:
A Pinch of Joy by Charlene Vance
Ingredients
2 cups small pasta (I used small shells)
1 14 ounce package coleslaw mix
1 medium onion finely chopped
2 celery ribs, thinly sliced
1 medium cucumber, chopped
1 medium green pepper, chopped
1 8 ounce can whole water chestnuts, drained and chopped
Dressing
1 ½ cup mayonnaise
¼ cup sugar
3 tablespoons vinegar
½ teaspoon salt
¼ teaspoon pepper
Instructions
Cook pasta in SALTED water according to package directions. Drain and rinse in cold water, let cool slightly.
While pasta is cooking, place coleslaw mix in large bowl. Chop remaining vegetables and place in the bowl with coleslaw mix.
In small bowl, whisk the dressing ingredients together.
Add cooled pasta to large bowl with coleslaw mix and stir lightly.
Pour dressing over salad and toss to coat.
Cover and refrigerate at least two hours or overnight before serving.
I'm so glad you stopped by today!   B
e sure to follow A Pinch of Joy so you don't miss a thing!   Subscribe by email  on the sidebar  or follow on Facebook, RSS feed, bloglovin'  twitter  or   pinterest    If you found this helpful or inspiring please share below!  I'd love to have you along on this journey!
Save