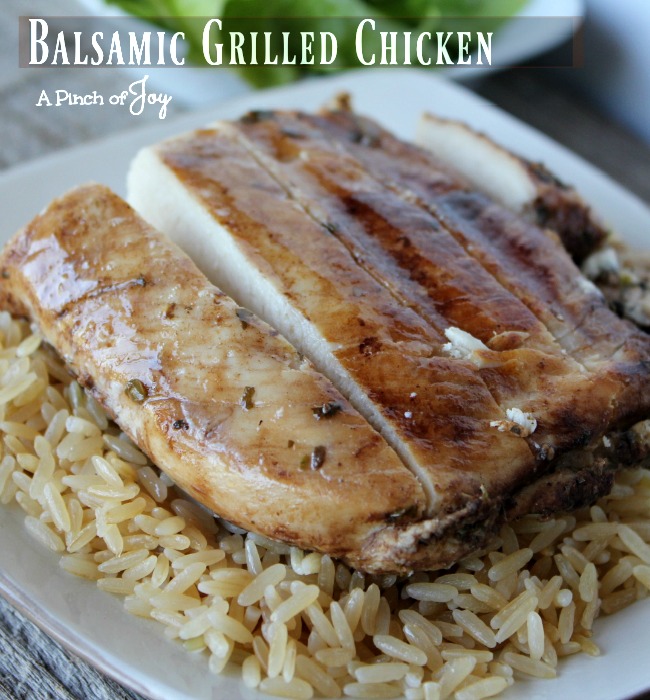 Grilled Balsamic Chicken can be prepared and frozen for serving at a later date – a great make ahead meal.  Or it can be made a few hours ahead of time and left to marinate in the refrigerator for an evening meal.  It has a little bit of balsamic tang to liven up the flavor of a nicely balanced mixture of herbs.  Leftovers (if there are any!) can be sliced, warm or cold,  atop a bed of salad greens for another meal.
In a time crunch?  Or missing one of the herbs?  You can substitute 2-3 teaspoons of Italian seasoning for the herbs.   Parsley, basil and oregano are basic in Italian seasoning.   Depending on the brand you will find a combination of other herbs so the flavor will be somewhat different.  But . . .   in a pinch that works!   Measure dried herbs    into your hand and crush them with the back of a spoon to release more flavor .
Do not substitute the vinegar, however.  Balsamic vinegar is made from grapes, not fermented, and put through a cooking process that darkens the juice through carmelization.  The liquid is called "must" and is aged before bottling.  The more complex and longer the aging process the  more expensive the vinegar.  It can only be produced in one area in Italy, using a specific type of grape.   Balsamic vinegars have a very distinct flavor.   The vinegars on the grocery shelf are generally what are called salad vinegars and fall into a different category than the aged Italian vinegars.  They may have another vinegar added and are also much less expensive.  While they may not be as flavorful as the "real deal" produced in a specific area of Italy and aged to perfection, they still have bring a very distinct flavor to your dish.
Grilled Balsamic Chicken can be prepared and then frozen for up to three months.  Great to have a make ahead meal in the freezer, ready to thaw and cook.  Or it can be made, marinated and grilled the same day.  If you can only find chicken breasts that are the big chunk of meat variety, slice them into  "fillets" about ½ inch thick.  This ensures that all the meat will take about the same time to cook evenly.   Do not overcook or the chicken will be tough and dry.  A thermometer will help prevent this.

Balsamic Grilled Chicken
Tender grilled chicken with a little bit of balsamic tang to liven up the flavor of a nicely balanced mixture of herbs. Make ahead and freeze. Marinate and cook the same day. Place slices, warm or cold, on a bed of lettuce for a great salad.
Author:
A Pinch of Joy by Charlene Vance
Ingredients
4 chicken breasts cut about ½ thick (about 1 ½ pounds)
Marinade
¾ cup balsamic vinegar
½ cup olive oil
1 tablespoon minced garlic
1 teaspoon Dijon mustard
1 teaspoon salt
2 teaspoons sugar
¼ teaspoon pepper
1 tablespoon dried parsley
1 ½ teaspoon dried basil
1 teaspoon dried oregano
Instructions
Combine marinade ingredients in large zip lock bag. Close and shake to combine.
Add chicken and close bag again.
To cook without freezing: Let chicken marinate for 2-3 hours turning occasionally.
To freeze for cooking later: Insert bag with marinade and chicken into a second bag and close tightly. Label and place in freezer for up to three months. Thaw chicken and marinade in refrigerator for about 24 hours before cooking.
Grill chicken over medium heat about 6-8 minutes per side until done OR 8 minutes in countertop grill (Foreman, etc) until cooked. Internal temperature will be 165 when done.
Serve hot.

I'm so glad you stopped by today!   Follow A Pinch of Joy using the icons on the teal bar at the top of the page so you don't miss a thing!   I'd love to have your company on this venture!!  Share: if you found this helpful or inspiring please click one of the buttons below!  Your support of A Pinch of Joy is appreciated!
Shared with these awesome link parties here  
Save