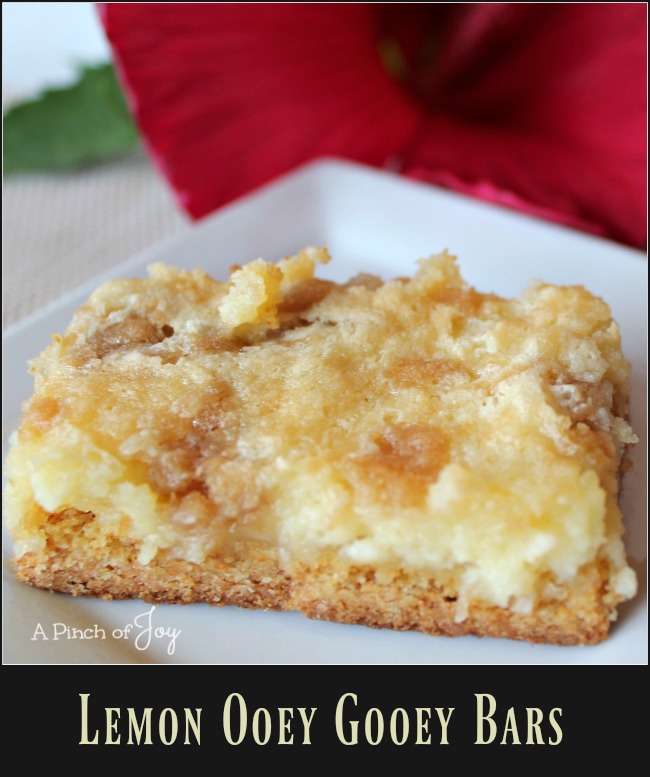 With the tang of lemon, the rich creaminess of the filling atop a thick crust, finished with butter crumbles Lemon Ooey Gooey Bars is a baker's reward!   Since it makes 16 servings, it is a good dessert for a potluck or serving a large group.  It always disappears quickly.
It takes about 20 minutes to make this and another 35 to bake.  Cooling is the hardest part.  Restrain yourself for a couple of hours and you will be so happy you did.  Just not burning your tongue is a good thing, but the real favor you've done yourself is the enjoyment of the flavors and textures on that unburned tongue.  Store overnight in the refrigerator and the flavor deepens and is even better.  It will keep up to three days in the fridge – assuming it doesn't disappear before that.
To go along with the goodness of  Lemon Ooey Gooey Bars — The gorgeous red flower behind that delicious dessert is a hibiscus, one of two in our backyard planted by the previous owner.  They die down to the ground in the winter, shoot up huge stems in the spring  and by September they are eight foot tall.  In mid-June they begin to bloom. The flowers are enormous, almost gaudy in their brilliance. The blooms only last one day and both the red bush and the pink bush are always loaded.  Those green tear drop shapes behind the flowers are part of the crop for the next day. Three dozen flowers on each bush is a slow day!   Never experienced a flower quite like this before – so just had to share.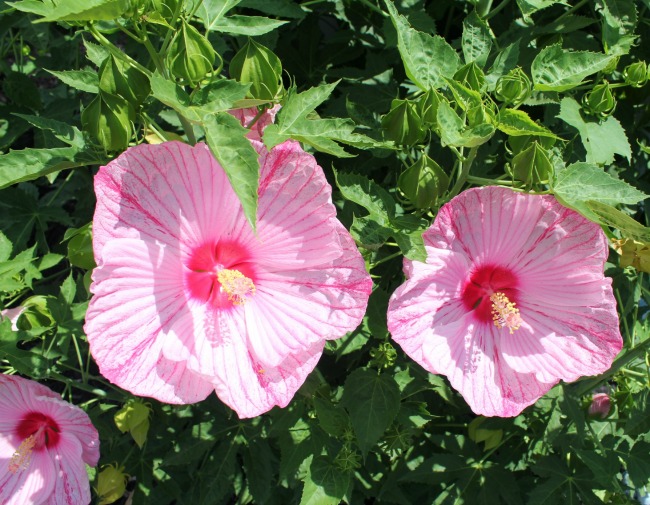 Ooey Gooey Lemon Bars
With the tang of lemon, the rich creaminess of the filling atop a thick crust, finished with butter crumbles Lemon Ooey Gooey Bars is a baker's reward!
Author:
A Pinch of Joy by Charlene Vance
Ingredients
CRUST
1 yellow cake mix
1 egg
½ cup butter, melted
FILLING
1 8 ounce package cream cheese, softened
2 eggs
1 teaspoon vanilla extract
½ teaspoon coconut extract
½ cup lemon juice
2 cups powdered sugar
½ cup butter, melted
TOPPING
¼ cup brown sugar
¼ cup white sugar
3 tablespoons butter, melted
½ cup flour
Instructions
Preheat oven to 350 degrees. Spray 9 by 13 pan with baking spray and set aside
Pour cake mix into a large bowl. Add egg and melted butter. Stir until well mixed. Pat into bottom of prepared pan and set aside.
In the same bowl, beat the cream cheese until smooth. Add the eggs one at a time, mixing in well. Add vanilla and coconut extracts, lemon juice, powdered sugar and melted butter. When thoroughly mixed, pour filling on top of cake mix crust,
Melt butter in microwave. In a small bowl, mix the brown and white sugars, coconut and flour. Add butter and stir until mixture becomes crumbly. Sprinkle crumbs over the filling.
Bake for 35- 38 minutes. Edges will be just golden and topping will start to appear dry. The center will still appear gooey, but not liquid. Do not overbake.
Cool and cut into squares.
Please Pin! 
I'm so glad you stopped by today!   Follow A Pinch of Joy using the icons on the teal bar at the top of the page so you don't miss a thing!   I'd love to have your company on this venture!!  Share: if you found this helpful or inspiring please click one of the sharing buttons below!  Your support of A Pinch of Joy is appreciated!
Shared with these awesome link parties here  
Save
Save
Save