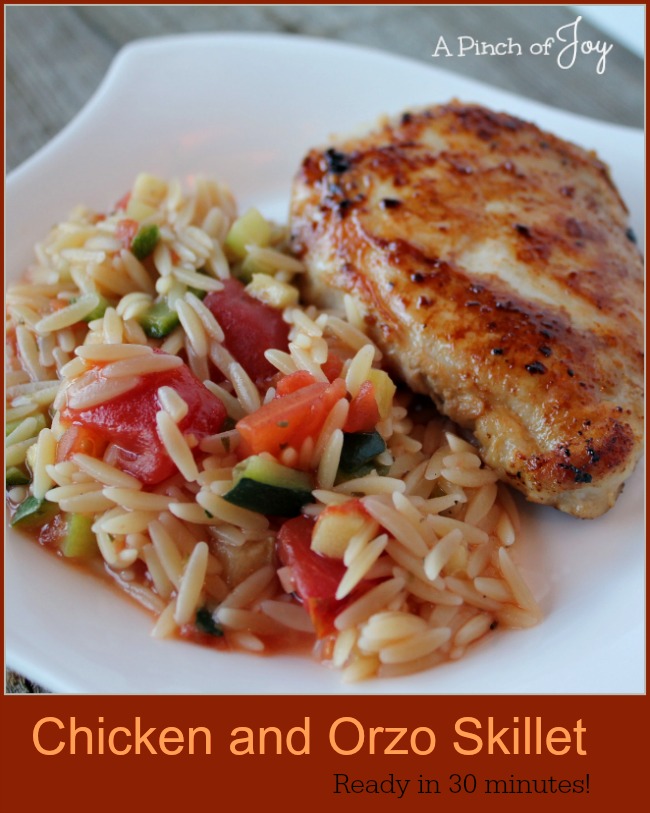 Orzo and Chicken Skillet is a quick fix with full flavor.  Tender chicken with a whisper of garlic, delicate orzo cooked in broth with healthy zucchini and tomatoes.  On the table in about 30 minutes.  All you need is a hearty salad to make it a full meal.  Maybe a hard roll or a slice of garlic bread, for the bigger appetites.
This can be prepped ahead of time. Be sure to choose smaller chicken breasts – about the size of a deck of cards — so they cook evenly.   Dice the zucchini and bag it in a sandwich or quart bag with the Italian seasoning. Place four chicken breasts and minced garlic in a large zip bag, add the bag of zucchini and freeze.    Pull a can of chicken broth and a can of tomato soup, mark them for "Chicken Skillet"  Measure the orzo into a small bag and tape it to one of the cans.  Remove the chicken and zucchini package the night before to thaw.  When you are ready to cook, grab the cans and orzo from the shelf, the chicken and zucchini from the refrigerator and dinner is on its way.  Delicious and quick!
You DO thaw your meats in the refrigerator.  Don't you?  Umm yeah, well, I don't always either.   Leaving them out on the counter all day isn't a good thing, but sometimes life doesn't allow thinking ahead so it is microwave to the rescue.  That can happen with this dish because it is great for last minute guests. Start from scratch by pulling the chicken out of the freezer and grabbing the other ingredients that likely are always on your shelf.  That's assuming zucchini is already in the refrigerator or diced / shredded  and in the freezer from the garden. 🙂  Because that's what happens to zucchini crops!  Even better, grab the fix ahead and packaged together version that you are smart enough to keep on hand.    Looks like you slaved all afternoon and tastes wonderful.  Impressive!
Note:  You might also consider this for a "cook it when you need it" meal to take to a new mother or someone who is not up to par.  Easy peasy for you to assemble and for them to cook.  Include the printed recipe with instructions.

Chicken and Orzo Skillet
Tender chicken with a whisper of garlic, delicate orzo cooked in broth with healthy zucchini and tomatoes. On the table in about 30 minutes. Impressive!
Author:
A Pinch of Joy by Charlene Vance
Ingredients
4 four ounce chicken breasts
1 teaspoon minced garlic
1¾ cups chicken broth OR a14 ounce can
1 cup orzo
1 14 ounce can diced tomatoes
1½ cups zucchini, diced
½ tsp Italian seasoning
2 tablespoons Parmesan Cheese
1 tablespoon olive oil
Instructions
Brush or rub chicken with minced garlic.
Using nonstick skillet, heat olive oil over medium heat. Cook chicken 2-3 minutes on each side until browned.
Add chicken broth chicken broth and orzo to skillet. Cover and bring to boil. Reduce heat and simmer 10 to 15 minutes stirring occasionally..
When pasta is tender and most of the liquid is absorbed, Stir in tomatoes, zucchini and Italian seasoning. Cook uncovered for 5 to 10 minutes until zucchini is tender. Stir occasionally and break up tomatoes with spoon.
Sprinkle with Parmesan cheese before serving.
Featured on
Meal Plan Monday
at Southern Plate.
Welcome to A Pinch of Joy!  I'm so glad you stopped by today!   Follow A Pinch of Joy using the icons on the teal bar at the top of the page so you don't miss a thing!   I'd love to have your company on this venture!!  Share: if you found this helpful or inspiring please click one of the buttons below!  Your support of A Pinch of Joy is appreciated!
Shared with these awesome link parties here  
Save
Save
Save
Save