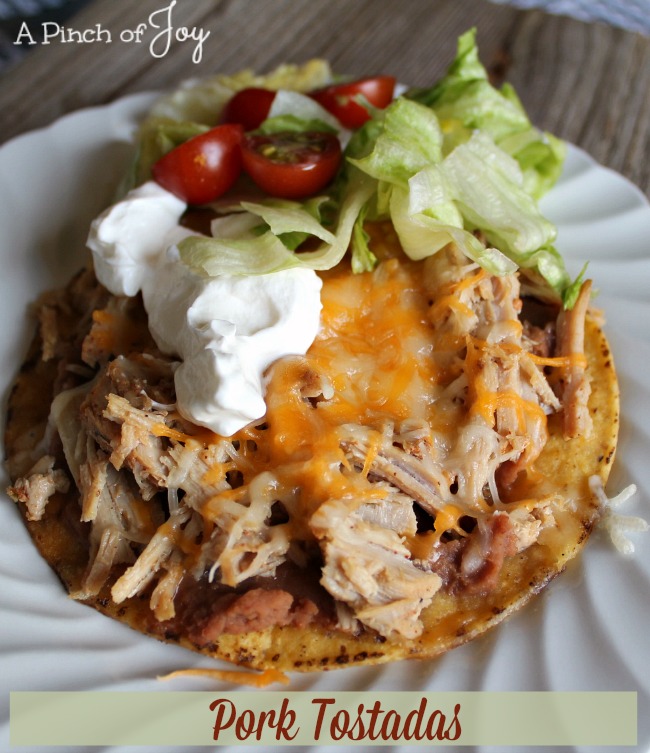 Pork Tostadas are open faced sandwiches made on a crispy fried tortilla.  Tostada = toasted.  Anything that can go on a taco can also be found on a Tostada.  You know I am a wimp when it comes to spicy and to me Mexican food meant spicy.  Wrong!  How did I find out?   Last spring I noticed our local grocery offered cooking sessions.  Always looking for new dishes and ways to make our meals healthy and varied, I signed up immediately.  I've added to our food rotation things like Pork Tostadas and more.   I love it!  For many reasons!
HyVee is a regional, employee owned grocery that opened a few months before we bought our home and was a factor in our choosing where to live. Contrary to what some people think, residents of the Great Plains do not shop at trading posts or dingy general stores!  🙂  State of the art, wide ranging services, friendly and helpful employees, lots of choice in every department and community oriented, this store is much like the ones we used in Ohio — like a security blanket, it made the transition easier.  There are three other stores in town that are good and I do shop them, plus a national chain or two.  But this particular store is close to where we live.   Plus it has charging stations for electric cars in the parking lot.  Not that I need it, but who wouldn't want to shop at a store thoughtful enough to provide one of these: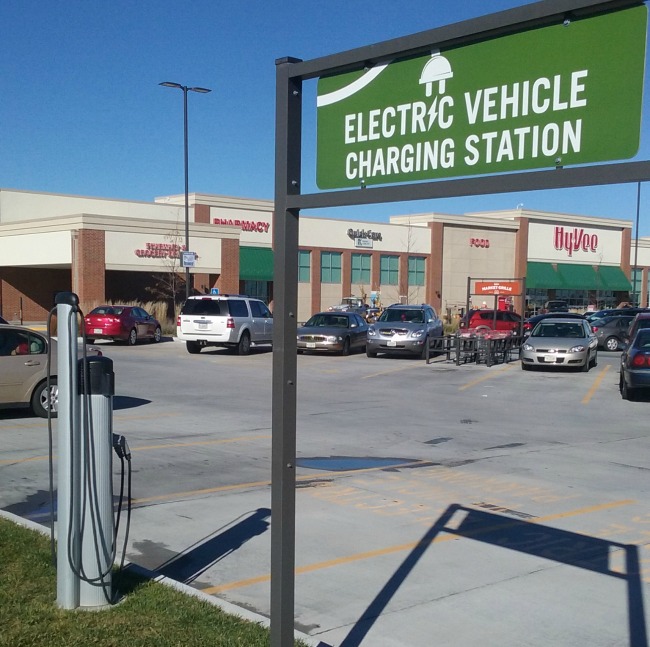 The store dietician, Kaiti, plans six dishes for each cooking session.  Her team does all the slicing, dicing and other prep work.   The attendees show up, don apron and gloves and go to work. The recipes are posted above each of the six work stations.  We measure and assemble each meal in plastic bags or other containers, ready for freezing and each accompanied by directions for preparation.   Each completed dish is stowed in the personal cooler you brought with you.  And in half an hour or 45 minutes, I am usually in the parking lot, loading the cooler and six delicious meals in my trunk.  I do take some time as I put them in the freezer at home, to make sure that everything is in its proper bag, labeled and the bags are sealed tightly.  Six main dishes, sometimes with accompaniments, in the freezer in less than an hour.  For a reasonable price, too.
You are allowed to substitute one meal for another in each session, but I decided I would cook everything offered.  My goal was to vary our diet, after all.  We've had several things I would not have thought of trying on my own.   But I've stuck to my resolution – with one exception.  Tostadas are one of those things I wouldn't have considered making before.  They were great and I would make them again.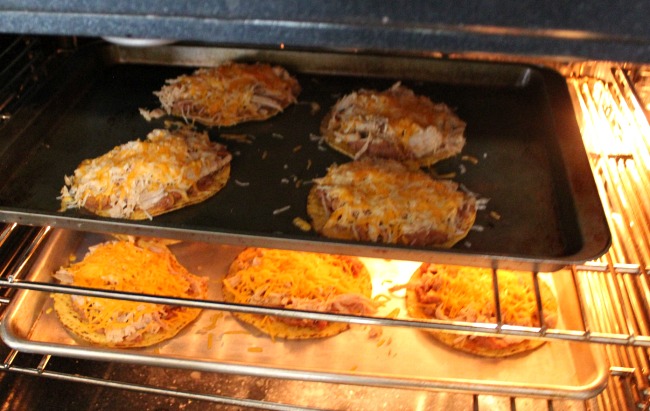 So now you know.  When you see this notation at the bottom of a post it comes  from one of these great cooking sessions:  Recipe from Simple Fix at HyVee.   (Directions, however,  are always my own — just to keep things on an even keel and consistent around here.)  No compensation whatsoever.

Pork Tostadas
Crispy tostadas layered with refried beans, shredded pork and cheese with toppings of your choice. Quick and easy!
Author:
A Pinch of Joy by Charlene Vance
Ingredients
2 tablespoons olive oil
1 tablespoon lemon juice
½ teaspoon minced garlic
½ teaspoon ground cumin
½ teaspoon paprika
½ teaspoon chili powder
½ teaspoon dried oregano
½ teaspoon salt
Pinch of crushed red pepper, optional
1 pound pork loin
one can refried beans
1 package corn tostadas, 10 count
Toppings: shredded cheese, chopped lettuce, diced tomatoes, salsa, sour cream
Instructions
Marinate for 1-2 hours or overnight. In a pinch, mix and cook right away. You can also freeze the meat in the marinade at this point for use at a later time.
Place in slow cooker that is lined or sprayed well with cooking spray. Cook on high for 3 to 4 hours until pork is tender and will pull apart easily.
Remove from crock and shred pork, using two forks to pull meat apart.
Place tostadas on large baking sheet. Spread refried beans on each tostada, then top with layer of shredded pork (about 2-3 tablespoons), followed by a layer of shredded cheese.
Bake at 350 degrees for 5 to 10 minutes
To serve topped with chopped lettuce diced tomatoes salsa and sour cream
Notes
Simple Fix by HyVee
I'm so glad you stopped by today!   Follow A Pinch of Joy using the icons on the teal bar at the top of the page so you don't miss a thing!   I'd love to have your company on this venture!!  Share: if you found this helpful or inspiring please click one of the buttons below!  Your support of A Pinch of Joy is appreciated!
Shared with these awesome link parties here  
Save
Save
Save
Save
Save