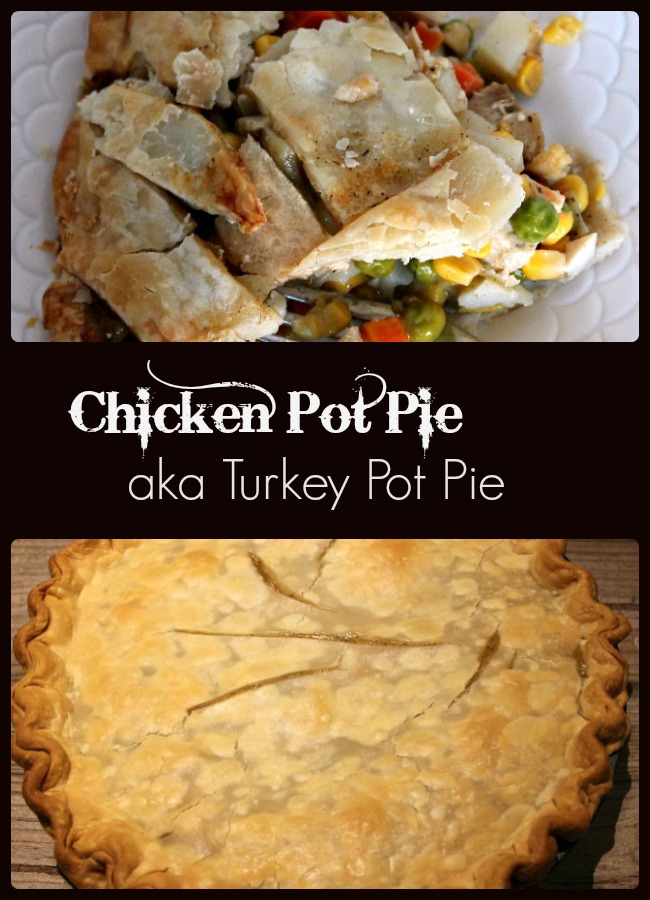 Chicken Pot Pie is a management dish.  You know, one that uses up the leftover roast chicken and veggies, even gravy,  in the refrigerator.  Have leftover turkey?  Substitute turkey for the chicken – turkey pot pie is great for holiday leftovers.    That's inventory control.  Or on the time management side, you can bake one and freeze one.  One is for dinner tonight and the other is wrapped in foil and frozen for a dinner later.   Or make and freeze more than one batch as part of a make ahead or once a month cooking project.
If you don't have leftover chicken, grab a rotisserie chicken at the grocery.  OR poach chicken breast in about three inches of water boiling in a deep skillet.  Generally each piece of chicken breast yields about 1 cup of cubed meat so you'll need two pieces of full-sized chicken breast.  Technically the individual pieces are only one side or one half of the chicken breast  but they are still labeled "chicken breast" (as in not half chicken breast) in the package.  Just so you know or just for confusion, whichever fits 😉 .  You can also change up the seasonings to suit your family taste buds.   I sometimes use a garlic and herb seasoning instead of just the garlic powder which gives it a little extra depth.  And as you noticed, the slices are for eating and are not especially photogenic.

Chicken Pot Pie aka Turkey Pot Pie
Chicken pot pie is a filling comfort food, easy to make ahead and pop in the oven as needed. Substitute holiday turkey and no one will think "leftover"!
Author:
A Pinch of Joy by Charlene Vance
Ingredients
2 cups cooked chicken, cubed
2 18 - ounce jars chicken gravy
2 cups frozen diced hash browns OR 1 16 ounce package
2 cups frozen mixed vegetables OR 1 16 ounce package
1 medium onion, diced (about ½ cup)
1 teaspoon poultry seasoning
½ teaspoon garlic powder
¼ teaspoon pepper
½ teaspoon salt
two packages pie crust with 2 crusts each OR homemade crust for 2 double crust pies
Instructions
In large mixing bowl, mix together gravy, onion and seasonings.
Cube chicken and add to gravy mixture, then add frozen potatoes and veggies. Mix well.
Press bottom crusts into two pie pans. Divide filling mixture evenly between the two pans.
Top each with second pie crust and crimp edges to prevent boil over. With sharp knife make two or three cuts in top crust.
Bake uncovered at 375 degrees for an hour and 15 minutes or until crust is done and golden brown.
You can freeze one or both unbaked pies for use later. Wrap tightly in foil before placing in the freezer.
Notes
Each pie makes six adult sized servings at 53 carbs and 18 grams of protein each.
Or eight smaller kid-sized servings at 40 carbs and 14 grams of protein each.

Welcome to A Pinch of Joy!  I'm so glad you stopped by today!   Follow A Pinch of Joy using the icons on the teal bar at the top of the page so you don't miss a thing!   I'd love to have your company on this venture!!  Share: if you found this helpful or inspiring please click one of the buttons below!  Your support of A Pinch of Joy is appreciated!
Shared with these awesome link parties here  
Save
Save
Save
Save