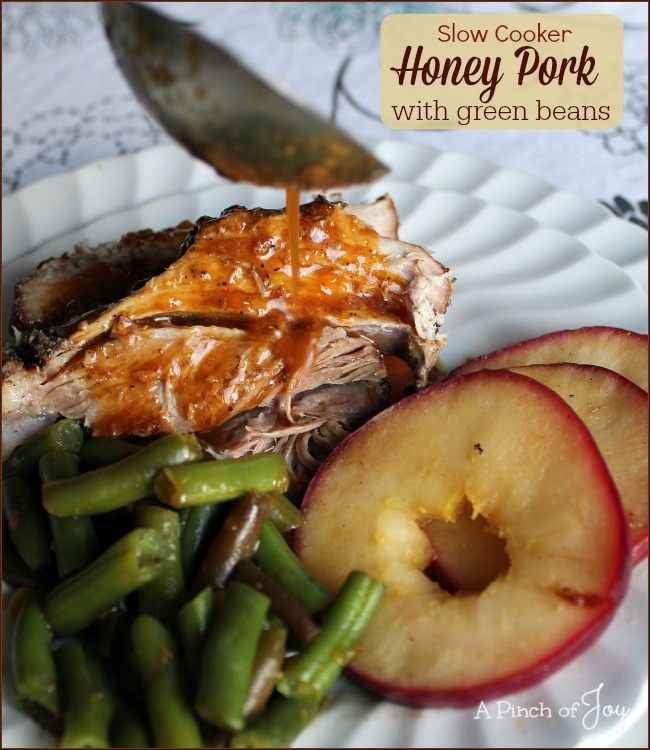 Honeyed Pork and green beans cooked long and slow in the slow cooker.  Easy delicious one pot dinner.
I tend to buy meat only when it is on sale.  Usually I end up with several pieces of meat that need to be frozen or cooked immediately.  This recipe works either way.   Make it it right away.  OR follow the Make Ahead Instructions to prepare everything  ahead of time and freeze until needed.   If desired, you can drop the sealed bag into another gallon bag and seal it.  Then you don't have to worry about the seal coming loose as multiple cooks (or snackers)  rummage in the freezer.
The first time I made this, I just dumped the ingredients on top of the meat.   I assumed the heat of the crockpot would sort of melt and meld them together and they would spread over the meat as it cooked.  Well, that was wrong!   I ended up with highly intense flavor – in one spot.  At the very least, spread the mustard over and around the meat and sprinkle the seasonings somewhat evenly over the surface.  It really is worth the time to mix them all together first.  Measure the honey in a one cup measure, add the mustard and spices and stir.  Drizzle evenly over  meat – whether it is in the crockpot or the freezer bag.  It may be helpful to brush or spread the sauce on the meat.
I was concerned about the beans turning out mushy, after cooking so long in the crockpot.  They are soft, but not mushy.  If your schedule permits and you really want crisp tender beans, you can wait and put them in about two hours before the meat is finished.   If you like pepper with your pork, feel free to adjust up the amount of pepper to suit your taste.    You can also whisk two tablespoons of corn starch in to the liquid about 45 minutes before serving time.  This will thicken the liquid for a flavorful gravy.  Serve with bread, or brown rice or mashed potatoes, a salad and fried apples.

Slow Cooker Honey Pork with green beans
Cooked long and slow in the crockpot. Easy dinner. Versatile recipe to meet your time schedule.
Author:
A Pinch of Joy by Charlene Vance
Ingredients
2 to 3 pounds Pork Loin Roast
16 ounce bag frozen green beans
⅓ cup honey
2 tablespoons Dijon mustard
½ teaspoon black pepper
½ teaspoon salt
½ teaspoon ground thyme
1 teaspoon garlic powder
¼ teaspoon ground cloves
½ cup water
Instructions
Mix honey, Dijon mustard and seasonings together in small bowl.
Prepare crock pot by spraying with cooking spray, OR wiping interior with vegetable oil OR inserting cooking bag.
Add water to crock pot.
Place roast in bottom of slow cooker and pour honey mustard mixture evenly over roast. Add green beans on top.
Cook on low 8 – 10 hours. Roast should be tender and cooked thoroughly.
Remove from slow cooker and let set for about 10 minutes before slicing.
Make Ahead Instructions
Place roast in gallon sized freezer bag.
Mix honey, mustard and seasonings together and pour over roast. Add beans.
Seal tightly. Label and freeze.
The night before cooking, place frozen bag in refrigerator to thaw.
Prepare crockpot as above and add water, before adding roast and beans.
Cook on low 8-10 hours.
Let set on serving plate for 10 minutes before slicing.
Nutrition Information
Serving size:
6.5 ounces
Calories:
285
Carbohydrates:
16 g
Protein:
21 g
I'm so glad you stopped by today!   Be sure to follow A Pinch of Joy so you don't miss a thing!  I'd love to have your company on this venture!!   Follow:    Facebook /  RSS feed  / bloglovin' /   twitter  and   pinterest.   Share:  If you found this helpful or inspiring,  please  pin for future reference!  Or share on facebook or twitter by clicking one of the buttons below! 
Your support of A Pinch of Joy is appreciated!
Shared with these awesome link parties here  
Save
Save
Save
Save