A healthy,  full flavored,  main dish soup, Italian Meatball Soup is so quick and easy that it is ready to eat in thirty minutes!
Cannellini beans (aka white kidney beans) are fiber rich – about 7 grams of fiber per half cup.  They also contain  7 grams of protein per half cup, which added to the 13 grams of protein in a serving of six meatballs, accounts for 20 grams of protein.  Rather impressive in a bowl of soup.  Add the many vitamins and minerals found in spinach, plus the tomatoes and you have a nutritious dish with little effort.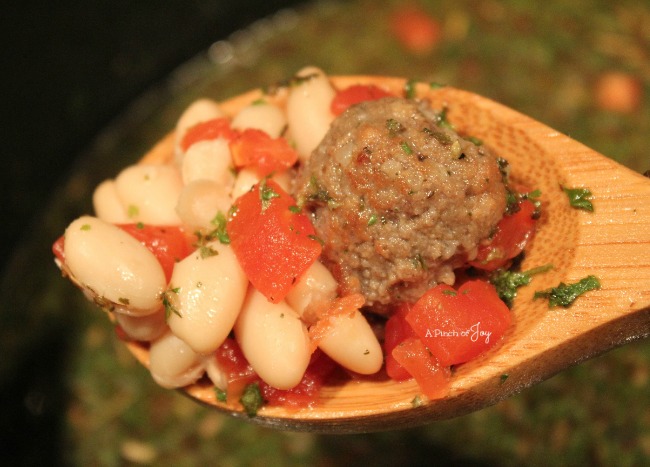 This is very straightforward to make.  Measure seasonings while the broth is coming to a boil.  Add them as you measure and whisk when all have been added.  Open the beans and pour into the colander to drain. Open remaining cans so they are ready when the broth boils.  When the broth begins to bubble gently, add beans, tomatoes  and the meatballs, reduce to simmer.  While the soup is simmering, chop the spinach.  Measure after chopping.  Cut a handful one way then cut perpendicular to the first cut.  You'll end up with small pieces that are easy to eat and provide nice color  throughout the soup.
Prepare a small salad to accompany the finished soup.  Then open a package of crusty rolls and serve with real butter.  We seldom eat bread because of carb restrictions so I've never actually had the experience of that uniquely crisp flaky and almost hard crust and the wonderful chewy dense center of brotchen slathered with real butter accompanying this particular soup.   It's a wonderful dream, though!!!!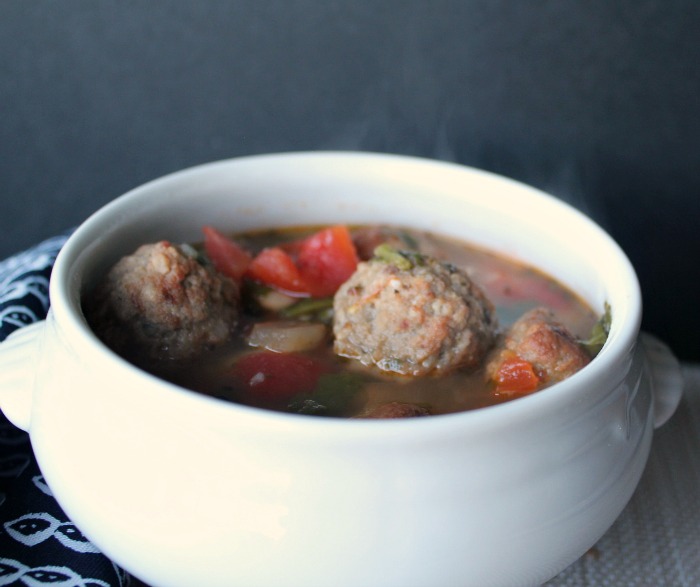 Italian Meatball Soup
A healthy, full flavored, main dish soup, Italian Meatball Soup is so quick and easy that it is ready to eat in thirty minutes!
Author:
A Pinch of Joy by Charlene Vance
Ingredients
1 package Italian meatballs, (approx 16 ounces)
2 teaspoons olive oil
1 small onion diced, about ½ cup
2 tablespoons minced garlic
2 15 ounce cans of cannellini beans, drained
2 14 ounce cans diced tomatoes
1 teaspoon dried Italian seasoning
1 tablespoon dried parsley
1 tablespoon dried basil
1 48 ounce container low sodium chicken broth
2 cups fresh spinach, chopped
Instructions
Chop onion.
Measure olive oil into large pot. Add onion, saute lightly.
Add chicken broth and whisk in garlic and seasonings.
Bring to boil. Reduce heat to simmer. Add beans, meatballs and diced tomatoes.
Reduce to simmer and add beans, chopped onion and meatballs. Simmer until meatballs are heated through, about 10-15 minutes.
Chop fresh spinach. Add to pot during the last five minutes.
Notes
OPTION: This can be made ahead and frozen. Place all ingredients except broth and spinach in a gallon zipper bag. Chop spinach and place in separate baggie before adding to the zipper bag. Seal bag tightly. Mark the container of chicken broth "Italian Soup" before placing in pantry. (You can add it to the other ingredients and freeze, if you use larger bags and have the freezer space.)
Nutrition Information
Serving size:
12 ounces
Calories:
284,
Carbohydrates:
27 grams,
Protein:
17 grams,
Please Pin! 
I'm so glad you stopped by today!   Follow A Pinch of Joy using the icons on the teal bar at the top of the page so you don't miss a thing!   I'd love to have your company on this venture!!  Share: if you found this helpful or inspiring please click one of the sharing buttons below!  Your support of A Pinch of Joy is appreciated!
Shared with these awesome link parties here  
Save
Save
Save
Save